Uncategorized
Story Notes for O Brother, Where Art Thou?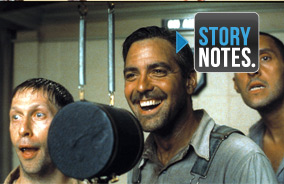 Weeknights during prime time on AMC, you can catch Story Notes — real time trivia and facts about your favorite movies! Below is the online version of the Story Notes for O Brother, Where Art Thou?.
Award Notes
The O Brother soundtrack won five Grammys, including Album of the Year, and has sold over nine million copies."I Am a Man of Constant Sorrow" won a CMA Award for Single of the Year.
Holly Hunter won an Oscar for playing a mute woman in The Piano (1993).
George Clooney won a Golden Globe for his performance as Everett. He's since been nominated for eight more Golden Globes, seven Academy Awards, and 100 other awards.
Biography Notes
Cinematographer Roger Deakins has worked with the Coens on every movie since Barton Fink (1991). He was nominated for an Oscar for this movie.
George Clooney was born and raised in Lexington, Kentucky.
Chris Thomas King's own music is a more modern take on blues, with rap and hip-hop influences.
John Turturro played the son of a restaurant owner in Do The Right Thing (1989).
Stephen Root was also in the Coens' No Country for Old Men (2007) and The Ladykillers (2004).
Instead of his hair, George Clooney is obsessed with his teeth in the Coens' Intolerable Cruelty (2003).
Charles Durning (Pappy) played a cop in The Sting (1973), Dog Day Afternoon (1975), and Dick Tracy (1990).
Charles Durning won a Tony for playing Big Daddy in the 1989 revival of Cat on a Hot Tin Roof.
A year later, Clooney played the ringleader of a much bigger group, as Danny Ocean in Ocean's Eleven.
George Clooney's aunt was singer and actress Rosemary Clooney, from White Christmas (1954).
Charles Durning played another dancing governor in The Best Little Whorehouse in Texas (1982). He was nominated for an Oscar for that movie.
Michael Badalucco's next movie was the Coens' The Man Who Wasn't There (2001).
Though he's playing the father of several little girls, George Clooney has no kids of his own. Clooney: "I've always known fatherhood wasn't for me. [My priority] is my work."
Casting Notes
George Clooney had just finished his stint on ER and was on his way to becoming a major movie star.
John Turturro was in the Coens' Miller's Crossing (1990), Barton Fink (1994), and The Big Lebowski (1998).
The third escapee (Delmar) is character actor Tim Blake Nelson, from Minority Report (1998) and Holes (2003).
Frank Collison played Horace Bing for six seasons on Dr. Quinn, Medicine Woman ('1993-1998).
A few years later, Chris Thomas King (Tommy) played band leader Lowell Fulson in Ray (2004).
Stephen Root played a radio station owner as Jimmy James on NewsRadio (1995-1999). His character is the third blind man in the movie.
Charles Durning played Waring Hudsucker in the Coens' The Hudsucker Proxy (1994).
At the time, Michael Badalucco (driver) was playing lawyer Jimmy Berluti on The Practice (1997-2004).
Musetta Vander (Siren) played a teacher that turns into a praying mantis on Buffy the Vampire Slayer.
John Goodman is a Coen Brothers favorite. He's worked with them on five movies, The Big Lebowski, Barton Fink, Raising Arizona, The Hudsucker Proxy and this movie.
Daniel Von Bargen (Sheriff) played an eye patch-wearing commandant on Malcolm in the Middle.
Wayne Duvall (Homer Stokes) is Robert Duvall's cousin. He was also the coach in Leatherheads, a 2008 football movie directed by and starring George Clooney.
Ed Gale (The Little Man) played the title role in Howard the Duck (1986).
Ray McKinnon plays Assistant U.S. Attorney Lincoln Potter on Sons of Anarchy.
Pappy's advisers are played by character actors Brian Reddy and J.R. Horne.
Finance Notes
$10 in 1937 would be the equivalent of roughly $150 in today's money.
In 1937, a gallon of gas cost ten cents.
History Notes
Before 1960, census takers had to go door to door to count the population; now it's mostly done by mail.
Governor Pappy O'Daniel is based on W. Lee "Pappy" O'Daniel, who was governor of Texas from 1939-1941.
The Great Depression lasted throughout the '30s. The unemployment rate peaked at 25% in 1933.
In 1937, roughly one out of ten men had hitchhiked at some point in their life.
In the '30s, millions of Americans lost their farms due to severe dust storms that plagued the U.S.
George Nelson was a real bank robber in the '30s who teamed up with John Dillinger.
Nelson probably got the nickname "Babyface" from a bank teller who was describing him to the cops.
Chain gangs were one of the few integrated southern institutions during the Depression.
After dying out in the 1870s, the Ku Klux Klan came back in 1915, inspired by The Birth of a Nation.
Franklin Roosevelt, who was President in 1937, had a "brain trust" of advisers to help with the New Deal.
The real George Nelson died in a shootout with the FBI in 1934.
One of the worst floods in U.S. history occurred in 1937 when the Ohio River overflowed.
The Hoover Dam first started generating hydroelectric power in 1936.
Music Notes
"Po Lazarus" is a recording of actual prisoners from Parchman Farm prison in 1959. The Coens tracked down one of the prisoners, Joe Carter, and paid him $20,000 for using his voice.
O Brother's soundtrack revives '30s-era songs with recordings by modern country and bluegrass artists.
Musician and producer T-Bone Burnett composed the movie's score and produced the soundtrack. Burnett: "The Coens have a tremendous following among the musicians in this country."
"O Death" is a traditional Appalachian song. The final version was written by a Baptist preacher in 1916.
"You Are My Sunshine" was the campaign song of Louisiana's "singing governor" Jimmie Davis.
The gravediggers are three of the Fairfield Four, a gospel group that's been around for over 90 years.
Plot Notes
Everett later identifies himself as Jordan Rivers. The Jordan River is where Jesus was baptized.
John Turturro was 42 when he played Pete.
Everett, a skeptic throughout the movie, turns to prayer when there's no rational option left.
In The Odyssey, the Cyclops kills and eats many of Ulysses' men.
Pop Culture Notes
Director Joel Coen says O Brother is "a Three Stooges movie in a lot of ways."
Sheriff Cooley wears mirrored glasses and is called "the devil," just like Boss Godfrey in Cool Hand Luke.
In Moby Dick (1851), Ishmael uses a coffin as a floatation device after his ship is destroyed.
The plot of Shakespeare's All's Well That Ends Well revolves around a wedding ring.
Press Notes
The Sirens all appeared in a photo spread for Maxim magazine in 2000.
The NY Times said: "Rather than wallow in nostalgia for the past, [the Coens] dare to reinvent it…to make it something strange, beautiful and new. [O Brother, Where Art Thou?] is bona fide."
Quote Notes
Clooney: "It's all about my hair, this movie. I'm in love with my hair. Which seems perfect for me."
Ethan Coen: "It pretends to be a big important movie, but the grandiosity is obviously a joke."
Tim Blake Nelson: "Delmar is a follower. He's just honored to be in the presence of two geniuses."
Joel Coen: "We decided we were probably making the Lawrence of Arabia of hayseed movies."
Mia Tate (Siren): "They just dropped us in a river in Mississippi… and said "Beckon the men."
Christy Taylor (Siren) on seducing Tim Blake Nelson: "I really made him blush. It was very sincere."
Tim Blake Nelson (Delmar): "I would say this movie is [the Coen Brothers'] least violent film."
John Turturro has called this movie "a hillbilly musical comedy adventure."
Ethan Coen: "It's a Ma and Pa Kettle movie, but with really big production values."
Script Notes
Neither of the Coen Brothers have read The Odyssey. They used the comic book version to write the movie.
Waldrip might be a nod to author Howard Waldrop, who told the story of Hercules set in '30s Mississippi.
Deus ex machina is a plot device used in Greek drama to save the hero at the last minute. The flood is Everett's deus ex machina.
Set Notes
Clooney had his Uncle Jack record himself reading the entire script in his Kentucky accent. Clooney based Everett's accent on that recording.
Tim Blake Nelson (Delmar) was Joel Coen's neighbor. Joel hadn't really seen him act in anything. When the Coens sent him the script, he thought they were asking his advice as a former Classics major.
Clooney based his dance on clog dancers he saw growing up in Kentucky. Clooney: "It's sort of like Lord of the Dance…none of their upper body moves, their legs are going nuts."
Source Notes
O Brother, Where Art Thou? (2000), by Joel and Ethan Coen, is a loose adaptation of The Odyssey. The Coens updated Homer's Trojan War epic to Depression-era Mississippi, circa 1937.
In The Odyssey, the blind prophet Tiresias predicts the hero's fate.
Everett's first name, Ulysses, is the Roman name for the hero in The Odyssey.
The Baptists represent the Lotus Eaters in The Odyssey, who live in a peaceful, dream-like state.
The movie's title comes from Preston Sturges' Depression-era satire Sullivan's Travels (1941). In that movie, "O Brother, Where Art Thou?" is the title of the epic film that Sullivan wants to make.
Homer Stokes is thought to be based on Louisiana "share the wealth" governor Huey Long.
In The Odyssey, Ulysses is reunited with his wife after proving his worth in an archery competition.
In The Odyssey, Ulysses disguises himself to enter a contest and win back his wife and title.
In The Odyssey, our hero Ulysses encounters a one-eyed Cyclops named Polyphemus.
In The Odyssey, Ulysses escapes from the Cyclops by stabbing him in his single eye.
In The Odyssey, Ulysses talks to his dead friend when he visits the Underworld.
In The Odyssey, Ulysses returns to Ithaca to find his wife Penelope (Penny here) plagued by suitors.
"Homer" Stokes is a nod to Homer, who wrote The Odyssey.
In The Odyssey, a witch named Circe turns Ulysses' men into pigs after feeding them a feast.
In The Odyssey, the men plug their ears to keep from being led to their death by the Sirens' singing.
Odysseus, the Greek name for Ulysses, means "man who is in constant pain and sorrow."
Tommy is based on blues musician Tommy Johnson, who is rumored to have sold his soul to learn guitar. That legend is also attributed to guitarist Robert Johnson, but it originated with Tommy.
Symbolism Note
In the Coens' movies, fire often represents evil and death, while water stands for redemption.
Tech Note
The shooting locations were actually lush and green — they were digitally altered to look dry and dusty. This was the first major Hollywood movie to digitally manipulate the look of an entire film.
Trivia Notes
"Fop" was first used in 1672 to describe men who were extremely vain about their appearance. "Dapper Dan" is a similar term for a swanky and well-groomed man.
Itta Bena, Mississippi is the birthplace of blues legend B.B. King.
George Nelson killed more FBI agents than anyone in history.
"Horny toads" are actually short-horned lizards.
Fricassee is a stewed chicken dish. It's also mentioned in the Coen brothers' Fargo (1996).
A succubus is a female demon that takes the form of a human woman to seduce men.
Woolworth's was founded in 1879 as one of the first five-and-dime stores in the U.S.
"Cast the first stone" comes from a Bible passage where Jesus saves an adulteress from being stoned.
Wardrobe Note
Stokes' red cloak marks him as a Kleagle, the person in charge of recruiting members to the Klan.
Read More