Uncategorized
Story Notes for North Country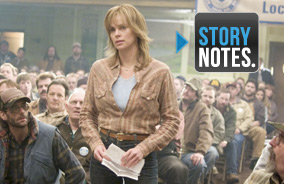 Weeknights during prime time on AMC, you can catch Story Notes — real time trivia and facts about your favorite movies! Below is the online version of the Story Notes for North Country.
Award Notes
Sissy Spacek won an Oscar for Best Actress, playing Loretta Lynn in Coal Miner's Daughter (1980).
Charlize Theron received her second Best Actress Oscar nomination for North Country.
Besides an Oscar nomination, this role earned Charlize Theron nods for a Golden Globe and SAG Award. It was the second most-nominated role of her career after Monster (2003).
In 2004, Charlize Theron won the Academy Award for Best Actress for Monster. Theron's first big success came in 1997's
The Devil's Advocate. She was 22.
Biographical Notes
North Country is the first American movie by New Zealand filmmaker Niki Caro. Before this, she wrote and directed 2002's critically-acclaimed family drama, Whale Rider.
Sissy Spacek earned her first of six Oscar nominations for Carrie (1976).
Growing up in South Africa, Charlize Theron was familiar with women working in male-dominated industries. Her mother was the only woman in the road construction business.
In 2011, Amber Heard (Young Josey) played Johnny Depp's love interest in The Rum Diary.
Theron knows what it's like to be low on cash. She arrived in Hollywood with just $150 to her name.
After Play It to the Bone (1999), Woody Harrelson avoided major roles for almost five years. He credits North Country as one of the movies that re-energized his career.
Charlize Theron is scared of heights and tried to use that to her advantage. Theron: "I like having those natural responses sometimes take over."
Woody Harrelson often plays athletes. In his first movie, Wildcats (1986), he played a football player. One of his most famous roles is as basketball player Billy Hoyle in White Men Can't Jump (1992).
Charlize Theron actually grew up in a similar blue-collar community in South Africa. Theron: "I know that world."
Sean Bean knows what the mining business is like. His father was a steel worker in Sheffield, England.
Despite being one of the biggest names in Hollywood, Charlize Theron doesn't like speaking in front of crowds.
In 1999, Theron began working with a rape crisis center in Cape Town, South Africa. In 2008, she became a U.N. Messenger of Peace, working on a campaign to end violence against women.
Thomas Curtis (Sammy) played a young Josh Lucas in Sweet Home Alabama (2002).
Casting Notes
Richard Jenkins earned an Oscar nomination for playing Professor Walter Vale in The Visitor (2008). From 2001 to 2005, Jenkins played Nathaniel Fisher on the HBO series Six Feet Under.
Amber Heard plays young Josey. Her first movie role was in Friday Night Lights (2004).
In 2005, Sissy Spacek appeared in three other movies: Nine Lives, An American Haunting, and The Ring Two.
Frances McDormand (Glory) perfected a similar accent for her Oscar-winning role in Fargo (1996).
Xander Berkeley plays Arlen. He played George Mason on 24 (2003).
Jeremy Renner (Bobby Sharp) earned a Best Actor Oscar nomination for The Hurt Locker (2009).
Rusty Schwimmer (Big Betty) played Irene "Big Red" Johnson in The Perfect Storm (2000).
Before North Country, Sean Bean (Kyle) played Boromir in The Lord of the Rings trilogy.
James Cada (Don Pearson) was also in Drop Dead Gorgeous (1999), another movie filmed in Minnesota.
Chris Mulkey was born in Minnesota. He played Boss Frank Hague on Boardwalk Empire.
Woody Harrelson (Bill White) earned his first Oscar nomination for The People vs. Larry Flynt (1996).
In 2006, Michelle Monaghan (Sherry) played Julia in Mission: Impossible III.
Corey Stoll plays Ricky. He went on to play Ernest Hemingway in Midnight in Paris (2011).
The judge is John Aylward, a.k.a. Dr. Anspaugh on ER from 1996-2008.
Jillian Armenante (Peg) played Donna Kozlowski on Judging Amy (1999-2005).
Leslie Conlin is played by Linda Emond. She earned a Tony nomination for Life (x) 3 (2003).
Raye Birk played Papshmir in the first and last of the Naked Gun movies.
The two women featured on the stand in the court scene worked at EVTAC mine and were part of the class-action suit.
Finance Notes
One Hamilton watch similar to Sammy's sold at auction for $3600 in 2004.
Eveleth Mining Company paid Lois Jenson and her fellow plaintiffs $3.5 million total. After new plaintiffs joined Lois, the payout was about $233,000 per woman.
History Notes
In 1974, the government required 20 percent of new mine employees to be women or minority men.
The EVTAC mine in Eveleth, Minnesota had to hire four women to meet the requirements.
Finding offensive graffiti on the walls was common when women started working in the mines.
Location Notes
Most of the movie was shot in and around Eveleth, Minnesota, where the real story took place.
The interior shots of the mine were filmed in Silver City, New Mexico, in an actual mine.
Some scenes were filmed at the Eveleth Hippodrome hockey rink. It's almost 100 years old. In the 1920s, it was referred to as the "Madison Square Garden of the Northland."
Music Notes
Minnesota takes polka seriously. The International Polka Festival is held every year in nearby Cloquet.
The movie is named after Bob Dylan's 1963 song "Girl from the North Country."
Bob Dylan was raised in a Minnesota mining town just east of Eveleth.
Sammy sings "Hey Joe." It was the first single recorded by the Jimi Hendrix Experience in 1966.
The score for North Country was composed by Gustavo Santaolalla. Santaolalla won Oscars for Brokeback Mountain (2005) and Babel (2006).
"Do Right To Me Baby (Do Unto Others)" by Bob Dylan, 1979. The lyrics perfectly sum up Josey's attitude: "Don't wanna hurt nobody, don't wanna be hurt."
"Sweetheart Like You" by Bob Dylan, 1983. The lyrics seem to sum up Josey's story: "What's a sweetheart like you doing in a dump like this?"
Political Note
Anita Hill appears on the TV. In 1991, Hill testified that Supreme Court nominee Clarence Thomas sexually harassed her.
Pop-culture Note
North Country joins a long line of movies about strong women fighting big business. Norma Rae (1979), Silkwood (1983), and Erin Brockovich (2000) are also part of the "Bad Company" genre.
Press Note
Roger Ebert says, "North Country (2005) is one of those movies that stir you up and make you mad." The movie was voted the most important film for women to see in 2005.
Quotation Notes
Theron: "It was fresh snow, and it was really beautiful. And I loved seeing it from the inside of a house."
Jeremy Renner says he used to get cast as bad guys and try to make them likable. Renner: "People usually hate this guy. He's kind of a despicable character."
Charlize Theron spent time at the homes of some of the female miners to get to know them personally. Theron: "I spent as much time as I possibly could with the women. They don't wallow in self pity, they're survivors."
Writer Michael Seitzman didn't want any of the harassment or brutality to be fabricated. Seitzman: "If it happens on screen, then it had to have happened to someone in real life."
The real Lois Jenson was also groped by one of her supervisors and even had her home broken into. Jenson: "To me, it wasn't an option. It was, 'Now you act, or somebody dies."
Director Niki Caro recalls the moment where "the most brutal thing that happens to Josey." Caro: "She steps towards the women for help and they can't help her; they won't help her."
Woody Harrelson had major trouble trying to act like a hockey legend. For starters, he couldn't skate. Harrelson: "That was the most pressure I'd ever felt. It took everything I could just to stand up."
Woody Harrelson wanted to be in North Country because he loved the theme of the movie. Harrelson: "It's kind of the little people against the machine."
Lois Jenson: "The difficulty was getting others to get on board and stay on board."
Charlize Theron wanted to react to the crowd in the union meeting without rehearsal so it would feel authentic. Theron: "That was, I think in my entire career, the most devastating thing I've ever encountered."
After playing the villain in movies like GoldenEye (1995), Sean Bean was happy to play a good guy. Bean says, "It gave me the chance to sort of play a character with some sensitivity and compassion."
Beneath the court case, screenwriter Michael Seitzman wanted there to be a simple story. Seitzman: "What it's really about is a woman and her son and the secret they share."
The woman Glory is based on, Pat Kosmach, was considered the glue that held the real case together. Lois Jenson's Attorney, Paul Sprenger: "Pat was the backbone of the case."
Screenwriter Michael Seitzman: "I think what these women did is nothing short of a revolution."
Random Notes
Josey may not need much money to buy a house in Eveleth, Minnesota. Even today, the average Eveleth home costs half the national average.
Josey can sue for slander. Charlize Theron can't because she's famous. Anyone who knowingly puts themselves in the public spotlight can't sue for slander.
The medical term for Lou Gehrig's Disease is amyotrophic lateral sclerosis. Coincidentally, Lou Gehrig's nickname during his playing days was "The Iron Horse."
Set Notes
Filming conditions were less than cozy. Minnesota's temperatures rarely rose above freezing.
Director Niki Caro emailed Frances McDormand a photo of Glory's truck to get her to join the movie. McDormand was sold. She emailed back, "Men may come and go, but that's a really big truck."
The actors relied on locals to perfect their accents. Instead of a dialect coach, they would go to local bars.
As a native of Africa and resident of California, Charlize Theron didn't have much experience with cold weather.
Director Niki Caro flew from New Zealand to New Jersey to meet Bob Dylan and discuss the movie. Dylan wrote the song, "Tell Ol' Bill," just for the movie.
The scene at the union meeting was filled with 400 real miners from the Iron Range.
Because the union meeting crowd's heckling was unscripted, it took Richard Jenkins almost five minutes to quiet them. Theron was so uncomfortable during this scene, she broke out in hives.
Source Notes
North Country (2005) is about the first successful sexual harassment case in U.S. history. It was inspired by the book Class Action by Clara Bingham and Laura Leedy Gansler.
Theron's character, Josey Aimes, is based on real-life miner Lois Jenson. Josey's story parallels Jenson's, but some details are based on the lives of other women from the mine.
In 1975, there were 600 men and four women working at the EVTAC mine.
Lois Jenson, the real miner Josey is inspired by, took a job at the mine that paid $5.50 per hour. That was three times more than any other job she ever had.
Many people in Eveleth thought the women at EVTAC mine were just complaining about foul language.
Female miners would wear makeup while working just to keep the dirt out of their pores.
After the mine ignored her, Lois Jenson filed a complaint with the Minnesota Human Rights Department. A week later, her tires were slashed.
Glory is based on miner Pat Kosmach, who was diagnosed with Lou Gehrig's disease in the early '90s. Lou Gehrig's disease strikes two out of every 100,000 people each year.
In real life, things got even worse for the women at EVTAC after Lois Jenson filed her complaints.
EVTAC mine originally could've settled with Lois Jenson for $11,000. They refused to pay.
Lois Jenson's father was always supportive of his daughter working at the mine. In fact, when Lois wanted to quit, he convinced her to stick it out.
Lois Jenson worked at the EVTAC mine for nine years before she quit in 1984.
The judge in Lois Jenson's case allowed the mine's attorneys to scrutinize the women's medical records. The female miners were also forced to answer questions about their sexual histories on the stand.
The real lawyer in this case was named Paul Sprenger, an experienced class action attorney. This was his first sexual harassment class action suit.
Trivia Notes
This part of Minnesota is known as the Iron Range because it produces 75 percent of all the ore in the U.S.
Taconite is a low-grade iron ore that can be processed into steel. As high-grade iron ore deposits diminished after World War II, taconite became more important.
Hamilton watches have been around since 1892. Back then, they were all pocket watches.
By 1981, the U.S. was importing 29 percent of its steel from third world countries.
Sherry wouldn't have been allowed into the bar in '89. Minnesota changed the drinking age to 21 in 1986.
Some conveyor belts can move over 9,000 tons of iron ore per hour.
In 1987, it became illegal to smoke in front of children at a public school.
The U.S. Hockey Hall of Fame is located in Eveleth, Minnesota. Eveleth is also home to the World's Largest Free Standing Hockey Stick. It's 110 feet long.
Frances McDormand and Richard Jenkins also worked together on Burn After Reading (2008).
In 2007, Theron and Harrelson worked on Battle in Seattle, another movie inspired by true events. The movie was based on the 1999 meeting of the World Trade Organization in Seattle.
Once someone joins a class action suit, he or she forfeits the right to sue as an individual.
Composer Gustavo Santaolalla also scored the theme music for AMC's Hell on Wheels.
Read More