Uncategorized
Story Notes for Kindergarten Cop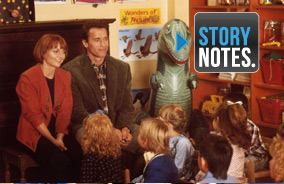 Weeknights during prime time on AMC, you can catch Story Notes — real time trivia and facts about your favorite movies! Below is the online version of Story Notes for Kindergarten Cop
Award Notes
Arnold won a Nickelodeon Kids Choice Award for Favorite Movie Actor for this role.
Moriarty was nominated for an Oscar and two Golden Globes for her role in Raging Bull.
Penelope Ann Miller was nominated for a Golden Globe for her performance in Carlito's Way (1993).
All of the kids won the Young Artist Award for Outstanding Young Ensemble Cast in a Motion Picture.
Biographical Notes
1990 was a big year for Arnold Schwarzenegger. He had two of the top 10 movies: this and Total Recall.
Kindergarten Cop is the second of Arnold's three collaborations with Director Ivan Reitman.The other two are Twins (1988) and Junior (1994).
Richard Tyson's role was reversed in There's Something About Mary (1998). In that movie, he played a detective who interrogates Ben Stiller.
Carroll Baker has played on-screen moms before: to Playboy centerfold Dorothy Stratten in Star 80 and to psychoanalyst Sigmund Freud in The Secret Diary of Sigmund Freud.
Arnold really is from Austria. He moved to the U.S. in 1968, when he was 21. Arnold's dad really was a cop, too. He was the local police chief in Arnold's hometown.
Kindergarten Cop's score was composed by Randy Edelman. Edelman wrote the theme song to MacGyver (1985).
Most of the kids in the classroom were non-actors that grew up in Southern California.
Pamela Reed played a woman with a big appetite in another Arnold movie — Junior (1994).
Arnold was a new father when filming Kindergarten Cop. His daughter, Katherine, was only one year old. He says he loved being at home with her because it was the time he could be "silly."
In 1990, Director Ivan Reitman was the king of comedy. His previous seven movies had earned over $3 billion.
The Cousins twins, who play Dominic, also played Valene's son Bobby on Knot's Landing ('1987-'93).
Pamela Reed currently plays Leslie Knope's intimidating mom on Parks and Recreation. She says she'd never take a role that "perpetrates the idea of women as followers or appendages."
Linda Hunt stars as Hetty on NCIS: Los Angeles.
Penelope Ann Miller recently played Doris in the Oscar-winning silent film The Artist (2011).
Arnold actually has three sons: Patrick, Joseph, and Christopher.
Casting Notes
Richard Tyson (Crisp) was in the Farrelly Brothers movies Kingpin (1996) and Me, Myself, and Irene (2000).
Linda Hunt won the Oscar for Best Supporting Actress for The Year of Living Dangerously (1982).
The filmmakers auditioned more than 2,000 children for the 30 kids in Kimble's class.
Sarah Rose Karr played Emily Newton in the Beethoven movies.
Dominic is played by identical twins Joseph and Christian Cousins. Director Ivan Reitman says it was " just luck. I thought, 'Thank God, not only is he good, there's two of them!"
Other actors considered for the part of John Kimble were Bill Murray, Patrick Swayze and Danny DeVito.
Jayne Brook (Zach's Mom) also played Dr. Diane Grad on Chicago Hope (1994).
The kid who started the "Stranger!" shouts is Adam Wylie, who was later on Picket Fences (1992-1996).
Finance Notes
Arnold speculates that Kindergarten Cop could have grossed an extra $25 million if it were less violent. But Director Ivan Reitman felt like the violence "had to be there or the film would just peter out at the end."
Kindergarten Cop continued Arnold's box office dominance, earning over $200 million.
Historical Notes
Fire drills started in U.S. schools in 1914.
Abraham Lincoln wrote five different versions of the Gettysburg Address.The whole thing is only two minutes long.
The "stranger danger" campaign began in the U.S. in the 1960s and spread across the world.
Location Notes
It usually rains about 200 days a year in the area of Oregon where the movie takes place.
All of the classroom scenes were shot on a set in L.A. so Arnold could be near his family.
In the movie, Kimble and O'Hara are staying at the Bayview Motel in Astoria, Oregon. It's still open for business.
Pop Culture Notes
The band Austrian Death Machine named one of its songs "It's Not a Tumor."
Dominic has Ghostbusters bed sheets. Director Ivan Reitman directed the Ghostbusters movies.
In a year of huge kid movies like Home Alone, Problem Child and Teenage Mutant Ninja Turtles, Kindergarten Cop (1990) blurred the line between adult and children's entertainment.
Press Notes
The Washington Post compared the "small-town ambiance" of the movie to Twin Peaks (1990).
Entertainment Weekly calls Penelope Ann Miller "the sexiest grade-school teacher in history."
Roger Ebert says Arnold is "touchingly sincere. He uses gentleness, not machismo. He's a protector, not an aggressor. John Wayne often used the same approach."
The New York Times described Arnold as "appealing, relaxed and genial" in this role.
The Washington Post says Richard Tyson (Crisp) has an "unwholesome Oedipal thing for his own mom."
Entertainment Weekly calls Richard Tyson (Crisp) a "Jim Morrison look-alike."
Roger Ebert: "Movies like this are often no stronger than their villains and [Richard] Tyson and [Carroll] Baker make a scary and effective team."
Quotation Notes
Arnold says when he first started working with the kids he "was sweating. I felt like the character in the movie."
W.C. Fields once famously said, "Never work with animals or children." Now Kimble knows why.
Pamela Reed says she had a lot of fun imitating Arnold with her accent. Reed: "Inside of an hour he was calling me 'my leetle Pemelah' and I was calling him 'my deah Ah-nold."'
Pamela Reed: "I shoot, I save Arnold's life, kids cheer. It's not a gold statue, but it's not a bad feeling."
Arnold: "This kind of comedy needs humanity, not just a few laughs. Ivan [Reitman] has a way of looking at a script and making it more than a comedy."
The movie firmly established Arnold as a comedic actor. Arnold: "I have the humor. Now every other film is a comedy and every other film is an action-adventure."
Set Notes
In reality, the kids loved Arnold. They were constantly climbing all over him like a jungle gym.
Sarah Rose Karr (Emma) was Director Ivan Reitman's favorite kindergartner. "She marched to her own drummer. If she wants to stand, let her stand. If she wants to sit, let her sit."
Arnold works out every day. He actually insisted on a gym being assembled while on location in Astoria.
Filmmakers recruited local Astoria kids to be extras in the school. They were paid $35 a day.
Trivia Notes
A recent study showed that witnesses only pick the correct suspect about 25 percent of the time.
The first part of Kindergarten Cop is supposed to be a parody of the classic Arnold action movie. It was designed, down to the lighting and camera angles, to look like The Terminator (1984).
Ferrets became popular pets in the U.S. partially because of their moment of fame in this movie.
In California, owning a ferret is illegal. When Arnold was Governor, he endorsed the law.
The divorce rate in Oregon was higher than the national average in 1990.
Astoria has a population of less than 10,000.
In 1990, Arnold became head of President George H.W. Bush's Council on Physical Fitness and Sports.
While filming in Oregon, Arnold gave a surprise commencement speech at Astoria High School.
Most children learn to read by the time they're six or seven.
The library of the real school still has the movie sign "Astoria Elementary" hanging on its wall.
Impersonating a firefighter is a felony in most states.
Critics say this movie helped Arnold overcome his "wall-of-flesh cliché" from his early days in Hollywood.
Director Ivan Reitman invented the five "Reitman Rules of Filmmaking" for the kids: Listen, act natural, know your character, don't look in the camera, and be disciplined.
In 1991, an L.A. youth center named Arnold "Man of the Year," calling him a "good role model for young people."
Read More