Uncategorized
Story Notes for Backdraft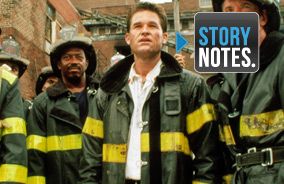 Weeknights during prime time on AMC, you can catch Story Notes — real time trivia and facts about your favorite movies! Below is the online version of the Story Notes for Backdraft.
Automotive Notes
Backdraft features a 1971 BMW 2002.
The movie also features a 1983 Ford LTD Crown Victoria. A lot of police officers and firefighters still drive Crown Victorias in 2012.
Biographical Notes
De Niro's character, Don Rimgale, is a real arson investigator with the Chicago Fire Department.
William Baldwin didn't originally plan to follow his brothers into acting. After college, he worked on Capitol Hill as an aide to Rep. Thomas J. Downey.
Backdraft was shot by Danish cinematographer and director Mikael Salomon. Salomon received Oscar nominations for his work on Backdraft and The Abyss (1989).
Jennifer Jason Leigh co-starred with William Baldwin's brother, Alec, in Miami Blues (1990).
Casting Notes
William Baldwin was coming off his first starring role in Flatliners (1990) when he was cast in Backdraft.
Backdraft features Jason Gedrick (Iron Eagle, Luck). His dad was a firefighter in suburban Chicago.
Two years before Backdraft, Jennifer Jason Leigh won critical acclaim in Last Exit to Brooklyn ('89).
Kurt Russell heard about Backdraft from Tom Cruise, who was trying to cast him in Days of Thunder.
Robert De Niro starred in GoodFellas ('90) right before Backdraft, and Cape Fear ('91) right after.
Backdraft features Rebecca De Mornay who got her big break in 1983's Risky Business with Tom Cruise.
A lot of the guys in Brian's fire truck are real firefighters.
Backdraft features J.T. Walsh (A Few Good Men). He was mainly known for playing bad guys.
Scott Glenn's breakout role was Wes, John Travolta's rival in Urban Cowboy (1980).
Jack McGee was in The Fighter (2010) and Moneyball (2011).
Backdraft features Tony Mockus Jr. He's played small parts in a lot of movies, like Major League and Home Alone 3.
More than 200 children auditioned to be carried out of a fire by Kurt Russell.
In 1991, the year Backdraft came out, Donald Sutherland also appeared in JFK as the character, X.
The pathologist is played by director Ron Howard's younger brother, Clint. He's appeared in 17 of Howard's movies, including Apollo 13 (1995).
Jennifer Jason Leigh suggested J.T. Walsh for the role of Alderman Swayzak.She says he was a mentor to her. "He was just such a strong actor. It was effortless for him."
Finance Notes
Director Ron Howard donated some proceeds from Backdraft to his local Fire Department.
As of 2012, it's the most successful movie about firefighters ever, grossing over $150 million.
Historical Notes
8-track tapes were popular from around 1965 until the late '70s, when they were replaced by cassettes.
The first fire pole was installed in Boston in 1880. Soon after, they became standard across the U.S.
The 1972 Pulitzer actually went to Dave Kennerly for his photographs of the Vietnam War.
The Uptown Theater has been closed to regular audiences since '81 and needs restoration.
The oldest firehouse in Chicago was built in 1874 and housed Engine Company 27.
Location Notes
Backdraft was shot on location in Chicago. The filmmakers thought the firefighters in Chicago were the toughest in the U.S.
Parts of the movie were shot on the banks of the Chicago River, a system of rivers and canals in the heart of the city.
Backdraft features Chicago's famous above-ground transit system, known as the 'L' (for elevated train). Director of Photography Mikael Salomon: "We really tried to take advantage of Chicago."
Rimgale's office was located in the heart of Chicago's Chinatown on the South Side.
Backdraft features the Uptown Theater in Chicago. At 4,381 seats, it's the largest "movie palace" in the U.S., even bigger than Radio City Music Hall.
The crew converted the top floor of a parking garage into this burning rooftop.
Love Notes
In real life, Kurt Russell has been in a relationship with actress Goldie Hawn since 1983.
Musical Notes
Backdraft features"Sunshine of Your Love" by Cream, 1967 and "(Love Is Like A) Heat Wave" by Martha & The Vandellas, 1966.
Backdraft's score was composed by Hans Zimmer (The Lion King, Gladiator).
Backdraft features "War" by Edwin Starr, 1970 and "The Show Goes On" by Bruce Hornsby and the Range, 1988.
Backdraft features the Chicago Irish rock band, The Drovers.
Press Notes
Critics called Backdraft "Ron Howard's version of Indiana Jones and Die Hard."
Entertainment Weekly praised Sutherland: "He brings you close to fire's mysterious allure."
Entertainment Weekly called Backdraft "the thinking pyromaniac's Towering Inferno."
The New York Times says Donald Sutherland is "this film's version of the Hannibal Lecter role."
Pop Culture Notes
Backdraft was Ron Howard's 8th feature film and one of the most anticipated movies of 1991. Howard's earlier movies include Parenthood (1989), Splash (1984), and Cocoon (1985).
Quote Notes
Kurt Russell says they were all "getting burned every day."
Backdraft tech adviser/firefighter Stanley Span: "I've done that. I've rescued dolls from cribs."
Even though he signed a release to be nude in Backdraft, William Baldwin says he isn't a sex symbol. "There's no poster of me with my shirt off on a horse, like Patrick Swayze."
Baldwin says his relationship with Russell on-screen was better than if it had been his real brother.
Russell says that "when these guys live their lives they have done something, they have saved countless human lives. What I do is intangible."
Dir. Ron Howard says Kurt Russell's approach was "aggressive, but entertaining and totally honest."
Scott Glenn says Backdraft gave him a new respect "for the real firefighters, who put their lives on the line for all of us every day. We had it easy next to those guys."
William Baldwin: "If you're lucky in this world, you get to work with one of your heroes."
Hawn says that Russell is "just about the best father God ever created."
Scott Glenn (Axe) says his character's motivation is from "love for the fireman."
Producer Brian Grazer says the fire could "stalk you and suffocate you."
Director Ron Howard: "This is an action movie… but you're dealing with something real."
Producer Brian Grazer: "These guys are the purest form of the American hero."
William Baldwin says that to this day fire trucks honk their horn when they see him.
Howard: "Every time a fire truck goes by, I still get a surge of emotion and adrenaline."
Script Notes
Backdraft was written by Gregory Widen, a California firefighter who became a screenwriter. The movie is based on stories he heard and experienced as a firefighter.
Dir. Ron Howard really wanted to make the movie about "the power" and "conflict" of brothers. He had dealt with similar sibling themes in Splash (1984) and Parenthood (1989).
In the script, the fire was written like it was a living character in the movi
e. Howard says that was "one of the biggest problems I've solved technically as a director."
Set Notes
Backdraft features a boat called the "Spirit of Chicago."
The production designer said a problem was "what to do with take 2, after you've burned the set." So they covered most sets in fire retardant paint to slow down the burn.
Howard wanted to make the fire sequences feel like combat.
Stunt coordinator Walter Scott didn't want to flip the truck: "Those trucks aren't built to roll over."
The filmmakers built the elevator shaft from scratch.
Scott Glenn (Axe) was actually on fire for this scene. He was coated in layers of fire-proof clothing and special gel for his skin so he wouldn't get burned. As soon as the cameras stopped rolling, firefighters doused him in water and chemicals.
The cast came face to face with 1,200 degree fireballs on set.
Over 5,000 firefighters volunteered to march up and down Michigan Ave. for one scene. Suburban firefighters begged to be included, but their uniforms were different. 200 of them showed up and marched in the back anyway.
Effects supervisor Alan Hall set up a "fire lab" three months before shooting to learn how to control the fire. In the lab, he tested explosions, different types of fuels, and how the fire burned.
Some footage was shot upside down on the ceiling because fire doesn't actually crawl on the floor.
Jennifer Jason Leigh reportedly told Ron Howard she wished she was the fire because it has the best part.
Baldwin and Russell went to a firefighter "boot camp" to learn the ropes. They even slept at a Chicago firehouse for about a month.
They carried a real 50 lb. fire hose up these stairs instead of the light prop hose that was on set.
The crew built a machine they called the "Ash-O-Matic" to make those embers float through the air. It was like a reverse vacuum that shredded cardboard, set it on fire, and blew it into the air.
Both Baldwin and Russell did many of their own stunts throughout Backdraft. Stunt coordinator Walter Scott: "We did things I didn't think were possible before that film."
Most sets like this were "pre-burned" and then built inside an existing building.
Symbolism Notes
The boat represents Stephen's physical and emotional isolation. By selling it, he's moving on.
Trivia Notes
That fire was an actual backdraft, which is caused by a surge of oxygen into a smoldering room.
Fire hoses emit so much pressure that firefighters have been able to lift cars off the ground with them.
The actual Engine 17 wasn't in service anymore when they made this movie. The truck that portrays 17 was actually Engine 18.
"Call in a box" means to tell the department that this is a real fire and that they need backup.
Director Ron Howard tried to create the fire digitally, but he said it looked too fake.
A fire suit can weigh up to 90 lbs. with an oxygen tank attached.
Fire can heat up water so quickly that it can fall back down at scalding temperatures.
A recent study shows firefighters are actually less likely to smoke cigarettes than most people.
In '91, Ron Howard represented firemen on Capitol Hill to lobby for more money for their training.
In 1967, director Milos Forman made a movie called The Firemen's Ball.
The movie features World Champion Irish dancers who were born and raised in Chicago.
There are three ranks above Lieutenant: Captain, Assistant Fire Chief, and Fire Chief.
The difference between arson and other crimes is that first you have to prove that a crime occurred.
"Parole" comes from the French word parol, which means "word," as in giving one's word of honor.
All of Rimgale's theories about the origins of the fires are completely unrealistic on purpose. Ron Howard says, "The Fire Department didn't want to give away formulas for people to start fires."
Trychtichlorate isn't a real chemical; it was made up for the movie.
In a high-rise fire, firefighters usually get off an elevator at least two floors below the fire.
Producers say they've met a lot of people that became firefighters specifically because of Backdraft.
"You go, we go" is the firemen's motto in this movie.
The divorce rate for firefighters is three times as high as the rest of the population.
In real life, William Cosgrove is a Chicago fireman and was Robert De Niro's technical advisor.
As a matter of pride, firefighters always compete to be the first truck to arrive at a fire.
One fire in the movie got so hot it actually caused structural damage to the building. Luckily it was an old warehouse that was already scheduled for demolition.
William Baldwin, Kurt Russell and Scott Glenn all got stunt credits for their work in Backdraft. Baldwin describes the filming as "a rock 'n' roll shoot."
Chicago firemen pride themselves on rushing into the middle of a burning building, rather than just staying safely outside and trying to "surround and drown" the fire.
Backdraft was the first movie that the Chicago Fire Department let use their logo and equipment.
Read More