Uncategorized
Story Notes for The Birdcage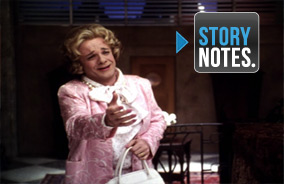 Weeknights during prime time on AMC, you can catch Story Notes — real time trivia and facts about your favorite movies! Below is the online version of the Story Notes for The Birdcage.
Award Notes
Nathan Lane was nominated for a Golden Globe for his performance as Albert.
In his career, director Mike Nichols has won four Emmys, a Grammy, an Oscar, and eight Tonys, making him one of an elite few with a full EGOT.
The Birdcage won a Screen Actors Guild Award for Outstanding Performance by a Cast.
Dianne Wiest won an American Comedy Award for her performance in The Birdcage.
The Birdcage was nominated for an Oscar for Art Direction. Production designer Bo Welch also worked on Edward Scissorhands, Beetlejuice and Batman Returns.
Biography Notes
One of Nathan Lane's musical numbers as Max Bialystock in The Producers was called "Keep it Gay."
Nathan Lane is 5′ 5″, three inches shorter than Robin Williams.
Nathan Lane also played a character who dresses in drag in Broadway's Love! Valour! Compassion! (1995).
Hank Azaria (Agador) is the voice of Moe, Apu and Chief Wiggum on The Simpsons.
Christine Baranski (Katherine) has appeared in the movie musicals Mamma Mia (2008) and Chicago (2002).
Robin Williams has joked about anti-fur activists throwing red paint on him because of his body hair.
Calista Flockhart (Barbara) was actually 31 when this was filmed; Dan Futterman (Val) was 28.
Christine Baranski plays lawyer Diane Lockhart on The Good Wife.
Gene Hackman and director Mike Nichols both started out in improvisational comedy.
Dianne Wiest also played mothers in Edward Scissorhands (1990) and Parenthood (1989).
Nathan Lane was born Joseph Lane. He changed his name because there was already an actor with that name. He chose the name Nathan after Nathan Detroit from Guys and Dolls, who he would later play on Broadway.
Gene Hackman later played a U.S. President involved in a major scandal in Absolute Power (1997).
Dan Futterman (Val) is also a writer. He wrote the Oscar-nominated screenplay for Capote (2005).
Blooper Notes
As residents of Florida, the Goldmans wouldn't vote for the Senate election in Ohio.
There are actually no cemeteries on Key Biscayne, but there is one underwater 3.25 miles off the coast.
Casting Notes
Oscar-winner Robin Williams had recently played a man in drag in Mrs. Doubtfire (1993).
Robin Williams was offered the part of Albert first but decided he'd rather play the more subdued role.
Luca Tommassini was a dancer in Madonna's "Human Nature" and Bjork's "It's Oh So Quiet" music videos.
At the time, Christine Baranski (Katherine) was playing sharp-witted alcoholic Maryann on Cybill.
Brian Reddy played a "high-talking" man who sounds like a woman on an episode of Seinfeld.
Director Mike Nichols cast Hank Azaria after seeing him play a TV producer in Quiz Show (1994).
Herschel Sparber is 6′ 9″. He was in Guys and Dolls on Broadway with Nathan Lane.
Two-time Oscar winner Gene Hackman was just coming off Crimson Tide and Get Shorty.
This was Nathan Lane's breakout movie role, though he was already a Broadway star. Nichols came backstage to offer Lane the part while he was performing in Laughter on the 23rd Floor.
Hank Azaria (Agador) was originally supposed to just play Albert's dresser, but they expanded the role.
Dianne Wiest has also won two Oscars, both for movies directed by Woody Allen.
Calista Flockhart (Barbara) landed the lead role on Ally McBeal soon after The Birdcage.
Finance Note
The Birdcage made over $185 million, making it the top grossing gay-themed movie of all time.
History Notes
Bob Dole was the Republican nominee for President in 1996. He was Senator from Kansas from 1969 to 1996. Director Nichols: "His genius is that he can be 100 percent true and funny at the same time."
Two years after the movie premiered, the Clinton-Lewinsky scandal would be all over the news.
The tradition of white weddings started when Queen Victoria wore a white wedding dress in 1840.
The president of Guatemala from 2000-2004 was known by the nickname "The Husky Chicken."
John Major was the Prime Minister of England when this movie came out in 1996.
Location Notes
The Birdcage exterior is actually the Carlyle Hotel on Ocean Dr., which is on the same block as a drag bar.
Palm Beach is about 75 miles north of South Beach and is considerably less flamboyant.
Plot Notes
Some men turn to alcohol in tough times; Senator Keeley turns to candy.
Albert makes at least four dramatic exits throughout the movie.
Politics Notes
Ted Kennedy was considered to be one of the strongest advocates for gay rights in the Senate.
In 1996, Jeb Bush was between losing the election for governor of Florida in '94 and winning in '98.
In 1996, the actual Ohio senators were John Glenn (D) and Mike DeWine (R). Senator Keeley's political values are much closer to DeWine's than to Glenn's.
Billy Graham is a Christian evangelist who was the spiritual adviser to many presidents.
Al Sharpton ran for President in 2004 and strongly supports gay rights.
Bill Clinton was responsible for the "Don't Ask, Don't Tell" military policy, which was repealed in 2011.
Pop Culture Notes
The Birdcage was one of several movies in the 1990s to feature drag queens.
Uncle Al was also an ultra-flamboyant character on Laugh-In played by Alan Sues.
Robert Mapplethorpe's controversial "The Perfect Moment" exhibit was put on trial for obscenity.
Eliza Doolittle and the song "I Could Have Danced All Night" are from the 1956 musical My Fair Lady.
Grover's Corners is the fictional setting of the Thornton Wilder play, Our Town.
Nancy Drew has been solving mysteries since 1930. She first appeared in The Secret of the Old Clock.
Spartacus (1960), starring Kirk Douglas and Tony Curtis, has a huge gay cult following.
Williams and Hackman had never worked together, but they'd played characters with the same name. Hackman was Popeye Doyle in The French Connection ('71) and Williams' first movie role was Popeye ('80).
In The Red Shoes ('48), Victoria Page kills herself instead of choosing between her lover and dancing.
Rotten Tomatoes named Armand one of the "Top Ten Most Outrageous Movie Characters."
Ricky Ricardo was played by Desi Arnaz, whose first job in America was cleaning birdcages in Miami.
Press Notes
TIME named The Birdcage one of the "Top 10 Hollywood Remakes" of all time.
Roger Ebert: "Most of the biggest laughs, for me, came from Gene Hackman and Dianne Wiest."
A reviewer said Lane as Mrs. Coleman looks like "the spawn of Rush Limbaugh and Mary Kay."
Lane and Williams appeared on the cover of Out magazine in March of 1996 to promote the movie.
Quotation Notes
On Inside the Actors Studio, Nathan Lane said his least favorite noise was "someone saying no."
Robin Williams described meeting Nathan Lane as "love at first laugh."
Williams on Lane: "He's just huggable. He's a Care Bear with a surprise."
Lane: "It's not about extremes; I just tried to be more feminine and softer."
Christine Baranski: "There's love and dignity to all these characters, however eccentric they are."
Williams said the audience might need an intermission to rest if they laughed as hard as the cast did on set.
Director Mike Nichols: "What I wanted in Armand was a kind of suppressed hysteria."
Nathan Lane: "Albert is a very nurturing, loving human being and I'm very proud to have played him."
Christine Baranski says that among this group of "wildly funny people, Katherine is quite centered and calm."
Nathan Lane: "I'm still the fat kid from high school who never had a date."
Director Mike Nichols saw The Birdcage as "a family place… where people go on dates [and] birthdays."
Director Mike Nichols: "The Birdcage is a comedy about what constitutes a family and the lengths to which people who love their family will go for them."
Robin Williams said the movie is "a counterbalance to the conservative climate [of the time]."
Williams: "Mike [Nichols] finally threatened to bring in an acupuncturist to numb our laugh centers."
Random Notes
Williams has a pug named Leonard. He said in an interview that Leonard is gay and "has a boyfriend."
Script Notes
The Birdcage (1996) is a modern-day adaptation of the French movie La Cage aux Folles (1978). La Cage, was nominated for three Oscars and was a huge box office hit.
The Birdcage was originally titled "Birds of a Feather."
Set Notes
Director Mike Nichols had the cast watch footage of drag queens to learn the moves. The drag performers are professional dancers who had to learn to perform in heels for the movie.
Robin Williams said that some of the straight crew members were attracted to the drag queens. Williams: "They'd be like… I know it's a guy, but…"
Robin Williams' nicknames for Gene Hackman in drag: "Betty White on steroids" and "Dragzilla."
It took a whole day to get through filming this speech because the cast kept cracking up laughing.
A few weeks into rehearsing, Hank Azaria realized Agador sounded exactly like his grandmother.
Robin Williams and Nathan Lane are both known for improvising and ad-libbing like crazy. Director Nichols made them stick to the script for at least a few takes before going wild.
Hank Azaria was filming Heat at the same time as The Birdcage and once had to work for 24 hours straight.
Sports Note
1996 was the Dolphins' first season with Jimmy Johnson as coach after 26 years with Don Shula.
Tech Note
Agador was wearing a thong in the original movie, but it's digitally covered for the cleaned-up TV version.
Trivia Notes
John Wayne's acting coach told him to point his toes when he walked to keep from shuffling his feet.
Fisher Island was once owned by the Vanderbilts. Oprah and Mel Brooks have both lived there.
Some of the earliest depictions of same-sex erotic art can be found on ancient Greek ceramics.
The drive from Ohio to Miami is about 1200 miles, or 20 hours of driving time.
According to a 2011 study, Miami drivers spend an average of 38 hours a year stuck in traffic.
The term "palimony" came from actor Lee Marvin being sued by his longtime girlfriend for alimony.
In 1996, the divorce rate was 20-22%.
Pisher is Yiddish for "young squirt."
Chewing gum was shown to boost kids' math scores in a 2009 study.
Read More