Uncategorized
Story Notes for Halloween: H20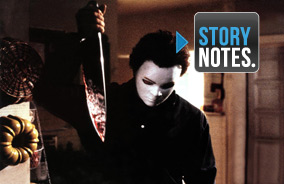 Weeknights during prime time on AMC, you can catch Story Notes — real time trivia and facts about your favorite movies! Below is the online version of the Story Notes for Halloween: H20.
Anthology Notes
Halloween: H20 (1998) is the seventh movie in the Halloween franchise. It's the third starring Jamie Lee Curtis. "H20" stands for "Halloween, 20 years later."
The original Halloween launched the slasher movie era of the 1970s. Halloween: H20 was part of a similar slasher movie boom in the 1990s.
Laurie Strode was the babysitter stalked by Michael Myers in the first two movies.
It's not revealed that Michael Myers is Laurie's older brother until Halloween II (1981).
In the original Halloween, the final showdown between Laurie and Michael takes place in a closet.
Automotive Notes
The 1957 Ford Custom 300 was the same car used in Psycho (1960). The last time Leigh rode in it, she was in the trunk.
The two-door model of the International Harvester Travelall truck was discontinued in 1957, the same year Michael Myers was born.
Biography Notes
Halloween: H20 was directed by Steve Miner, who was no stranger to horror movies. Miner also directed Friday the 13th: Part 2 (1981) and Friday the 13th: Part III (1982).
LL Cool J had always been a fan of the Halloween movies. His mother took him to see the original when he was just nine years old.
In 2002, Adam Arkin earned an Emmy nomination for guest starring on Frasier.
Jamie Lee Curtis first worked with director Steve Miner on the 1992 romantic hit, Forever Young.
Josh Hartnett and Michelle Williams were almost co-stars on Dawson's Creek. Hartnett auditioned for the show six times but didn't get cast.
Jamie Lee Curtis has two Golden Globes. One for A Fish Called Wanda (1988) and one for True Lies (1994).
Jodi Lyn O'Keefe went on to play Gretchen Morgan on Prison Break from 2007 to 2009.
LL Cool J wasn't just playing a writer. A month after the movie came out, he released his autobiography.
Casting Notes
In 1998, Joseph Gordon-Levitt was co-starring on 3rd Rock from the Sun as Tommy Solomon. He's gone on to earn Golden Globe nominations for (500) Days of Summer (2009) and 50/50 (2011).
Nancy Stephens played the same character in the first Halloween — Marion Chambers Whittington. She was the nurse for Dr. Loomis, Michael Myer's psychiatrist.
Michael Myers is played by stuntman Chris Durand. He was also the killer in Scream 2 (1997).
The original Halloween was Jamie Lee Curtis' first movie. She earned her title as the "Scream Queen" after starring in six horror films between 1978 and 1981.
This was Josh Hartnett's first movie. His only other role was on the short-lived TV show Cracker.
Jodi Lyn O'Keefe played Don Johnson's daughter, Cassidy, on Nash Bridges (1996-2001).
Adam Arkin is the son of actor Alan Arkin. In 1998, he was starring as Dr. Aaron Shutt on Chicago Hope.
In 1998, Grammy-winning rapper LL Cool J was also acting on the TV show In the House.
In 1998, Michelle Williams was just beginning her role on Dawson's Creek as Jen Lindley. Since then, she's been nominated for three Oscars, including My Week with Marilyn (2011).
Jamie Lee Curtis and her mother, Janet Leigh, had acted together once before in a horror movie.
Ronny's wife is voiced by Lisa Gay Hamilton. She played Rebecca Washington on The Practice.
Finance Notes
Halloween: H20 was the biggest sequel in the Halloween series history, earning $55 million.
History Notes
The first electric dumbwaiter was invented by Werner von Siemens in 1880 and used in hospitals.
Location Notes
Many scenes at Hillcrest were filmed at a mansion in the Hollywood Hills known as "The Paramour."
Music Notes
John Ottman composed the music for Halloween: H20. Ottman also scored The Usual Suspects (1994), X2 (2003) and Superman Returns (2006).
Pop Culture Notes
Like Victor Frankenstein, Laurie Strode finally faces her monster.
Pop Culture Notes
Michael Myers was the first in a long line of invincible killers, like Jason Voorhees and Freddy Krueger.
The Beckers' house is where Scream begins. It's also in northern California.
One month after Halloween: H20 was released, Curtis got a star on the Hollywood Walk of Fame.
Quote Notes
The first outline of Halloween: H20 was written by Kevin Williamson, the writer of Scream (1996). Williamson saw Halloween as a 10-year-old and calls it "the scariest movie I ever saw in my life."
Halloween co-creator John Carpenter says one of the key themes of Halloween is "evil never dies."
Jamie Lee Curtis wanted Halloween: H20 to examine what happens to a trauma victim. Curtis says her character "lost her trust, her courage and her ability to love."
Before he knew Jamie Lee Curtis was involved, Josh Hartnett wasn't sure he wanted to audition. Hartnett: "Halloween 7? Is that going straight to video, or is that going straight to hell?"
Jamie Lee Curtis may be the "Scream Queen," but she does not like being surprised. Jamie Lee Curtis: "People who are close to me know not to run up behind me."
Adam Arkin says he had two reactions to the first Halloween. Number 1, he was scared to death. Number 2: "I wanted desperately to be able to play Jamie Lee Curtis' boyfriend some day."
Jamie Lee Curtis: "If she dies it doesn't matter, because she's got her soul back by fighting him."
Jamie Lee Curtis considers Halloween: H20 a thank you note to her fans. Curtis: "Without that early career, I truly don't think I would have been an actor."
Jamie Lee Curtis refers to Halloween: H20 as "Field of Screams." Curtis: "If you build it, they will come."
Random Notes
Percodan isn't a food group. It's a prescription painkiller.
55% of adult shoplifters say they started shoplifting in their teens.
Cutting the phone lines is a signature Michael Myers tactic.
By cutting the phone lines, Michael Myers tells his sister he's home.
Script Notes
In the original Halloween script, Michael Myers was referred to as "The Shape." He makes a habit of appearing and then disappearing.
Jamie Lee Curtis originally wanted Laurie's life to be in a shambles at the start of Halloween: H20. Executive producer Kevin Williamson convinced her that Laurie should have more to lose.
Set Notes
Jamie Lee Curtis had turned down sequels in the past but was the driving force behind Halloween: H20.
Production designer John Willett used Michael Myers' mask to inspire the sets for Halloween: H20. Willett wanted the exterior of Hillcrest to be calm, "while inside it's totally crazy, just whacko."
Even after 20 years, Jamie Lee Curtis says seeing Michael Myers on set still scared her.
Trivia Notes
Michael Myers was six years old in 1963 when he killed his sister. That would make him 41 years old in 1998.
Highway 139 cuts across northeast California, stretching from Nevada to Oregon.
Yosemite National Park covers 1,200 square miles in California and averages four million visitors per year.
Halloween III: Season of the Witch (1982) is the only Halloween movie without Michael Myers.
Read More