Uncategorized
Six Reasons Why The Rifleman Was a Trailblazer on TV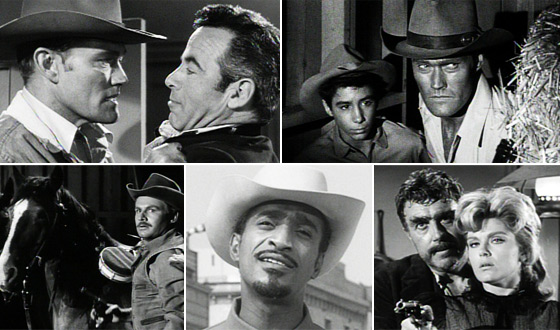 If you asked most people to name a classic western, you'd probably get titles like Shane, High Noon, Red River and The Searchers. But The Rifleman — though a TV series and not a movie — qualifies as well. Raising a skeptical eyebrow under your ten-gallon hat? Consider these six firsts that the landmark series can claim as a leader in the genre.
1. It Was Sam Peckinpah's First Western
Legendary director Sam Peckinpah is known for helming many classic Westerns, including the groundbreaking The Wild Bunch (1969). But in 1958, the young director re-worked a script that was rejected by Gunsmoke for being too violent and too eccentric, and then sold it to Zane Grey Theater. The show, entitled The Sharpshooter, proved so popular it ended up becoming The Rifleman pilot. Peckinpah went on to develop the series himself, writing and directing some episodes in the first season. (Sadly, creative conflicts led him to leave the show before Season 2.)
2. It Was the First Primetime Series With a Single Parent As the Main Character
Lucas McCain's promise to his dying wife to care for their son was a departure for the Western, which traditionally favors solitary leading men over fathers with child-rearing responsibilities. Yet the gently loving relationship between Lucas McCain (Chuck Connors) and son Mark (Johnny Crawford) is a through-line for all five seasons — even if the father's desire to teach his son to avoid violence whenever possible is hard to do in North Fork.
3. It Was the First TV Series to Have a Black Guest Star, Without a Comment on Race
Producer Arnold Laven became a fan of showman Sammy Davis Jr. after catching his famous song and dance act at the Apollo Theater. In one number, Davis appeared dressed as a cowboy explaining that one day he hoped to act in a serious western but he had to practice his fast draw. (Next, he dropped the gun. Cue groans.) Thanks to Laven's casting, Davis went on to become quite adept at gun slinging, a skill which is featured in both The Rifleman episodes he guest-starred in: "The Most Amazing Man" and "Two Ounces of Tin."
4. It Was the First Primetime Western to Use Noir Lighting Techniques
Joseph H. Lewis was the director of the noir classic Gun Crazy, a movie that features a famously dazzling ten-minute shot where the audience becomes a passenger in a get-away car. The director brought his distinct, B-movie sensibility to The Rifleman in over 50 episodes. He enhanced the black-and-white series with moody shadows and interesting camera angles to create an atmosphere that feels almost mythic. Known for his low-budget westerns, thrillers and action pics, Lewis had a 30-year career in the business. In the last years of his life, before retiring in 1966, he worked mostly in television, directing episodes of Bonanza, The Big Valley, and Gunsmoke, as well as The Rifleman.
5. It Was the First TV Western to Feature a Rifle That Doesn't Go Off Every Episode
Lucas McCain's legendary rifle was a Winchester Model 1892 even though the show is said to take place in the 1880s but that is no matter when you're watching the rapid-fire action montage in the opening credits. That McCain does not fire his rifle in every episode fits well with the show's theme of a father teaching his son to avoid violence. Not your typical Western message!
6. It Was One of the First American Series to Be Shown in Russia
When Brezhnev made his historic visit to the United States in the early '70s, the White House asked their very complex guest if he would like to meet any American celebrities. The only celebrity the Soviet leader was interested in meeting was Chuck Connors. It is not surprising that being Brezhnev's favorite TV show, The Rifleman was one of the first American series to be aired on Soviet television, and after their meeting in the U.S., Brezhnev and Connors became friends — the actor was invited several times to visit the U.S.S.R.
Tune in to The Rifleman Saturday mornings at AMC starting at 6/5c.
Read More