She's Hot, He's Not — It Must Be Love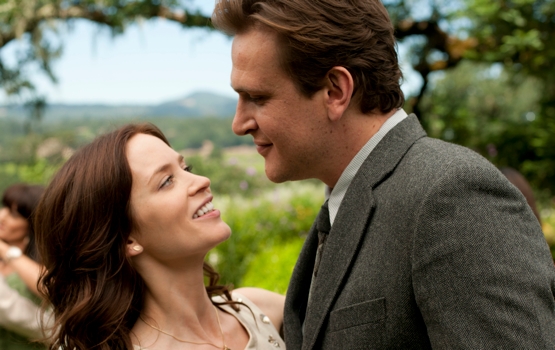 We have gotten so used to the male-female beauty imbalance in life and movies that we hardly remark about it anymore. It's so Beauty and the Beast.
The idea that a far-more-attractive woman is thrilled to be with a far-less-attractive man just seems intrinsically obvious to us. But why? Maybe it's one of women's superpowers: seeing the inner beauty in men, even when men don't have that same ability.

The latest case is The Five-Year Engagement,
which hardly needs a plot summary — duh, it's about a
five-year-engagement between the characters played by Jason Segel and
Emily Blunt, and whether they'll ever say, "I do." In the romcom,
Segel's chef wears an apron with a really hot ripped body silkscreened
on it. We see him often enough shirtless — and pantless (why does Segel
seem intent on taking off his pants? See Forgetting Sarah Marshall)
— to know he's hardly Ryan Reynolds. Meanwhile, he's partnered with
Blunt, who would be the prettiest in a room full of pretty women.
Of
course, Segel is not at all bad looking — and he's tall. He's just not
movie-star ripped. He's the kind of guy our moms would like us to bring
home. And his character compensates for looks with charm bombs: He's
cheeky, funny and sincere — and he cooks.
There are plenty of
movies that rely on the "hot woman, not-so-hot man" trope — even ones
directed by women, like Nancy Meyers' romcom The Holiday with Kate Winslet, Rufus Sewell, and Jack Black. Bridesmaids
plays with the beauty balance, too. It begins by making the groom so
plain as to be a nonentity. (Think hard: What did he look like?) The
love object for Kristen Wiig's Annie — the patient, long-suffering cop
played by Chris O'Dowd — is cute enough (a seven?), certainly not cuter
than Annie. He does have the benefit of having his feet more firmly
planted on the asphalt. And then there's Jon Hamm's Ted, the male ten.
Ted is so much more conventionally handsome than Wiig that he exploits
his power position in the beauty imbalance. He behaves as if he's doing
Annie a favor by giving her the benefit of his company.
I
confess, when I see Chris Hemsworth as Thor, he takes my breath away.
(Cue audible sigh.) But if we were in the same bedroom, I think he would
be too gorgeous for me. I'd be unpleasantly breathless and unable to
communicate. For women, communication is every bit as hot as looks.
I was talking to the actress-director Julie Delpy (Before Sunrise) last week about her latest movie, 2 Days in New York,
and that stunning actress told me something that resonated: "I'm not
attracted to beauty or cuteness in men. For me, beautiful men, it lasts
two weeks. It actually becomes annoying after a while. If they're good
people then you love them; if they're bad people, it doesn't matter if
they're beautiful."
Maybe the beauty imbalance — she's hot, he's
not so much — works in part because women understand that surface beauty
is a little like blue jeans: Throw them in the wash a few times and they start to shrink and fade. What really matters is the quality of the material.
No amount of external beauty is going to make the
days you spend together go any faster. When you're sitting in the dark at the movies, what matters is that the person beside you laughs
at the same jokes and holds your hand in the scary parts.
I'll go
out on a limb here: Is it possible that the beauty imbalance is actually a
pro-woman idea? Because it gives us the benefit of the doubt that even
in a movie, a female character is driven by more profound desires than
her male counterpart.
Read More