Prognosticating the Summer Scifi Films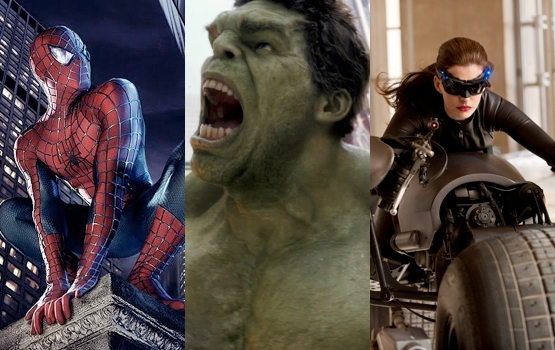 The Summer Movie Season used to begin with Memorial Day weekend, but as more and more blockbusters began to crowd the schedule, the season's start date has moved further back. This year, every weekend in May is jam-packed with summer films getting a head start. So now is a perfect time to look at the science fiction films on the summer schedule and whether I suspect they will be hits or misses.

The Avengers (May 4)
Stars: Robert Downey, Jr., Scarlett Johansson, and the Chrises Evans and Helmsworth
Concept:
All the superheroes from those other Marvel-based films get together to
save the world. As they do. Plus Über-Geek Joss Whedon writes and
directs.
Hit or Miss: If this doesn't make at least $300 million, I will eat my hat. The tough, chewy one, not the hat I have that is made of cookie.
Battleship (May 18)
Stars: Taylor Kitsch, Rihanna, Liam Neeson
Concept: Humans on naval exercises meet unfriendly aliens. Lots of special effects ensue from that point. Think: Transformers, but wet.
Hit or Miss:
It's already a hit because it's been released elsewhere in the world,
has grossed $129 million in two weeks to date, and will probably have
$200+ million in the bank before it gets here, making how it does in the
U.S. pure gravy. And here? It'll do just fine.
Men in Black 3 (May 25)
Stars: Will Smith, Tommy Lee Jones, Josh Brolin
Concept:
Agent J (Smith) has to go back in time to find out what happened to his
partner K (Jones first, and then Brolin in his younger version).
Hit or Miss:
A hit, I think, which is more than it would have been if it had been
released a couple of years after the lackluster MiB 2. But it is
vulnerable if it is not, you know, actually funny. Also a referendum on
whether Will Smith has still got it in terms of being an A-lister.
Prometheus (June 5)
Stars: Michael Fassbender, Charlize Theron, Noomi Rapace
Concept:
Explorers searching for clues of an unknown race unwittingly endanger all
of humanity, while director Ridley Scott pours on the atmosphere in this
sort-of prequel to Alien.
Hit or Miss: For serious
science fiction fans, this is the summer film they are waiting for. The
comic book films will gross more, but if this clicks with fans, it's
still got the potential for $200 million.
G.I. Joe: Retaliation (June 29)
Stars: Channing Tatum, Dwayne Johnson, Bruce Willis
Concept: COBRA attacks the Joes, leaving only a few alive to seek vengeance!
Hit or Miss:
Oh, man. I was sort of agog when the first film succeeded. This one
drops in Johnson, who seems to have a magical ability to boost mediocre
franchises (see: Fast Five), and 12-year-old boys still exist in
this world, so, sure, it'll probably be as successful as the first film,
may God forgive us all.
The Amazing Spider-Man (July 3)
Stars: Andrew Garfield, Emma Stone, Rhys Ifans
Concept: The Spider-Man franchise gets rebooted with new stars and a slightly different origin story.
Hit or Miss: I think it will be a hit, but I'm going to go ahead and be skeptical that it's going to be a huge
hit, mostly because I think five years is too soon for a reboot, and I
think a lot of the fan excitement for this film has transferred to The Avengers. So: $100 million? Sure. $200 million? Maybe not.
The Dark Knight Rises (July 20)
Stars: Christian Bale, Tom Hardy, Anne Hathaway
Concept:
The presumably final Batman film by Christopher Nolan has the Caped
Crusader going up against hulking anarchy in the form of Hardy's Bane.
Hit or Miss: It's almost impossible that this will not be a hit in the $300 million range; the question is whether it will best The Avengers to be the summer's biggest film. It might be slightly too dark to prevail. We will see.
Total Recall (August 3)
Stars: Colin Farrell, Kate Beckinsale, Jessica Biel
Concept: This
remake of the '80s Schwarzenegger hit apparently never gets its ass to
Mars but does still have Quaid (Farrell) imagining that he might be a
super-spy after taking a "vacation" inside his head.
Hit or Miss:
I was going to write it off as a miss, but then I saw the trailer, and
you know what? It didn't totally suck. I'm not a huge fan of director
Len Wiseman, who is more flash than substance, but I suspect this will
bring in what Wiseman's Underworld films do ($60 million, give or take) and possibly flirt with $100 million if it gets a little momentum.
Overall?
Looks like it's going to be a pretty good summer for science fiction,
especially when it overlaps with comic books. We'll see how it all pans
out, starting in just a couple of weeks.
Read More