Uncategorized
Flashback Five – Your Favorite Jack Nicholson Movies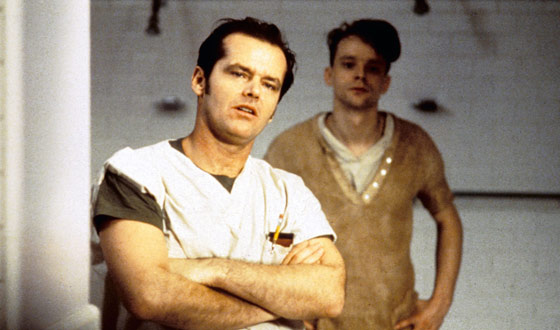 He's played killers, cops, cowboys, and even the odd werewolf. Which Jack Nicholson movie has resonated the most with you, the loyal viewer? Based on AMC's online poll of Jack Nicholson's greatest movies, the race among the best of the best is awfully tight but here are the current standings.
1. The Shining (1980)
Nicholson goes primal as alcoholic writer Jack Torrance in Stanley Kubrick's unforgettable fright flick. Why has this performance landed in the top spot? Maybe because the over-the-top actor is at his most unhinged as he goes at his family with a battle axe and a smile!
2. One Flew Over the Cuckoo's Nest (1975)
Admittedly no one plays crazy like Jack but ironically his mental patient here is the sanest soul in the sanatarium. Whatever the diagnosis, the actor earned him his first Best Actor trophy — and your vote for runner-up — for playing this scruffy iconoclast.
3. The Departed (2006)
This was Martin Scorsese's first movie about mobsters who preferred
corned beef and cabbage to mama's marinara, and, by your estimation, the actor's Bean Town
crime lord proved as fearsome as Goodfellas Robert De Niro and Joe Pesci.
4. Batman (1989)
Even after Heath Ledger's performance in The Dark Knight, Nicholson's turn as The Joker remains the standard by which all clown-painted, Prince-dancing, purple-and-green-attired maniacs are judged.
5. A Few Good Men (1992)
As the grizzled marine Col. Nathan Jessup, Nicholson makes his imposing presence felt throughout this Tom Cruise movie, despite only appearing in just four scenes. So, after careful deliberation, how could you not vote this courtroom drama among Jack's five finest flicks?
Honorable Mentions
1. Chinatown (1974): Nicholson is pitch perfect as a jaded private eye lost in the labyrinth of 1930s Los Angeles.
2. Easy Rider (1969): After playing bit parts in B movies, Nicholson had his breakthrough as a bohemian lawyer in this counterculture landmark.
3. Terms of Endearment (1983): Scene-stealer Nicholson goes toe-to-toe with Shirley MacLaine's sharp-tongued Aurora in this Oscar-winning tearjerker.
4. Five Easy Pieces (1970): In this touchstone of 1970s cinema, Nicholson plays a loutish piano prodigy on the run from his privileged past.
5. The Postman Always Rings Twice (1981): Hankering for Nicholson noir? Look no further than this steamy crime thriller.

Check out Jack Nicholson in One Flew Over the Cuckoo's Nest on Sat., Apr. 7 at 8/7c on AMC.
Read More