Uncategorized
With All Due Respect to The Terminator, Arnold Schwarzenegger Has Made a Killing in Comedy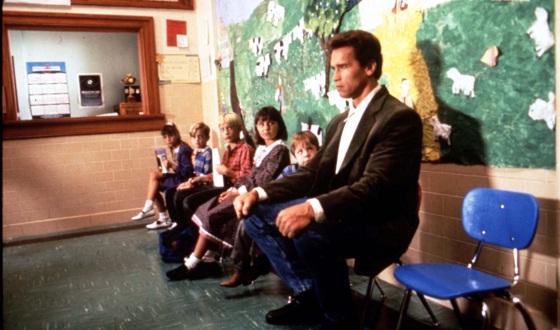 Think Arnold Schwarzenegger started out as an action star? Wrong! Before Conan the Barbarian or The Terminator, Arnold made a name for himself in dramedies and comedies like Stay Hungry and The Villain. Here's a look back at the actor's evolution from '70s straight man to '90s scene stealer.
Hercules in New York (1970)
His thick Austrian accent got him dubbed but Schwarzenegger's earnest portrayal of the mythic strongman provides fodder for his co-stars' jokes.
Stay Hungry (1976)
This movie's worth seeing because… 1. As a bodybuilder with big dreams, Arnold's character is really just Arnold at the time. 2. His costars are Sally Field and Jeff Bridges.
Scavenger Hunt (1979)
A fitness trainer out to make a man of Tony Randall, Arnold puts Randall through the ringer with a series of gym-equipment gags.
The Villain, (1979)
Schwarzenegger in a ten-gallon hat and baby-blue cowboy duds easily illicit giggles. Comedienne Ruth Buzzi and Hollywood Squares' Paul Lynde just add to the fun.
Twins (1988)
Now a world-renowned action star, Arnie returns to comedy with this box-office hit in which he generates unexpected comedic chemistry with his on-screen twin Danny DeVito.
Kindergarten Cop (1990)
This Ivan Reitman flick may be the jewel in Schwarzenegger's comedic crown. Who knew he had such a light touch or could work so well with kids?
The Last Action Hero (1993)
Don't let the title fool you! As a cop unaware of his real-life celebrity, Arnold pokes fun at himself continually. Like when he says "Gesundheit" when a character says "Schwarzenegger."
Junior (1994)
Another over-the-top premise. For this reunion with DeVito, Arnold hams it up as a man who gets impregnated.
Jingle All the Way (1996)
In the last of his '90s comedies, Arnold's a hapless father on the hunt for his son's dream gift. His adeptness at slapstick is worthy of The Three Stooges.
Around the World in 80 Days (2004)
Schwarzenegger joins a star-studded remake while wearing a wig reminiscent of Gene Simmons. The result? Hilarity.
Check out Arnold Schwarzenegger in Kindergarten Cop on Tue., Apr. 11 at 8/7c.
Read More