5 Movie Characters That Changed the Way We View Women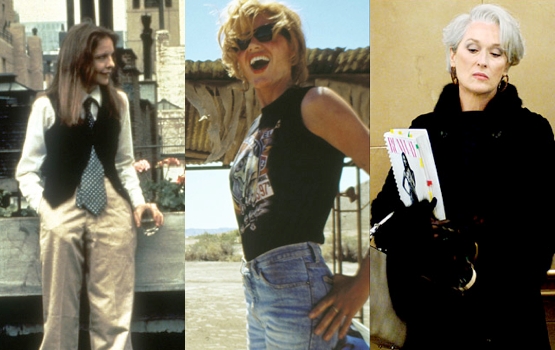 Movies change how we think. They shape how we view ourselves, each other, and the world around us. But which female movie characters changed the way Americans view women?
Sometimes they shake the culture at large; sometimes they change an individual point of view. The characters which opened doors at different part of my life didn't necessarily do the same thing for you. But they were the touchstones that shaped my aspirations as a child, college student, job seeker, mother, and wife as I navigated my own life story.
Here's my list. What's yours?

Poppy (Sally Hawkins) in Happy-Go-Lucky
Poppy,
an elementary school teacher whom people underestimate (even dismiss)
because of her happy-go-lucky outlook on life, is a manic pixie dream
girl who saves herself — rather than serving as a colorful means to
rescuing the moody male lead from a life-sucking mope. As Mike Leigh's
dramedy unfolds and this very ordinary young woman reveals herself in,
of all things, learning how to drive with an angry black hole of an
instructor, we discover she doesn't see the world through rose-colored
glasses. She has made a conscious choice to embrace the positive in
life, even when those around her refuse and resist and whinge. I draw
inspiration from that spirit of relishing life in the small moments and
hoping for the best despite the obvious worst life deals you. It runs
against the grain of female images in movies by appreciating this
quality rather than condescending to it. I suppose that Happy-Go-Lucky is the movie I should watch every Christmas, instead of the fusty Frank Capra-Jimmy Stewart chestnut It's a Wonderful Life.
Lesson Learned: Being an optimist in a jaded society isn't so much a delusion as a triumph of the will.
Miranda Priestly (Meryl Streep) in The Devil Wears Prada
Streep
plays the enormously successful, stylish, and soul-killing Manhattan
editrix of a fashion magazine — who steps all over Anne Hathaway's
fresh-faced, intelligent but naive ingénue. When I first moved to New
York from the provinces, I had one of these female bosses. She was hell
on heels; chic and tyrannical. But, in the sisterhood-is-powerful
movement in which I traveled, it was a delicate subject — the issue of
women in power who behaved badly just like men. We were supposed to be
different. And, so, when I saw the movie, I felt both shock and relief
to find Streep onscreen, giving the frightful female boss a moment of
grace without stinting on the character's outrageous demands and
empathy-impairment. I was not alone.
Lesson Learned: Sisterhood is powerful, but professional power can corrupt even a sister.

Thelma (Geena Davis) and Louise (Susan Sarandon) in Thelma & Louise
Ridley
Scott's female buddy movie was radical and even incendiary when it came
out. It paired two attractive women who took off on a road trip to
control their own destinies, and sexualities, without any protective
men. Sure, the duo drove off a cliff — maybe in Hollywood, there was no
other option — but while they were on the road, they said a lot of
things that we were thinking, and hadn't necessarily heard spoken so
publicly before. Their story of outlaw friendship reflected a journey
that I was already on without the guns and the desperate getaway. It was
good to see on-screen a reflection of the waves we were making
off-screen.
Lesson Learned: Women are equal, duh! And if you bottle that up you get a transgressive brew when it's uncorked.
Sybylla Melvyn (Judy Davis) in My Brilliant Career
When
I saw this in college, movies directed by women were rare. OK, some
things have only improved incrementally. In Gillian Armstrong's My Brilliant Career,
the brilliant Davis, an actress of intelligence and energy and
unconventional looks, plays a young Australian woman in the early 20th
century more in love with her independence than Sam Neill's nearly —
yes, nearly — irresistible suitor. We've seen so many movies like this
that we can't help but root for her to wed the perfect man, yet she
stubbornly holds on to her independence. The movie confounds romantic
expectations by casting aside happily ever after and rooting the story
in a convincing unconventional heroine who changes the world one life,
once choice at a time.
Lesson Learned: Someday your prince may come, but you are your own savior.
Annie Hall (Dianne Keaton) in Annie Hall
She
was an icon, not just the girl who made the anhedonic Woody Allen hero
come alive in her reflected glow. I wanted to be her, to live in New
York, to become an artist, to be the center of my own comedy and own the
title. I didn't want to be a supporting player in the movie of my life.
There were years when I wore pleated pants because of Keaton's Annie
Hall. I embraced that urban, intelligent, witty searcher that she was.
Ditzy was OK; I didn't have to struggle to be ditzy. But she was ditzy and
smart, and that was a balancing act. I look back in hindsight with the
knowledge that Allen can still write some of the best dialogue in the
business but that Annie Hall wasn't the soul mate who made his Alvy
Singer whole; she was a speed bump in a quest that led, in Midnight in Paris,
to the rotten caricature that was the fiancée (Rachel MacAdams), the
unattainable dream goddess (Marion Cottilard), and the nearly underage
clay-to-be-shaped (Léa Seydoux) whom the hero opts for in the end.
Lesson Learned: You are the title character in your own comedy.
One
theme that emerges from the women in movies that have captivated me all
along is that female characters can carry the narrative arc. That
translated into inspiration to enter my own life and own my own path,
whatever the repercussions of the choices I made. At the same time, a
movie like The Devil Wears Prada corroborated my hard-won
experience: Just because a woman comes to power doesn't mean the world
will necessarily be any more hospitable.
Read More