What "The Hunger Games" Owes to Milla Jovovich, Kate Beckinsale, and Sigourney Weaver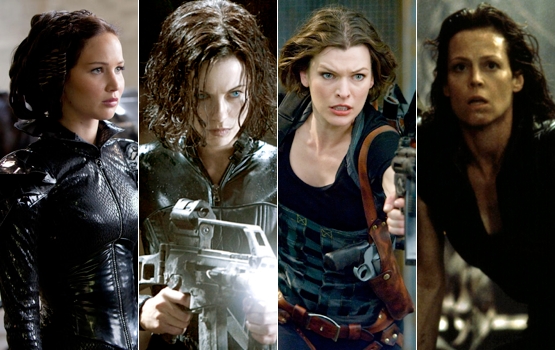 With all the buzz surrounding The Hunger Games and the anticipation for its three sequels to come, there's been plenty of shock and awe that a female-driven action movie has this kind of box office clout. And while some (like Melissa Silverstein on the must-read Women and Hollywood blog) have asked whether The Hunger Games will be the first real female franchise, I have a definitive answer: No. It can't be. Because it's not the first.

Though they've been oft-overlooked by the Hollywood establishment —
and critics, too — at least three women-driven franchises have
commanded the box office: Resident Evil's soon-to-be-five
installments, anchored by Milla Jovovich, represent the most successful
video-game movie series ever; Kate Beckinsale's leads the four Underworld movies; and the grandma of the bunch, Sigourney Weaver, kicked extraterrestrial butt as Ripley in Alien and its sequels.
Violent Video-Game Vixen

When
former cover girl Milla Jovovich dazzled at this year's Oscars, owning
the red carpet before presenting an award, the general response was that
she looked great — but why was she there? Though it's not common
knowledge, the Ukrainian-born actress's action series Resident Evil
has grossed $675 million worldwide since the first installment in 2002,
directed by Paul W. S. Anderson. In fact, each successive film has
grossed more than the last. The fifth, Resident Evil: Retribution,
will open in September. Jovovich plays Alice, a character of few words
and deadly aim who routinely battles to the death and survives to
eradicate villains in another sequel. With Alice, Jovovich has emerged
as a major female star who can open movies internationally. She also
endures in the pop-culture ethos as the redheaded Earth savior opposite
Bruce Willis in Luc Besson's cult classic The Fifth Element. It may be that while critics have never embraced Resident Evil, but there is a devoted, mostly male fan-base that definitely knows how to spell Jovovich.

Surprise Supernatural Series Star

London-born
Oxford University dropout Kate Beckinsale is a totally unlikely action
heroine, even though she looks great in a shiny black catsuit on a big
billboard over Hollywood Boulevard. The porcelain-skinned, fine-boned
English actress seems to have been born to play Jane Austen characters.
But her Underworld: Awakening 3D,
released in January, the fourth in the series, solidified her spot as a
genre-action queen in a movie that features vampires and werewolves.
She plays Selene, a vampire who began the series by avenging her
family's slaughter, and the plot has twisted and turned with each
succeeding episode. Beckinsale's daughter with costar Michael Sheen,
Lily Mo Sheen, has gotten into the act too, playing Selene as a young
girl. The self-deprecating Beckinsale, who seems as surprised as anyone
that she's come to be the face of a supernatural action franchise, has
been laughing all the way to the bank. She even met her husband, Len
Wiseman, while he was directing her and her ex Sheen (Midnight in Paris) in the movies. The first four Underworlds
have grossed $450 million worldwide and have been enormously
profitable, particularly because they have kept overall costs down,
unlike some higher profile movies like The Girl with the Dragon Tattoo, which the studio claims to still be in red ink despite a worldwide gross of $231 million.
The First Female Action Franchise

And
what about Sigourney Weaver? Her tenacity and lack of vanity as the
scientist Ellen Ripley fighting the relentless mother of all
extraterrestrial antagonists in the 1979 hit Alien has achieved classic status in action franchises — male or female. The Alien
saga, which included three more films with Weaver, had not only box
office success but also critical acclaim (unlike the previous two
mentioned). It is arguably the greatest contemporary landmark on the
road to the female franchise that has peaked with The Hunger Games.
In the first installment, Weaver played an astronaut who became the
last woman (or man) standing in a battle of wits, stamina, and muscle
against an alien protecting her nest on an abandoned alien vessel. More
than 30 years later, warrior Weaver soldiers on, leaping to a major role
in Avatar, and riffing off her prominent position as a scifi icon in movies like the geek comedy Paul. Although the franchise peaked domestically with Aliens
in 1986, there may still be a fifth movie in the series that has
grossed $557 million worldwide — if the principle participants agree.
Interesting factoid: Tom Skerritt was originally cast as the hero,
Ripley, but was demoted to the costarring role of Dallas when Weaver
came on board, in an apparent effort by the studio to beef up projects
with female leads.
So as we celebrate and embrace the monster success of The Hunger Games,
let's not forget genre vets Jovovich, Beckinsale, and Weaver, who
broke ground in scifi and supernatural blockbusters and paved the way
not only for Jennifer Lawrence's Katniss but, we can only presume (and
hope), more female-led franchises to come. They might have been denied
universal critical acclaim for boldly leading profitable action
franchises, but they have managed to bring bodies into the theaters. You
just have to look at one of their movies to realize that they have the
body count to prove it.
Read More