Uncategorized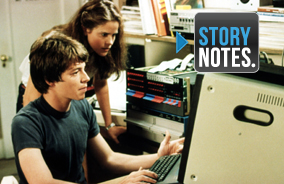 Catch Story Notes every Monday through Thursday on AMC for real-time, on-air trivia for your favorite movies. Tonight's movie was WarGames.
Automotive Notes
Jennifer and David ride a Derbi Variant moped. It's a Spanish motor scooter.
Award Notes
John Wood as play Falken. In 1976, he won a Tony Award for his work in Travesties.
WarGames earned Oscar nominations for original screenplay, sound, and cinematography.
Biographical Notes
When Ally Sheedy was six years old, she danced with the American Ballet Theater in New York City.
WarGames was directed by John Badham. He also directed Blue Thunder that same year (1983). The movies were released less than a month apart.
At 12 years old, Ally Sheedy wrote a best-selling children's book called She Was Nice to Mice.
Writer Walter Parkes directed a documentary about American Nazis called California Reich (1975).
Matthew Broderick and Dabney Coleman would work together again in Inspector Gadget (1999).
John Garber (Corporal) was also the dialogue coach for the movie.
Two years later, Broderick would have to escape from Italian authorities in Ladyhawke (1985).
Casting Notes
Michael Madsen and John Spencer plat missile commanders. This was Madsen's first movie role. Spencer is known for his role on The West Wing.
Dabney Coleman was just coming off Tootsie and had recently done Nine to Five.
Barry Corbin (General Beringer) was nominated for an Emmy for Northern Exposure.
WarGames came out three years before Matthew Broderick starred in Ferris Bueller's Day Off. At this point, he was known mostly for being the son of James Broderick from Family on ABC.
Ally Sheedy plays Jennifer. She would go on to play Allison Reynolds in The Breakfast Club (1985).
Alan Blumenfeld plays Mr. Ligget. He later played Maury Parkman on Heroes.
Maury Chaykin (Jim) played Major Fambrough in Dances with Wolves. And Eddie Deezen (Malvin) was called "the first computer nerd of film" by movie critic Pauline Kael.
James Tolkan plays Nigan. You know him from Back to the Future and Top Gun.
Ally Sheedy auditioned for the role of Jennifer for four months before being cast.
When they started writing WarGames in the late '70s, the writers wanted John Lennon to play Falken.
Finance Notes
WarGames earned over $79 million at the box office. That's over $180 million by today's standards.
Historical Notes
The commanders use a military phonetic alphabet. The U.S. Military has been communicating this way since 1913.
From 1961 to 2003, the U.S. nuclear war plan was a highly classified document known as SIOP. SIOP stands for Single Integrated Operational Plan, and it was never computerized.
Wargaming was invented by a Prussian lieutenant, von Reisswitz, in 1811.
In 1964, Pan Am became one of the first airlines to use a computer reservation system.
In the early 1980s, tensions between the U.S. and the Soviet Union were high. Ronald Reagan announced the Strategic Defense Initiative, also known as Star Wars, in 1983.
The only time the U.S. has reached DEFCON 2 was during the Cuban Missile Crisis in 1962. The alert system has never been raised to DEFCON 1.
In 1952, the very first computer game was a version of tic-tac-toe.
Music Notes
The music for WarGames was composed by Arthur B. Rubinstein. Rubinstein was a member of the band The Beepers and has done nine movies with director John Badham.
The harmonica music was added at the last minute. Composer Arthur Rubinstein says it's the one thing fans always remember about the score.
Political Notes
President Reagan saw WarGames at a Camp David screening during its opening weekend. The movie influenced his political stance against nuclear weapons in the mid-1980s.
WarGames came out the same year Ronald Reagan called the Soviet Union the "evil empire."

Pop Culture Notes
WarGames (1983) was one of the first movies to feature the hacker culture. Dan Verton, Tech. Author: "WarGames came out at what was considered the golden age of hacking."
The largest hacker convention in the world is called "DEF CON," an homage to WarGames. It's been going on since 1992.
WarGames is still a favorite in Silicon Valley. In 2008, Google held a 25th anniversary screening.
WarGames had more impact on hacker culture than defense policy. The Cold War was ending, but the cyberwar was just beginning.
Prop Notes
A Titan II missile could hit a target 9,000 miles away with a nuclear warhead.
A TRS-80 monitor was one of the first inexpensive monitors available at the time.
The toy pterodactyl isn't self-propelled. It's launched with a giant slingshot and can be flown with a radio remote control.
Quotation Notes
Ally Sheedy says, "Matthew Broderick is one of the funniest people I have ever met."
Matthew Broderick says, "I was always somebody who could appear smart or nerdy. And I emphasize appear."
Google founder Sergey Brin: "Many of us grew up with this movie. It was a key movie of a generation, especially for those of us who got into computing."
Broderick and Sheedy actually talk to each other on real phone lines in one scene. Director John Badham says, "It kept a real energy."
Matthew Broderick: "It didn't seem that far-fetched that somebody could make a mistake and suddenly the whole world would blow up."
Barry Corbin joined the Marine Corps after graduating from Texas Tech, but he didn't stay long. Corbin says, "Wasn't exactly the smartest thing I've done."
Barry Corbin: "I know how to turn a computer on, but I don't know what to do after that."
Random Notes
There are 255,168 possible outcomes to a game of tic-tac-toe.
NORAD is designed to withstand heavy bombing, but not a nuclear blast.
The helicopter really was hovering over Broderick and Sheedy. Director John Badham: "This helicopter pilot, Jim Gavin, I would trust with my life."
David uses a small piece of metal to short circuit the phone. Today all pay phone mouthpieces are sealed to stop this kind of phone hacking.
It's director John Badham's voice on the tape recorder.
David could get over 30 years in prison for espionage, depending on the charges.
In 1983, there were just over 233 million people living in the U.S.
NORAD's command center is buried under 2,000 feet of granite.
NORAD is responsible for protecting both the U.S. and Canada against all air attacks. They also track Santa.
A tumulus is a hill or mound that covers an ancient grave.
In 1999, 16-year-old Jonathan James hacked into NASA computers using a backdoor.
During the early 1980s there were very few security measures that would stop hackers. There also weren't that many computers connected to the internet.
Missile commanders had to follow a 13-step checklist to launch a Titan missile.
Script Notes
Writer Tom Mankiewicz was hired briefly to write a scene for WarGames. He's best known for writing the James Bond movies Diamonds Are Forever and Live and Let Die.
Set Notes
Director John Badham wanted the WOPR to have flashing lights to give it personality.
David's playing an arcade game called Galaga. It was released in the U.S. in 1981. Producers delivered a Galaga machine to Broderick's house so he could practice.
Producers designed the offices with glass windows to show off the expensive command center set.
Falken's home was built on a sound stage at MGM Studios. Most of the set pieces are from "Little House on the Prairie" and old dinosaur movies.
Source Notes
WarGames was partially based on an article called "The Subterranean World of The Bomb."
Matthew Broderick's character was inspired by real-life hacker David Scott Lewis. Lewis isn't allowed to discuss whether he ever hacked into a military computer.
The writers based General Beringer on General James Hartinger. Hartinger was the Commander in Chief of NORAD in the early 1980s.
Tech Notes
David is using a dialer scanner to link his computer with a computer at Protovision. Because this technique was first seen on film in WarGames, it's now known as "war dialing."
The first electronic speech synthesis device, the Voder, was developed by H.W. Dudley. He introduced it at the 1939 World's Fair in New York.
The crew built the command center with 12 giant projector screens. Michael L. Fink, Visual FX Supervisor: "Those kinds of screens didn't exist."
Visual FX Supervisor Michael Fink sat inside the WOPR and controlled it with an Apple 2 computer.
Trivia Notes
NORAD stands for North American Aerospace Defense Command.
In 1983, NORAD headquarters was stationed inside Cheyenne Mountain in Colorado.
Matthew Broderick used a computer to change his sick days in Ferris Bueller's Day Off.
Sunnyvale, California is where the arcade version of Pong was first unveiled in 1972.
Depending on the case, hackers can be charged with everything from fraud to cyber terrorism.
The original title of WarGames was "The Genius".
Falken was based on Stephen Hawking.
DEFCON is shorthand for defense readiness condition. It describes the state of the U.S. Military in relation to threats.
ICBMs are Intercontinental Ballistic Missiles, just like the one from the beginning of the movie.
Read More