Uncategorized
Story Notes for The Brave One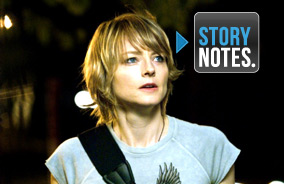 Monday through Thursday during prime time on AMC, you can catch Story Notes — real time trivia and facts about your favorite movies! Below is the online version of the Story Notes for The Brave One.
Awards Notes
Terrence Howard was nominated for a BET Award for Best Actor for The Brave One in 2007.
Jodie Foster was nominated for a Golden Globe for her performance in The Brave One.
Biographical Notes
Irish-born director Neil Jordan had never shot a movie in New York City before The Brave One. He also directed The Crying Game, Interview with the Vampire, and Michael Collins.
Naveen Andrews (David) played romantic British soldier Kip in The English Patient (1996).
Jodie Foster won her first Oscar for The Accused, where her character was also brutally assaulted.
Cinematographer Philippe Rousselot also worked on Sherlock Holmes, Big Fish and Dangerous Liaisons. He won an Oscar for A River Runs Through It in 1993.
Foster won her second Oscar for playing FBI agent Clarice Starling in Silence of the Lambs (1991).
Ene Oloja (Josai) had been in the U.S. for 17 years before being cast in this, her first American film role.
Zoë Kravitz (Chloe) played a stripper with super powers in X-Men: First Class (2011).
In real life, Jodie Foster opposes the use of guns for anything but hunting. Foster: "I don't believe that any gun should be in the hand of a thinking, feeling, breathing human being."
Jodie Foster took a break from serious drama for her next movie, the fantasy adventure Nim's Island (2008).
Casting Notes
Jodie Foster had been on a roll of playing strong women in Flightplan, Inside Man and Panic Room.
The Brave One features Naveen Andrews, a.k.a. Sayid on Lost (2004-10).
Jane Adams (Nicole) was in Happiness ('98) and Little Children ('06) and on TV shows Hung and Frasier.
The Brave One features Terrence Howard from Crash and Ray ('04). He got an Oscar nod for Hustle & Flow in 2006.
Gordon MacDonald (Murrow) has two kids, twins, with actress Holly Hunter.
Yolande Bavan (David's mother) is a jazz vocalist and has also recorded hundreds of books for the blind.
Ene Oloja (Josai) was a big star in her home country of Nigeria in the '80s before moving to the U.S.
The Brave One features auteur and actor Larry Fessenden (Habit, Wendigo).
Nicky Katt (Vitale) was also in Sin City and Boiler Room and played Harry Senate on Boston Public.
Mary Steenburgen filmed this between playing caring mothers in Elf ('03) and Step Brothers ('08). In 1981, she won the Oscar for Best Supporting Actress for Melvin and Howard.
Nicole Kidman was originally cast as Erica. Foster also took over Kidman's role in Panic Room (2002).
Victor Colicchio (the pimp) was in GoodFellas and Inside Man. He is a minister as well as an actor.
The Brave One features Zoë Kravitz, daughter of singer Lenny Kravitz and actress Lisa Bonet (The Cosby Show).
John Magaro (Ethan) was one of the leads in Wes Craven's 3D movie My Soul to Take (2010).
You may recognize Lenny Venito (Mortell) from War of the Worlds (2005) and The Sopranos.
Julia Garro (Shauna) was raised in Argentina and NY and was in A Guide to Recognizing Your Saints (2006).
Finance Notes
In 2007, $1000 would be on the high end of the range for illegal black market guns.
Jodie Foster made $15 million for The Brave One, the most she's been paid for any movie.
Health Notes
The liver's temperature drops about one and a half degrees per hour, which helps indicate time of death.
History Notes
Closed Circuit Television (CCTV) systems have been used to track crime in New York since the mid-'60s.
In 2007, a convicted felon mailed hoax anthrax letters to five district courthouses from prison.
Bernie Goetz was named "The Subway Vigilante" after he shot four assailants on the 2 train in 1984.
In 1981, an obsessed fan of Jodie Foster, John Hinckley Jr., tried to assassinate President Reagan. The Brady Act, which restricts access to guns in the U.S., was an effect of the assassination attempt.
Location Notes
Parts of the movie were shot in Central Park near the Strangers' Gate entrance at 106th St. and Central Park West.
Erica's apartment is at 12 West 104th Street on the Upper West Side of Manhattan.
The John Jovino Gun Shop, founded in 1911, is the oldest gun store in New York City.
Roosevelt Island is a thin island in the East River between Manhattan and Queens.
This was filmed under the Macombs Dam Bridge, just across the Harlem River from Yankee Stadium.
Parts of the movie were shot in a parking garage on Roosevelt Island in New York City. Other movies shot on Roosevelt Island: Nighthawks, Spider-Man, and Conspiracy Theory.
Roma's Pizza is a real NYC pizza place located at 1568 Third Avenue.
Some scenes in The Brave One were filmed on Ellwood Avenue in the Washington Heights section of Manhattan.
Musical Notes
The Brave One features "Answer" by Sarah McLachlan, 2003
The music was composed by Dario Marianelli, who won an Oscar for Atonement in 2008.
The Brave One features "You Don't Know Me," performed by Elvis Presley, 1968.
The Brave One also features "Black Betty" by Ram Jam, 1977.
Plot Notes
The first step in most 12-step programs is to admit a powerlessness over the situation.
Pop Culture Notes
In Taxi Driver ('76), Foster played a young prostitute saved by a vigilante. Now the roles have reversed.
Other vigilante films include: Sin City, Falling Down, Batman, An Eye for an Eye and V for Vendetta.
Kate Moss was #2 on Forbes' list of the "Top Earning Models of 2007." She made $9 million that year.
In 2007, Jennifer Aniston appeared on the cover of more magazines than any other celebrity.
Director Neil Jordan compares the movie to the work of Don Siegel, who directed Dirty Harry ('71).
Entertainment Weekly ranked Jodie Foster #57 on their list of the "100 Greatest Movie Stars of All Time."
Press Notes
The New York Post's headline for their review of The Brave One was: "Jodie, Aim, Fire!"
Prop Notes
The Kahr K9 is a semi-automatic pistol that was used by the NYPD up until 2011.
Quote Notes
Producer Joel Silver: "Once this tragedy occurs in her life, she can't look at anything the same way… not even the city she loves."
Jodie Foster: "The second that you buy a gun, fear is yours. You've walked into a culture that immediately puts you in danger and puts others in danger of you."
Producer Joel Silver has called the movie "a muscular chick flick."
Jodie Foster says she likes to play solitary characters because it fits in with her own creative spirit.
Foster says Erica "has practically lost her body. She's in danger of becoming just a voice. [It's] part
ly about her finding the power of her body again by being the one who can cause life and death."
Foster was intrigued by the idea that a woman would externalize her rage, instead of becoming a victim.
Howard: "Part of him is truly upset that his hands are tied by this moral dilemma that we call justice."
Foster, on Erica and Mercer: "I think they are attracted to each other's hearts… In some ways because they are opposites and in some ways because they are exactly the same."
Foster: "Erica sees in Mercer her moral counterpart. He would never cross the line and she wants to understand who he is, perhaps so he can save her."
Foster: "By the end of the movie, I think you see an animal come out."
Jodie Foster says Erica is "drawn to [Mercer] because something tells her that he could be just like her."
Jodie Foster: "Through this terrible rage, [Erica] finds a side of herself that she never knew she had…something monstrous and horrible, but in some ways also terrifyingly beautiful."
Foster: "Julia Roberts and Sandra Bullock do romantic comedies. I do dark dramas. I do these movies well."
Script Notes
The Brave One (2007) tells a modern-day vigilante revenge story from a woman's perspective.
The original Brave One script was written by father/son writing team Bruce and Roderick A. Taylor. Cynthia Mort (Roseanne) was brought in as a third screenwriter to give the script a female voice.
In the original script, Erica was a New York Times journalist. Jodie Foster, a self-described "NPR junkie," asked that she be a radio talk show host instead.
Dr. Dre and 50 Cent were almost used here instead of Wu-Tang Clan.
The Brave One's title isn't referencing Erica's vigilantism. It's about Erica being brave enough to go on living when she had lost all hope.
Set Notes
Curtis the dog is played by a German Shepherd named Butch that was born in an animal shelter.
Jodie Foster studied the effects of post-traumatic stress disorder when researching this role.
It was Foster's idea for Erica to record sounds of the city for her radio show. Foster walked for miles all around Manhattan with headphones on to prepare for the role.
Terrence Howard shadowed Neal Carter, a veteran NYPD homicide detective, to research his role. Carter's first job as a movie consultant was on Jodie Foster's Inside Man (2006).
Foster improvised the "looking for a show" line. The sensual nature of this scene evolved while shooting.
Jodie Foster says she got her "Janis Joplin" radio voice from partying with the cast before filming.
Consultant cop Neal Carter said these two actors were naturals at picking up police procedure and lingo.
Production designer Kristi Zea gave Erica's apartment the look of a renovated tenement building.
Source Notes
The Brave One features a quote from D.H. Lawrence's Studies in Classic American Literature, published in 1923.
In The Brave One, Erica quotes a poem by Emily Dickinson.
Symbolism Notes
Jodie Foster compared Erica's journey in the film to Alice in Wonderland. The tunnel is her rabbit hole.
Erica Bain's last name may be a play on words. A "bane" is a cause of harm, ruin, or death.
This cross necklace symbolizes Erica's connection to David. She is taking a step towards letting go.
Trivia Notes
Since 2007, dogs are actually allowed to be off-leash from 9PM to 9AM in most areas of Central Park.
ACS is the Administration for Child Services, which helps protect children from abuse and neglect.
In 2007, there were 9,082 unsolved murder cases in NYC, dating back to 1985.
Crime scene investigators use bullet casings to uncover the direction of the shooting and type of gun.
According to Forbes magazine, New York is actually the 10th safest big city in America as of 2011.
In 2007, NYPD officers shot a total of only 29 people in the line of duty.
Some say the "Disney-fication" of New York was a result of Mayor Rudy Giuliani's tough anti-crime laws.
The 11th Precinct was actually closed in 1954.
Ethan would have to be carrying more than 8 ounces of marijuana for it to be considered a felony.
Police are required to have at least four "filler" lineup participants in addition to the actual suspect. The "fillers" have to bear a resemblance to the suspect and are often prisoners themselves.
There were 162 pawn shops in NYC in 2007.
German Shepherds are the #1 police dogs because of their fearlessness and ability to track a scent.
"10-13" is police code for an officer needing assistance.
Read More