Uncategorized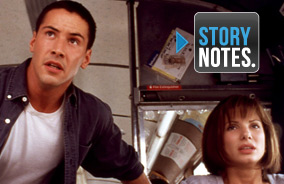 Monday through Thursday during prime time on AMC, you can catch Story Notes — real time trivia and facts about your favorite movies! Below is the online version of the Story Notes for Speed.
Awards Notes
Speed was nominated for three Oscars. It won Best Sound and Best Sound Effects Editing. (It was also nominated for Film Editing.)
Automotive Notes
In Speed, Jack drives a 1968 Ford Bronco.
The stunt team used a specialized bus that could go 70 miles per hour for one stunt.
Biographical Notes
This was writer Graham Yost's first movie. He went on to create the TV show Justified.
This isn't Dennis Hopper's first comeback. In 1986, his career was revitalized with a string of meaty roles and an Oscar nod for Hoosiers.
Two years after Speed, Alan Ruck worked with Jan de Bont again on Twister (1996).
Dennis Hopper played Feck in River's Edge (1986), one of Keanu Reeves' first movies.
Speed established Keanu as a leading man, and led to The Devil's Advocate (1997) and The Matrix trilogy.
After her performance in Speed, Sandra Bullock was dubbed "America's Sweetheart."
Blooper Notes
While filming one shot, Reeves accidentally broke a bus window. The broken window comes and goes throughout the movie.
Casting Notes
Robert Mailhouse played drums alongside Keanu Reeves in the band Dogstar.
In 1994, Keanu Reeves was mostly known for indie films and the Bill & Ted movies. He wasn't seen as an action hero or even considered a leading man yet.
Speed features Joe Morton as Captain McMahon. He played Miles Dyson in Terminator 2 (1991).
Speed features Jeff Daniels as Harry. His first major role was as Flap Horton in Terms of Endearment (1983).
Two-time Oscar nominee Dennis Hopper has been in 200 TV shows and movies over seven decades. Some of his biggest roles came from playing psychos in movies like Blue Velvet ('86) and this one.
Speed features John Capodice as Bob. He played Sgt. Aguado in Ace Ventura: Pet Detective (1994).
A year before Speed, Sandra Bullock played Lenina Huxley in Demolition Man (1993). Despite that success, studio executives weren't convinced she could carry a movie.
Speed features Beth Grant as Helen. She was Carla Jean's mother in No Country for Old Men (2007).
Glenn Plummer (Jaguar owner) was such a fan favorite, he shows up again in the sequel.
Stephen Baldwin was originally offered the role of Jack Traven but turned it down. After seeing Reeves in Point Break (1991), director Jan de Bont thought he'd be perfect as Jack.
The role of Annie was passed up by multiple actresses, including Halle Berry.
Director Jan de Bont cast Dennis Hopper because he didn't want a typical villain. He wanted Payne to be a regular guy who just snapped one day.
Antonio Mora was co-host of Good Morning America/Sunday in 1994.
Speed features Richard Schiff as the train conductor. He played Toby Ziegler on The West Wing.
Finance Notes
Sandra Bullock earned $200,000 for Speed. She made $11 million for Speed 2: Cruise Control (1997).
Producers paid the owners of this house $5,000 to blow it up. They also rebuilt it for them after filming.
Speed ended up one of the top five movies of 1994, earning over $350 million worldwide. By today's standards, that's half a billion dollars.
Historical Notes
A week after Speed was released, O.J. Simpson attempted to flee from the police in one.
Location Notes
One scene was filmed at The Derby in Los Angeles. The bar was also used in Swingers (1996).
Highway scenes were shot on the unfinished Century Freeway (I-105). The crew had to paint all the lines on the pavement and post all the signs in order to film.
The Century Freeway (the 105) had been under construction for over a decade. It was opened just days after filming ended on Oct. 14, 1993.
The constant roar of jet engines at LAX made filming at the airport difficult.
Sun Valley borders Pacoima, the city Harry referenced during the elevator bombing.
Pershing Square is a public park in downtown L.A. It closed in 1992 for a $14.5 million renovation. The park reopened in 1994, the same year Speed was released.
The train slides down Hollywood Boulevard. Grauman's Chinese Theatre is in the background.
Musical Notes
The soundtrack for Speed launched the movie career of composer Mark Mancina. Mancina went on to compose scores for Bad Boys (1995) and Training Day (2001).
Payne quotes a 1953 comedy song by satirist Tom Lehrer.
Pop Culture Notes
"Will the mystery guest please sign in" refers to the classic game show What's My Line? (1950-67).
Writer Graham Yost says one of the movie's sequences was inspired by To Live and Die in L.A. (1985).
Gigantor was an animated series in the 1960s about a giant flying robot controlled by a boy.
AFI ranked Speed as one of the "100 Most Heart-Pounding American Movies" in history.
Press Notes
Speed (1994) is number 11 on Entertainment Weekly's list of the "25 Greatest Action Films Ever." Roger Ebert called Speed "the year's cleverest, slickest thriller, a nonstop extravaganza of action."
Prop Notes
Payne uses a Mossberg 500 Mariner. The sound of the blast would cause temporary hearing loss.
The sign on Harry's desk reads, "GO AHEAD MAKE MY DAY!" — a tribute to Dirty Harry (1971).
Filmmakers had an exact replica of Dennis Hopper's head made for that gruesome end.
Random Notes
Director Jan de Bont knows what it's like to be trapped in an elevator. He was once stuck for hours and had to be evacuated through the roof.
The bus number is 2525. Fans have noted that 25 + 25 = 50.
In 2012, the LAPD air department has 19 helicopters, more than any other city in the world.
The average diesel bus gets about 2.75 miles per gallon.
It would be nearly impossible to pick up an Ultra-High Frequency signal from a moving bus.
Speed wasn't supposed to be released in theaters until late in the summer of 1994. After an outstanding preview for audiences, the studio moved the release up to June.
Many people didn't know the L.A. subway existed in 1994. The first station opened a year earlier.
Script Notes
Writer Graham Yost originally set the trigger at 20 miles per hour.
When director Jan de Bont first got the script for Speed and found out it took place on a bus, he thought, "That's going to be boring."
In the original script, the bus was supposed to circle the parking lot at Dodger Stadium. They couldn't get clearance, so they moved the location to Los Angeles International Airport.
In the original script, the movie ended when the bus crashed.
Set Notes
Keanu Reeves and Jeff Daniels trained with real SWAT cops to perfect their movements.
The elevator shaft set was built with four fully-functioning elevators and was five stories high.
Whenever a highway scene needed to be re-shot, all the cars had to return to a starting mark. Director Jan de Bont says, "It was a logistical nightmare."
For some scenes, a stunt driver would control the bus from the second row of seats.
Producers didn't just hav
e one extra bus for filming. They used 13 buses over the entire shoot.
Sandra Bullock actually had to learn how to drive a bus for this movie, passing her test on her first try.
During one stunt, the bus traveled over 100 feet in the air and was 20 feet off the ground. When it landed, the tires were blown and the suspension was completely mangled.
The crew used a bus that was built higher off the ground for one stunt. There isn't enough room to fit the dolly under a standard bus.
Keanu Reeves was actually tethered to the bottom of the bus for parts of one scene.
Director Jan de Bont says Keanu wasn't used to playing a role requiring such extreme reactions.
The train crash was filmed using miniatures. The models weren't all that small, though. Some weighed 150 pounds.
Sports Notes
The Wildcats got their name from a 1914 LA Times story that said they "showed the fight of wildcats."
Tech Notes
For some shots, filmmakers used three cameras and a cameraman mounted to the front of the bus.
There wasn't really a gap in the freeway. Even the birds were created with digital effects.
Trivia Notes
1994 was a big year for action films. True Lies, Clear and Present Danger, and Pulp Fiction all came out.
Pacoima is a neighborhood in the San Fernando Valley. It's 20 miles from the Gas Company Tower.
When this movie came out, there were over two million pay phones in the country. In 2012, L.A. had just 191.
Jack Traven is named after B. Traven, author of The Treasure of the Sierra Madre.
Ford Pintos are known to explode, too. 1.5 million of them had to be recalled in 1978.
Speed is often referred to by critics and fans as "Die Hard on a Bus." Coincidentally, Speed director Jan de Bont was the cinematographer for Die Hard (1988).
In California, Interstate 105 runs 17.32 miles from I-605 to the Los Angeles International Airport.
Read More