Uncategorized
Story Notes for Hard to Kill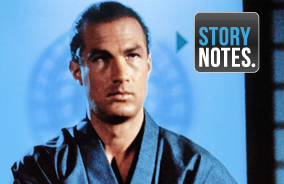 Monday through Thursday during prime time on AMC, you can catch Story Notes — real time trivia and facts about your favorite movies! Below is the online version of the Story Notes for Hard to Kill.
Automotive Notes
In Hard to Kill (1990), Storm drives a '62 Ford Thunderbird. This car would be worth over $35,000 today.
Storm also drives a Corvette ZR-1. In 1990, it was dubbed the "Super Corvette."
The movie also features a 1978 Chevy Camaro. It's the biggest selling Camaro to date.
Biography Notes
Steven Seagal didn't begin his movie career until 1988 at the age of 36.
Seagal got his big break after giving a martial arts demonstration to studio executives.
William Sadler (Senator Trent) played the Grim Reaper in Bill & Ted's Bogus Journey (1991).
Kelly LeBrock was born in New York but raised in London.
Steven Seagal began studying martial arts when he was nine.
At 17, Seagal traveled to Japan to study Aikido and other martial arts.
Kelly LeBrock got her big break in 1984's The Woman in Red.
Director Bruce Malmuth says he related to O'Malley and Sonny because he's also a single dad.
Steven Seagal has seven children of his own.
Seagal doesn't actually speak Chinese, but he is fluent in Japanese.
This same year, William Sadler (Senator Trent) played the villain in Die Hard 2 (1990).
Casting Notes
Hard To Kill is Steven Seagal's second movie, following 1988's Above the Law.
Stanley Brock was on Barney Miller and Days of Our Lives.
Storm's wife is Bonnie Burroughs from One Life to Live and Easy A.
William Sadler played Heywood in The Shawshank Redemption (1994).
Frederick Coffin played an FBI agent in the first season of The X-Files.
Kelly LeBrock played Lisa in Weird Science (1984).
Dean Norris (Det. Sgt. Goodhart) plays DEA agent Hank Schrader on AMC's Breaking Bad.
Charles Boswell plays a fake doctor in Hard to Kill, but he played a real one on ER in 1995.
Hard to Kill features anchorman Jerry Dunphy. He worked in the L.A. local news scene for over 40 years.
Carlos Gomez played The Right Hand of Buco in Desperado (1995).
Before Hard to Kill, Zachary Rosencrantz (Sonny) was a regular on Beauty and the Beast (1988-89).
Besides acting, Branscombe Richmond (Quentero) sings with a band called the Renegade Posse.
Finance Notes
Steven Seagal's movies have earned over $2 billion worldwide.
Hard to Kill earned over $47 million worldwide. That's over $80 million by today's standards. The movie made Seagal one of the biggest action stars of the early '90s.
Health Notes
Hearing is usually the last sense to fail when a person goes into a coma. In many cases, patients say they were able to hear conversations.
Waking up from a seven-year coma wouldn't happen as fast as it does in Hard to Kill. The transition would take months.
In Hard to Kill, Storm uses a traditional Chinese medicine technique called moxibustion.
History Notes
When Storm was shot in 1983, George H.W. Bush was still just the Vice President.
John Doe was originally a fictitious name used in British legal documents.
A gurney shown in the movie is allegedly named after J. Theodore Gurney.
Location Notes
Hospital scenes were shot in Queen of Angels Hospital in Los Angeles.
In Hard to Kill, Andy and Storm drive along the Pacific Coast Highway in California.
Hard to Kill also features a scene shot at Saddlerock Ranch in Agoura, California.
The Westin Bonaventure opened in 1976 and has a revolving cocktail lounge on the 34th floor.
Senator Trent's mansion is actually the Greystone Mansion in Beverly Hills.
Music Notes
Hard to Kill features "Feels So Good" by Chuck Mangione, 1977.
David Michael Frank composed the music for Hard to Kill.
Plot Notes
Quentero is one of the three gunmen who killed Storm's wife.
Political Notes
In 1990, California's U.S. Senators were Pete Wilson and Alan Cranston.
Prop Notes
The standard barbell weighs just 45 pounds.
Quote Notes
Steven Seagal has said, "I have no fear of death. More important, I don't fear life."
Seagal: "It doesn't work if the bad guys kill his mother's uncle's friend's neighbor's pet dog."
Steven Seagal was a gun collector in real life. He says, "I used to have a gun made every month."
Early in his career, Seagal wanted to be known for his dramatic acting.
Random Notes
Seagal's iconic ponytail made its first appearance in this movie.
The cocaine Storm carries could get him ten years in prison.
Normally only the U.S. Marshals Service can legally make someone "disappear."
In many of Seagal's movies he plays a rebel within the system.
An officer is eligible for full pension after 33 years on the job.
Today there are fewer than one million payphones in the United States.
Seagal once had his own aftershave called Scent of Action.
Script Notes
The working title of Hard To Kill was Seven Year Storm.
In the original script, Senator Trent isn't arrested. Storm takes him all the way to the blood bank by impaling him on the fireplace grill.
Sports Notes
The California high school state record for the 100 meter dash is 10.30 seconds.
Trivia Notes
A prayer recited in the movie was first printed in the New England Primer in 1737.
On two occasions, people have come out of 19-year comas. Both regained the ability to speak, but a full recovery was not possible.
Read More