Uncategorized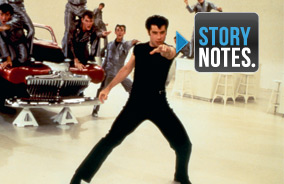 Monday through Thursday on AMC, you can catch Story Notes — real time trivia and facts about your favorite movies! Below are the online version of the Story Notes for Grease.
Anthology Notes
Choreographer Pat Birch directed a sequel, Grease 2 (1981), starring Michele Pfeiffer and Maxwell Caulfield. Most of the faculty members, plus students Frenchy and Eugene, returned for the sequel.
Automotive Notes
Kenickie's behind the wheel of a 1948 Ford De Luxe. In '49, Ford completely redesigned their entire line.
The Scorpions' 1949 Mercury was called "Hell's Chariot."
Award Notes
"Hopelessly Devoted to You" was nominated for an Oscar for Best Song. It lost to Donna Summer's "Last Dance" from Thank God It's Friday.
Biographical Notes
Michael Tucci (Sonny) later played a character named Danny Rizzo on an episode of Barney Miller.
Eddie Deezen (Eugene) was later in WarGames ('83) and was the voice of Pop for Rice Crispies.
Jeff Conaway actually played the Travolta part (Danny) for 2 1/2 years on Broadway.
Didi Conn's first role was Ralph's girlfriend on Happy Days, also made in the '70s and set in the '50s.
Travolta won a Twist competition as a young kid, and later took tap lessons from Gene Kelly's brother.
John Travolta once dreamed of being a shortstop for the New York Yankees.
Director Randal Kleiser says he ran hurdles in high school and would often trip and fall.
Didi Conn (Frenchy) had a huge crush on Frankie Avalon, so acting enamored wasn't difficult.
Director Randal Kleiser worked as an extra behind Frankie Avalon in Fireball 500 (1966).
Olivia Newton-John worried she wouldn't be good in Grease — her first movie, Toomorrow ('70), was a flop
Annette Charles (Cha Cha) started her career as a flamenco dancer in small clubs in L.A.
Sha Na Na (Johnny Casino and the Gamblers) is a retro '50s band that has sold over 9 million albums. In '78, they had their own TV show which always ended with them saying "Grease for peace!"
Pat Birch also choreographed Big ('88), The First Wives Club ('96), and A Little Night Music ('77).
Casting Notes
Jeff Conaway (Kenickie) played Bobby on Taxi right after Grease premiered, and was later on Babylon 5.
Lucie Arnaz almost played Rizzo, but her mother Lucille Ball threw a fit about Lucie having to audition.
John Travolta (Danny) had just filmed Saturday Night Fever and was starring on Welcome Back, Kotter. He got an Oscar nomination for Saturday Night Fever and another later for Pulp Fiction.
Olivia Newton-John (Sandy) was an international pop star at the time with five Top 10 hits in the U.S.
Dennis Stewart (Leo) played the leader of the rival motorcycle gang The Cycle Lords in Grease 2 ('82).
Stockard Channing, from The West Wing, Six Degrees of Separation ('93) and Smoke ('95), appears as Rizzo.
Eve Arden (Principal McGee) starred in Our Miss Brooks ('52-'56) and Mildred Pierce ('45). The producers cast big names from the '50s in many of the supporting roles.
Didi Conn (Frenchy) hid under a security guard's desk to sneak a peek at the script before her audition.
Sid Caesar (Coach Calhoun) is a comedy legend. His variety show Your Show of Shows ran from 1950-54. Caesar improvised a lot of the coach's speech. The cast was encouraged to come up with their own lines.
Dinah Manoff (Marty) starred on Soap and was killed by Chucky in Child's Play ('88).
Kelly Ward (Putzie) came to auditions to help out choreographer Pat Birch and ended up getting cast.
Sid Caesar (Coach Calhoun) was famously strong. He was known for punching holes in walls.
Joan Blondell (Vi) was a big star in the '50s. She was nominated for an Oscar for The Blue Veil (1951).
Frankie Avalon was a teen idol in the '50s and '60s. Some of his big songs were "Venus" and "Why."
Dennis Stewart (Leo) is much nicer than his character: he gave Eddie Deezen (Eugene) a daily ride to set.
Edward Byrnes (Vince) played Kookie on detective show 77 Sunset Strip and was one of TV's first teen idols.
Dody Goodman (Blanche) starred in Mary Hartman, Mary Hartman as a constantly perplexed mother.
Alice Ghostley (Mrs. Murdock) was on Bewitched, Designing Women, and in To Kill a Mockingbird.
Finance Notes
Grease has made almost $400 million worldwide, making it the top-grossing musical of all time.
Historical Notes
In 1959, the average salary was $5500, and a postage stamp cost four cents.
Girls in the '50s would wear their boyfriend's class ring on their necks to show they were going steady.
President Nixon had resigned, due to the Watergate scandal, four years before Grease was filmed.
Location Notes
Rydell High is really Venice High School in L.A., also used for A Nightmare on Elm Street and Heathers.
The make-out point was shot in L.A. on Mulholland Drive near the current location of the Skirball Center.
The dance was filmed at Huntington Park High in downtown L.A. The high school was right next to a pork plant, so everything smelled like bacon.
Music Notes
Theaters across the country hold Grease "sing-alongs," where fans dress up and act out scenes.
A 2010 survey ranked "Summer Nights" as the third most popular karaoke song in the country.
John Farrar also wrote Olivia Newton-John's 1974 platinum single "I Honestly Love You."
Valens, Buddy Holly, and The Big Bopper all died in a plane crash in '59, the year this is set.
On the jukebox: "It's Raining on Prom Night" from the original Broadway musical, sung by Cindy Bullens.
Travolta played Doody in a touring company of Grease. "Those Magic Changes" was his big solo.
"Tears on My Pillow" was first recorded by Little Anthony and the Imperials and later was a number one hit for Kylie Minogue.
The song "You're the One That I Want" replaces "All Choked Up" from the Broadway musical, which was a lot raunchier.
Pop Culture Notes
Sandra Dee always played wholesome girls like Sandy. In 1959, she starred in Gidget.
Rock Hudson and Doris Day starred in a series of romantic comedies, starting with Pillow Talk ('59).
Grease is number 21 on Entertainment Weekly's list of 50 Best High-School Movies.
Rotten Tomatoes ranked "Greased Lightning" number 22 on their list of the Most Memorable Movie Cars.
Dancing duo Fred Astaire and Ginger Rogers' last movie together was The Barkleys of Broadway ('49).
"National Bandstand" is a takeoff on Dick Clark's "American Bandstand" (1952-1989).
In 2008, Mattel released a Cha Cha Barbie doll to celebrate the 30th anniversary of Grease. Barbie was introduced in 1959.
There was a reality TV show in 2007 to cast Danny and Sandy for a Broadway revival.
Songs with girls' names as the title ("Sherry," "Gloria," "Barbara Ann") were big in the '50s and '60s.
Entertainment Weekly named Sandy and Danny one of the "Hottest Movie Couples of All Time."
Press Notes
Before Grease, The New York Times said Newton-John had "the buoyancy of a modern day Texas cheerleader."
The New York Times said at the time, "Grease is the best movie musical we've had in years… Its sensibility is not tied to the past but to a freer-wheeling, well-informed, high spirited present."
Quotation Notes
Jamie Donnelly: "We did have a unity that made us a force to be reckoned with on campus."
Barry Pearl (Doody) says being a T-Bird was "the ultimate in class, but we were extraordinarily unclassy."
Susan Buckner on her character Patty: "She was exactly like a girl I went to high school with who ran for everything and made the rest of us sick. Except Patty was even more nauseating."
Travolta: "At the time, every guy's dream was to have Olivia Newton-John as their girlfriend."
Olivia Newton-John: "Sandy definitely had a 'goody goody' image and so did I to some extent so it was really fun for me to play a naughty girl, a character that was somewhat sexier."
Choreographer Pat Birch said the song "Hopelessly Devoted to You" was one of the hardest things to stage. Birch: "People [weren't] willing to sit still for a ballad. I had to find a way of keeping it moving."
Stockard Channing: "I saw Rizzo as very tough and defensive. The only time you ever saw the kid in her was… when she found out she wasn't pregnant."
Writer-producer Allan Carr, on seeing Grease years later: "It was a little sexier than I thought."
Dinah Manoff: "Marty [wanted] to emulate the movie stars of the '50s… especially Marilyn Monroe."
John Travolta: "I think Grease is probably the most 100% piece of Americana on film that we have."
Random Notes
The party for the L.A. premiere was at Paramount Studios, which was decorated like a prom. The New York premiere at Studio 54 was decked out with open-topped roadsters and hot dog stands.
Script Notes
Sandy was changed from an All-American to an Aussie to explain Newton-John's accent.
A fanabla tutti puttana means "may all the whores go to Naples" in Italian.
The "blonde pineapple" line was improvised by Barry Pearl (Doody).
Rydell High is named after Bobby Rydell, a teen idol from the '50s and '60s.
Set Notes
Thousands auditioned to be one of the twenty principal dancers, who were each given characters to portray.
Barry Pearl (Doody) choreographed the slapstick routine based on The Three Stooges.
Before the slumber party scene, the girls painted each other's nails, talked dirty, and had a pillow fight.
While shooting, the cast of Grease was challenged to a softball game by the cast of The Bad News Bears. Travolta pitched.
Jeff Conaway gave Stockard Channing a real hickie; he wanted it to be authentic.
Jamie Donnelly had prematurely grey hair, which she dyed black to play Jan. Her hair grew really quickly, so her roots had to be colored in daily with a black crayon.
They filmed an extra fight scene between Kenickie and Rizzo to explain why she throws the shake at him. The producers decided it was too heavy for the movie, calling it the "Martin Scorsese scene."
The cast chewed about 100,000 pieces of bubble gum during the whole shoot, up to 5,000 pieces a day.
The cast had a sock hop on the first day of rehearsal to learn dance moves and get to know each other.
The actual hand jive is a dance just for the hands. Choreographer Pat Birch added the feet and jumps.
At the cast party, the T-Bird actors handed out buttons with a picture of them mooning the camera.
Director Randal Kleiser got the idea for the swings from his hometown drive-in in Lebanon, PA.
The water in the L.A. river is notoriously disgusting. It gave director Randal Kleiser a foot infection.
Most of the extras won a nationwide contest to be in the film.
One of the dancers passed out from sun stroke while filming in 106 degree heat.
Source Notes
Grease (1978) is adapted from the Tony-nominated Broadway musical of the same name.
The movie won the People's Choice Award in 1978 for Favorite Overall Motion Picture.
Set in 1959, Grease is about a time when life was easy, cars were cool, and greasers ruled the school.
In the play, Kenickie sings "Greased Lightning," but the producers wanted a big number for Travolta.
In the original Broadway musical, the T-Birds were called the Burger Palace Boys.
Tech Notes
The Teen Angel's "aura" was one of the first special effects created by a computer for a feature film.
Trivia Notes
The original owners of the movie rights to Grease wanted to make it an animated movie. No movie studios were interested.
Italian Swiss Colony wine is not imported. It comes from northern California.
Most public schools required gym uniforms until the '80s.
In 1950s Australia, the greasers were known as bodgies (guys) and widgies (girls).
The teen pregnancy rate has drastically declined since the '50s and '60s.
All of the actors were older than their characters, but Stockard Channing had the biggest gap — she was 34.
Wardrobe Notes
Olivia Newton-John had to be sewn into her pants. She still owns them but never wore them again.
Read More