Uncategorized
Story Notes for Die Hard With a Vengeance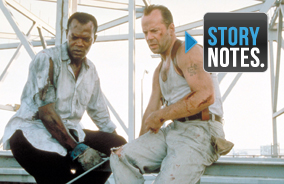 Monday through Thursday, AMC presents Story Notes during prime time with real-time on-air trivia about your favorite movies. Tonight's movie was Die Hard With a Vengeance.
Anthology Notes
Die Hard with a Vengeance (Die Hard 3) is the first in the series to take place in John McClane's hometown, NYC.
Holly McClane was played by Bonnie Bedelia in Die Hard (1988) and Die Hard 2 (1990). She doesn't appear in this movie or Live Free or Die Hard (2007).
The gun taped to McClane's back is a nod to the original Die Hard movie.
Lieutenant McClane was a detective in the first movie, so he's been promoted at least twice for this one.
Hans Gruber (Alan Rickman) was the villain in the original Die Hard.
The Santa reference is a wink to the Christmas theme of the last two Die Hard movies.
Automotive Notes
A WWII "bridge launcher" transforms into a ready-made bridge.
The 1986 Yugo GV was voted Car Talk's "Worst Car of the Millennium."
McTiernan liked the 1961 Mack Truck so much that he bought the truck after the movie finished.
Biographical Notes
The director of the first Die Hard, John McTiernan, returned for Die Hard 3.
Bruce Willis and Samuel L. Jackson both overcame stutters in real life before they were famous.
Stunt coordinator Terry Leonard also worked on Inception (2010) and The Fugitive (1993).
This was director John McTiernan's first real experience shooting in New York City.
John McClane is Irish, but Bruce Willis is actually of German and English descent.
Sam Phillips started her career as a Christian singer, so this role was pretty controversial for her. She once joked: "After this movie, I'll be a complete heretic."
Kevin Chamberlin played Uncle Fester in The Addams Family on Broadway alongside Nathan Lane.
Casting Notes
Bruce Willis has made over 60 movies, but John McClane remains his most recognized role. Willis' first credited movie, Blind Date, was only released a year before the first Die Hard (1988).
Inspector Cobb is Larry Bryggman. He starred in As the World Turns for over 30 years.
A year before Die Hard 3, Samuel L. Jackson was nominated for an Oscar for Pulp Fiction (1994).
Screenwriter Jonathan Hensleigh originally wrote Jackson's role of Zeus for Brandon Lee (The Crow).
Director McTiernan met Kevin Chamberlin on Die Hard, when Chamberlain worked as a waiter.
Bruce Willis suggested Samuel L. Jackson for the movie. Jackson was thrilled. He says he's "seen the first Die Hard maybe 30 times."
That businessman is actor Bill Kux, director John McTiernan's friend from college.
Native American actor Graham Greene was nominated for an Oscar for his role in Dances With Wolves.
Die Hard 3 uses real NYPD officers as cops.
British actor Jeremy Irons won an Oscar for Reversal Of Fortune (1990).
Jeremy Irons is also the voice of Scar in The Lion King
Charles Dumas (Cross) is a playwright and theater director. Michael Cristofer (Bill) is a playwright, too. He won a Pulitzer for his play, The Shadow Box, in 1977.
Anthony Peck appeared in the original Die Hard as a different character.
Director John McTiernan cast singer Sam Phillips (Katya) after seeing her photo on the back of her album Martinis and Bikinis.
Colleen Camp (Kowalski) was married to the President of Paramount at the time of filming.
John Doman (the foreman) played Rawls, one of the heads of the police department, on The Wire.
Historical Notes
The character Dr. Fred Schiller is named after an 18th century philosopher.
In its more than 100 years of existence, the NYPD Bomb Squad unit has had less than 225 members.
Having "not enough time" to track a phone call is an invention of Hollywood. Since the mid-1980s, police have been able to track calls almost instantly.
A similar mathematical riddle to "St Ives" was found on papyrus and is believed to be from 1650 BC.
Die Hard 3 was released on schedule even though the Oklahoma City Bombing happened a month earlier. The Oklahoma City Bombing was a terrorist attack on a downtown Oklahoma City building on April 19, 1995.
The U.S. went off the gold standard in 1971, but the government still has about 261.7 million ounces.
How-To Note
All it takes to get out of handcuffs is wiggling a metal pin between the teeth and locking mechanism.
Location Notes
Bonwit Teller was a department store in Manhattan that closed five years before filming began. That's why the filmmakers were allowed to actually blow up the store right on Fifth Avenue.
Harlem stretches from 110th Street to 155th Street on the west side of Manhattan.
Screenwriter Jonathan Hensleigh lived right above where one scene was shot on the Upper West Side. He set it there on purpose so he could just watch the filming from his kitchen window.
Tompkins Square Park is a 10.5 acre public park in the East Village of Manhattan.
The 55 Wall Street building was home to the first retail bank in New York.
One scene was shot at a construction site in Queens where the production dug the tunnel entrance.
There isn't a Chester A. Arthur Elementary School in New York City.
Part of the film was shot on Johns Island, the largest island in South Carolina.
The bridge scene is shot on Old Grace Memorial Bridge over the Cooper River in Charleston, South Carolina. Producers chose it because there was another bridge right beside it they could shoot from.
The scenes that take place in Canada were actually shot in Baltimore.
Music Note
"When Johnny Comes Marching Home" by Patrick Gilmore, 1863 was a popular Civil War song sung by both the North and South.
Pop-Culture Notes
The character of John McClane is loosely based on Clint Eastwood's Dirty Harry.
Battle of the Bulge is a 1966 World War II movie starring Henry Fonda and Robert Shaw.
This racial argument is partially based on the Tony Curtis and Sidney Poitier movie The Defiant Ones (1958).
Bruce Willis and Samuel L. Jackson had never appeared on screen together before Die Hard 3, even though they'd both been in Pulp Fiction (1994) and Loaded Weapon 1 (1993).
Other Bruce Willis movies that feature a stutterer: The Sixth Sense (1999) and Color of Night (1994).
Press Notes
The New York Times: "In the previous Die Hard movies, Willis started out well-groomed…In Die Hard 3, he's wearing a grimy undershirt at the start, as if to signal, 'Let's cut to the chase.'"
The Washington Post: "Samuel L. Jackson makes one of the great action-movie sidemen" in Die Hard 3.
Slate Magazine says "Yippee Ki Yay, Mother_____" is the greatest one-liner of all time. It not only defined the Die Hard series, but the entire action genre in the '90s. Entertainment Weekly called John McClane the 6th coolest pop culture hero of all time.
Quotation Notes
Samuel L. Jackson says "New York becomes one of the characters in the film."
Director John McTiernan says arrogance is a big part of McClane's character. And sometimes that arrogance is mistaken for courage.
Willis said at the time: "This… Die Hard is the most physically challenging because I'm 40 years old now."
McTiernan says that it should be a "giant hoot to follow the bad guys."
Samuel L. Jackson says this role "is the closest character to my personality of any that I've played."
Jeremy Irons: "One of the things I like about Simon is you spend the movie figuring out what makes him tick."
Sam Phillips (Katya) was relieved her character was mute throughout the movie. Phillips: "But as time went on, I started wanting to speak.'"
McTiernan: "This is popcorn. And we know it's a little silly. We're having fun and we want you to have fun."
Samuel L. Jackson says, "Being in those fast cars and doing all that wild stuff… was like going to an amusement park every day."
Jackson: A wire "came down and hit me in the face. It broke my tooth and busted my lip… I thought, `Oh, yeah, now I'm doing an action movie.'"
Jeremy Irons says someone described his hairstyle in Die Hard 3 as "mid-life crisis."
Director McTiernan calls the plot "frail and outrageous. I hope people enjoy its ridiculousness."
Script Notes
Simon Says was the original name of the screenplay that became Die Hard 3. Screenwriter Jonathan Hensleigh (Armageddon) was "thrilled" to turn it into a Bruce Willis movie.
Screenwriter Jonathan Hensleigh bought all the Mother Goose books for inspiration for Simon's lines.
The screenwriter says this was a fantasy of his: to be able to cut through the park to avoid traffic.
Die Hard with a Vengeance takes place over one very long day. Screenwriter Jonathan Hensleigh wrote the original script in just 11 days.
Screenwriter Jonathan Hensleigh got the idea for this tunnel sequence from his adventures as a kid. He and his childhood friends used to run through active subway tunnels for fun.
At one point, producers thought about making Die Hard 3 take place entirely on a boat. That idea eventually became Speed 2: Cruise Control.
Set Notes
Giving Zeus the dollar bill was improvised.
New York City really allowed the production to plow through the middle of Central Park in a cab.
The production built a subway station and track from the ground up. They used real subway cars but added four Chevy V8 engines to power them.
The stuntmen aren't acting when they're running for their lives from a subway car — it was traveling at 45 mph.
The production built a park on a vacant lot near Wall Street and painted a mural against the wall.
The production built a fountain in Tompkins Square Park just for the movie.
Dir. McTiernan says "hundreds of girls were hanging out windows to watch Willis" shooting in Wall Street.
Some of the bad guys are big, but some of them are standing on boxes to loom over McClane even more.
Trucks aren't allowed on the FDR Drive, but the city made a special exception for the movie.
Getting a tunnel was one of the hardest parts of making the movie, so they just built one.
It took four tries to get the Mercedes to flip. They eventually had to put an air cannon under it.
The filmmakers really did pull a truck off a bridge with a boat.
One of the things that really makes Die Hard 3 work is the chemistry between Willis and Jackson. Director McTiernan says it "startled everybody."
Samuel L. Jackson had sandbags tied to his feet so he would sink in the underwater shots.
Technical Notes
During shooting, the sandwich board was blank so that onlookers wouldn't be offended. The production went back and added the letters in later with digital software.
Director John McTiernan says a bus came six inches from crashing into Samuel Jackson's head. About half of that traffic was actually real and the other half was added in edit.
According to McTiernan, "It's very dangerous to have an actor drive a car. Accidents happen every year." A stuntman drove the cab from a rig built on the back while Willis pretended to drive in the front.
Trivia Notes
"As I was going to St. Ives" is a traditional English nursery rhyme published in 1730.
The record for driving around the island of Manhattan is 26 minutes, set in 2011.
Turnstile jumping was pretty common in the '90s.
McClane's watch is on the inside of his wrist. That's how Willis actually wears his watch.
There are about 34,500 police officers in the NYPD, making it the biggest police force in the U.S.
A sonic and seismic alarm "hears" and "feels" intruders.
The FBI questioned screenwriter Jonathan Hensleigh because he knew so much about the actual vaults. An anonymous FBI agent said, "It sounds crazy, but somebody could pull this off."
Many people think most of the gold in the U.S. is at Fort Knox. The majority of the gold in the U.S. is actually at the Federal Reserve in Manhattan. Over 98% of it is owned by foreign countries. The U.S. is just storing it for them.
The water bottle riddle came from a problem on an exam the screenwriter couldn't figure out.
"The road to truth has many turns" is an old Japanese proverb.
This is the first time McClane has engaged his enemy inside a building in the whole movie.
A single brick weighs 25 lbs.
You would actually need 480 dump trucks to steal all the gold from the Federal Reserve.
The average movie has about 700 cuts in it. Director John McTiernan exaggerates that Die Hard 3 has "11,000."
Truck drivers usually get stereotyped in movies, so they made him smarter "than a masters candidate."
There is a statue commemorating Chester A. Arthur in Madison Square Park in New York City.
When Die Hard 3 was released, the Yankees finished 2nd in their division and went to the playoffs.
The CRF is not a real movement or organization.
Nord Des Lignes is French for "North of the Border."
Wardrobe Notes
Zeus's white shirt and glasses are based on the style of civil rights activist Malcolm X.
Read More