Uncategorized
Story Notes for Braveheart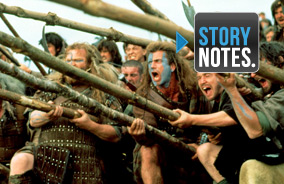 Every Monday through Thursday you can catch Story Notes on AMC. Story Notes combine real-time on-air facts and trivia about your favorite movies as you watch them. Tonight's movie was Braveheart.
Award Notes
Braveheart was nominated for a total of 10 Oscars, more than any other movie of 1995. It won five, including Best Picture and Best Director for star Mel Gibson.
Writer Randall Wallace had never scripted a movie before Braveheart. He received an Oscar nomination for it.
Braveheart earned Charles Knode an Oscar nomination for Best Costume Design.
Braveheart's sets were designed by Tom Sanders. He's been Oscar-nominated for his work on Dracula (1992) and Saving Private Ryan (1998).
Braveheart was nominated for an Oscar for Best Sound.
Chief Make-Up Artist Peter Frampton won an Oscar for his work on Braveheart.
Cinematographer John Toll won an Oscar for his work on Braveheart. A year earlier, he won his first Oscar for Legends of the Fall (1994).
Biographical Notes
Brian Cox's accent is real. He was born in Dundee, Scotland in 1946.
Catherine McCormack went on to play other captivating women in Spy Game (2001) and 28 Weeks Later (2007).
In 1999, Sophie Marceau's character in The World is Not Enough wasn't quite so generous. She played one of the villains, Elektra King.
Composer James Horner actually had two different movie scores earn Oscar nominations in 1995.
With Braveheart, Mel Gibson became one of a very few actor/directors to win an Oscar for Best Director. Others include Robert Redford, Warren Beatty, Woody Allen, Kevin Costner, and Clint Eastwood.
Casting
Notes
Aside from school plays, James Robinson (Young William) had never acted before. Andrew Weir (Young Hamish) suggested Robinson for the role.
Brian Cox played Argyle. He played William Stryker in X2: X-Men United (2003).
Sophie Marceau (Princess Isabelle) was already a star in France when she was cast in Braveheart.
Patrick McGoohan plays King Edward I. He starred in the British TV series "The Prisoner" (1967).
Angus McFadyen (Robert the Bruce) was originally called to audition for Prince Edward. At the audition, he asked to play The Bruce and got the job.
Mel Gibson was hired to direct Braveheart on the condition that he also star in it. He had just done Maverick (1994) which at the time was his biggest hit after the Lethal Weapon movies.
Brendan Gleeson played Mad-Eye Moody in multiple Harry Potter films.
Catherine McCormack was fresh out of the Oxford School of Drama when she was cast as Murron.
John Burns plays the Royal Steward. He's worked as an assistant director on over 25 productions.
Tam White (MacGregor) began his career as a singer with The Boston Dexters in the 1960s.
Ian McBannen plays The Bruce's father. He played Jackie O'Shea in Waking Ned Devine (1998).
David O'Hara played Fitzy in The Departed (2006).
Finance Notes
Warrior extras earned just $300 per week and regularly worked 14 hour days.
Despite a $1.5 million stunt budget, Gibson invested his own money to make the battles even bigger. Stunt coordinator Mic Rodgers: "He backed it. That's what he brings. He's got guts."
Braveheart earned $210 million worldwide. That's over $300 million by today's standards.
Health Notes
The Bruce's father is suffering from leprosy. It was relatively common during medieval times. In addition to disfigurement, it causes muscle weakness and nerve damage.
Historical Notes
Catholic masses were held in Latin and not translated to other languages until the 1960s.
King Edward I was nicknamed "Longshanks" because he was over 6 feet tall.
There's no evidence that the right of prima nocta ever existed.
William Wallace's birth date is unknown, but historians believe he was in his 20s during this period. When Braveheart was filmed, Mel Gibson was 38.
The Magistrate is based on the Sheriff of Lanark. He famously clashed with Wallace and is believed to have killed Wallace's wife.
Wallace was known for burning villages to the ground. Legend says he always smelled of smoke.
Wallace was one of the first commanders to counter horse attacks with a formation called "schiltron." Soldiers would counter horsemen by packing tightly together holding 12-foot spears.
One Scottish historical text describes Wallace as having "the body of a giant." Mel Gibson is about 5 feet 9 inches tall.
Some estimate the Scottish were outnumbered 5 to 1 at the Battle of Stirling.
The Scots won the Battle of Stirling after killing over 5,000 Englishmen.
After his victory at Stirling, Wallace was named Commander of the Army of the Kingdom of Scotland.
Flaming arrows were used in combat as early as 700 B.C. by the Assyrians.
The real Wallace never actually sacked York, but his army did come within sight of it.
In reality, Wallace and Princess Isabelle never met. She was actually only a few years old at the time.
In the movie, Longshanks sends the Princess to meet with Wallace. In reality, it was his wife.
Isabelle would eventually reign over England in the 1320s.
Wallace was actually shot in the throat, but producers didn't think anyone would believe it.
Robert the Bruce was not at the Battle of Falkirk.
William Wallace was captured near Glasgow on August 3, 1305. It's believed that Wallace was betrayed by Sir John de Menteith, a Scottish nobleman.
Without Wallace's capture, Robert the Bruce may never have become King of Scots.
Longshanks charged Wallace with being a traitor simply to destroy his reputation.
Wallace was held in Brick Tower before his execution. It's part of the famed Tower of London. In 1592, Sir Walter Raleigh was imprisoned in the same tower by Queen Elizabeth I.
Longshanks didn't actually die until 2 years after Wallace's execution.
Before his execution in 1305, Wallace was dragged through the streets of London behind a horse.
Robert the Bruce eventually led the Scottish to independence.
Location Notes
Most of the movie was shot in Ireland, but these early scenes were filmed in Scotland.
These scenes around William's home were shot near Ben Nevis in the Scottish Highlands.
Musical Notes
The Oscar-nominated soundtrack for Braveheart was composed by James Horner. Two years later he would win the Oscar for his work on Titanic (1997).
James Horner's Braveheart soundtrack was so popular, a follow-up album was released in 1997.
Pop Culture Notes
Braveheart was considered the first internet movie because its popularity spread virally. Online fans made the movie a global phenomenon.
Gibson jokingly predicted critics would call the movie "Mad Mac." He was right.
The American Film Institute ranked Braveheart as one of the "100 Most Heart-Pounding American Movies."
Press Notes
The New York Times called Braveheart, "One of the most spectacular entertainments in years."
CNN ranked one of the battle scenes in the film as one of the "Top 10 Movie Battle Scenes" of all time.
AFI ranked Braveheart as one of the "100 Most Inspiring Films of All Time."
Quotation Notes
The bagpipes played in the movie are called uilleann pipes. They're actually Irish and not Scottish. Mel Gibson: "The Scottish bagpipes tend to sound like a scalded cat."
Braveheart's cinematographer was John Toll, who also worked on Almost Famous (2000). Gibson calls Toll "the coolest guy on the planet – so cool, calm and measured."
Gibson on Catherine McCormack: "She had a real grace and… beauty and purity that was really nice…She had a real grace and sort of beauty and purity that was really nice."
Catherine McCormack says that she still gets asked, "What's it like to kiss Mel Gibson?"
Mel Gibson: "Mother Nature provided us with some spectacular shots during filming."
No one knows if Wallace actually spoke to the Scots before this battle. Writer Randall Wallace says, "I wrote what gave me goose bumps."
Mel Gibson says this scene would've been better if Wallace just hit an Englishman in the head. Gibson: "I would've done it that way if I could do it over."
Mel Gibson: "Wallace was truly interested in liberty and loved his country. "But at the same time he was kind of a savage. This is the dichotomy of the man."
Angus McFadyen (Robert the Bruce): "It's interesting because he wavers. He's kind of a bit of a lost soul."
Sophie Marceau (Princess Isabelle) says, "She's like a kid in front of him. She fights back her virginity. In front of him she becomes just like water. She finds love, I think, and she cannot lie."
Random Notes
Tommy Flanagan's scar is real. It's known as a Glaswegian Smile or Glaswegian Grin.
Today there is an 8-foot tall statue of William Wallace in the village of Lanark.
Wallace was declared an outlaw, meaning that anyone could kill him without a trial.
Gibson cites Stanley Kubrick's Spartacus (1960) as one of the influences for Braveheart. The story of Wallace parallels that of Spartacus. Both men struggled against foreign rulers.
The act of throwing someone out of a window is actually known as defenestration. Mel Gibson: "Must've been fairly common to have a term all for itself."
Braveheart was so popular when it was released, it stayed in some theaters for over a year.
Script Notes
The script was written by Randall Wallace. He's of Scottish descent, but not related to William Wallace.
The screenplay was written by Randall Wallace. He's of Scottish descent, but not related to William Wallace.
Writer Randall Wallace originally didn't know what William should hand Murron. When he remembered the thistle, he knew it was perfect.
In the original script, the Scots don't see the Irish coming.
Set Notes
The men hanging are real actors. They hung from harnesses all day to shoot the scene.

As director, Mel Gibson did all the casting for the movie but never asked anyone to read the script.
Mel Gibson says he enjoyed working on a set so far away from Hollywood. With most of the shooting done on location, studio executives couldn't interfere with production.
One hundred and five consecutive days on location took a toll on Mel Gibson's body. He has said Braveheart was more physically taxing than shooting three Lethal Weapon movies in a row. Braveheart had so many complicated fight scenes, Gibson hired two stunt coordinators for the job.
The Battle of Stirling took six weeks to shoot, and the crew used nine cameras to film it. The actual battle lasted a day.
Every time Gibson would yell his lines, his horse would run. It made the scene more difficult to shoot but added to the intensity.
Producers employed members of the reserve Irish Army to fight in the battle scenes. Access to that fighting force was one of the main reasons much of the movie was shot in Ireland.
Instead of using digital effects, Gibson decided to film real arrows flying through the air.
That massive wooden gate doesn't just look heavy. It was built by the crew and weighed 7 tons.
In order to focus on directing, Gibson would rarely spend long in front of the camera. Most of his scenes were done in 2 or 3 takes.
With 1,400 extras for some scenes, it took close to 4 hours to get everyone through costume and makeup.
The Irish and Scottish extras refused to fight each other, so the script was changed.
After months of filming battles like this one, the worst injury suffered on set was a broken nose.
Production designer Tom Sanders took aerial photos of ruins in order to build huts like this one.
Gibson really hanged himself for a moment during this scene. He had to be cut down. Gibson says, "I remember waking up with all these people standing over me."
Sport Note
No one knows when it started, but the "stone put" is still part of Highland games today.
Source Notes
Not much is really known about the life and deeds of William Wallace. Much of Braveheart is based on an epic poem written 150 years after his death called The Wallace.
The Scots painted their faces with a European herb known as woad, but not during this period. Mel Gibson decided to use it for cinematic effect more than anything else.
Writer Randall Wallace says the New Testament is one of the historical sources that inspired Braveheart. Mel Gibson actually put the New Testament on screen with The Passion of the Christ (2004).
Symbolism Note
Dream sequences play a major role in Braveheart. They signify high emotion and the connection between the dead and the living.
Tech Notes
In some scenes, stuntmen rode on mechanical horses. The $100,000 mechanical horses would ride along a $40,000 track. It had never been done before.
Gibson used an editing trick to increase the amount of violence allowed in the movie. The editors cut out frames of violence but left the sound effects, creating an optical illusion.

Trivia Notes
The thistle is the National Emblem of Scotland. They're actually covered with thorns. Picking a thistle would be quite painful without gloves
Some parts of Scotland average 250 days of rain per year. Even though it rained during shooting, filmmakers often used a rain machine to make it even rainier.
There's a memorial stone outside Wallace's home in Lanark that reads: "Here stood the house of William Wallace who in 1297 first drew sword to free his native land."
Some historians suspect the legend of Robin Hood is based on the story of William Wallace. Both men were bowmen, fought against the ruling order, and lived in the same era.
Read More