"Friends with Kids" and More Female-Helmed Movies to Watch For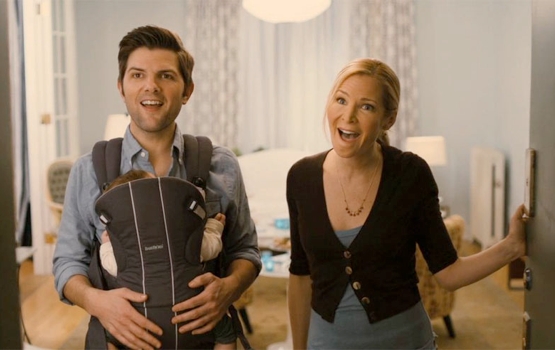 With the Oscars behind us and a clean slate ahead, it's time to preview some of the female-directed feature films coming our way in 2012. From comedies to action movies, small budgets to big, here are a few that caught our eye on the festival circuit and beyond — including one opening this Friday.
Friends with Kids (March 9)
Jennifer Westfeldt (Kissing Jessica Stein) writes and directs this R-rated anti-Apatow comedy that got lots of buzz at the Toronto International Film Festival last fall. Starring Westfeldt (making her directorial debut), Jon Hamm (her real-life partner), Adam Scott, Maya Rudolph, Ed Burns, and a host of Hollywood thirty-to-fortysomethings, it focuses on couples trying to keep their sex lives hopping once they start having kids. The sitcommy premise is that Los Angeles besties Julie (Westfeldt) and Jason (Scott) decide to have kids together in an impossibly open relationship. Hilarity — and conflict — ensue.

Your Sister's Sister (June 22)
Emily Blunt, Rosemarie
DeWitt, and Mark Duplass costar in this micro-budgeted ménage-a-trois
dramedy about two sisters sharing the same man at a remote family cabin
following his brother's death. The siblings have more back issues than National Geographic, and this smarthouse gem, written and directed by Lynn Shelton (Humpday), explores them intimately.
Take This Waltz (June 29)
An updated, nimble Diary of a Mad Housewife, this favorite from Toronto
follows unsatisfied married Margot (Michelle Williams), husband Lou
(Seth Rogen), and boy-toy-of-interest Daniel (Luke Kirby). With a tart
Sarah Silverman as Lou's sister, this is a funny-sad look at love,
marriage, and domesticity. Written and directed by Sarah Polley (Away from Her), Take This Waltz has a female edge, a self-tormented pixie performance from Williams, and a surprisingly poignant turn from Rogen.
2 Days in New York (August 10)
Writer-director Julie Delpy (2 Days in Paris)
continues the journey of her independent character Marion, who now
lives in New York with her child; her boyfriend, Mingus (Chris Rock);
and his kid, too. What works about their relationship — and what
doesn't — comes comically to the fore when Marion's father (played by
Delpy's dad, Albert Delpy) arrives for a visit, along with her sister
and her sister's boyfriend.
Untitled International Thriller, a.k.a. Kill Bin Laden (December 19)
Reuniting with screenwriter Mark Boal, Oscar-winning director Kathryn Bigelow (The Hurt Locker)
takes on the hunt for al-Qaeda leader Osama bin Laden and the final
black ops battle that took him down. The cast includes the ubiquitous
Jessica Chastain (no, she's not playing Bin Laden!), Joel Edgerton, Mark
Strong, Jennifer Ehle, and Chris Platt. With that December 19 release
date, expect an Academy campaign for Bigelow and possibly another
Chastain run in the mix.
Read More