Uncategorized
Flashback Five – Your Favorite Keanu Reeves Movies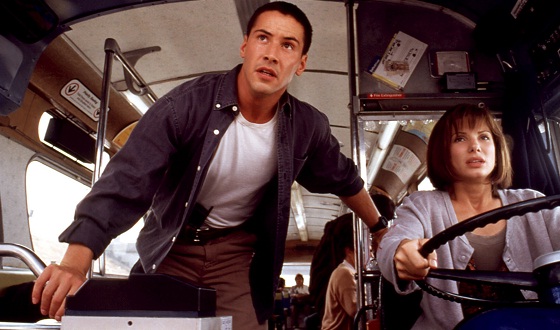 Critics are always quick to dismiss Keanu Reeves. They mock his monotone and knock his laid-back style. But despite the naysayers, Reeves continues to helm hits like Speed and The Matrix series. Indeed judging from the votes on Keanu Reeves's Best Movies list, there's no lack of love from AMC viewers. So haters be damned! Here are your favorite Keanu Reeves movies.
1. The Matrix (1999)
In 1999, if you needed someone to defend the human race against supercomputers, Keanu Reeves might not have been the first person to come to mind. Now, it's impossible to think of anyone else. With the pop of one red pill, his low-key Neo is a Generation Y superhero.
2. Speed (1994)
This high-octane action flick is often referred to as Die Hard on a bus. Nothing wrong with that. Reeves may have fewer one-liners than Bruce Willis does, but his stoic stance is the perfect complement to Bullock's perkiness and Dennis Hopper's mania.
3. Point Break (1991)
Directed by Oscar-winner Kathryn Bigelow, Reeves's first foray into action was as an FBI agent who poses as a surfer to infiltrate a gang of bank robbers. Though he had never surfed before, Reeves is totally believable as a guy who can hang ten.
4. Constantine (2005)
In arguably his most complex role, Reeves stars as a man with the ability to see angels and demons. Since he has terminal cancer and is heading to hell, all he wants is redemption. Can you blame him? This performance should earn him wings.
5. Bill & Ted's Excellent Adventure (1989)
Before he began kicking butt, Reeves starred as a lovable dope in this time-traveling cult comedy. The role of Ted proves tailor-fit for Reeves who embodies the role with such zeal, it's hard to believe he's not really this spacey in real life.
Honorable Mentions
1. A Scanner Darkly (2006): In this adaption of Philip K. Dick's scifi novel, Reeves is a cop torn between two loyalties when he's ordered to spy on his friends.
2. River's Edge (1986): Keanu is the only kid with a conscience in this dark tale of young people drowning in disaffection and drugs.
3. Something Gotta Give (2003): Keanu is a handsome-yet-selfless MD who wants to play doctor with Diane Keaton.
4. My Own Private Idaho (1991): Playing a hustler in this indie classic was a risky choice, but being opposite River Phoenix got Reeves noticed.
5. Permanent Record (1988): When a high-school student who has it all commits suicide, his best friend (Reeves) is understandably confused.

Don't miss Keanu Reeves in AMC's Crazy About Speed, starting on Sat., Mar. 10 at 3pm/2c.
Read More