Uncategorized
Story Notes for Escape From L.A.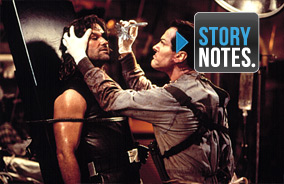 Monday through Thursday during prime time on AMC, you can catch Story Notes — real time trivia and facts about your favorite movies! Below is the online version of the Story Notes for Escape From L.A.

Anthology Notes
Escape from L.A. (1996) is the sequel to the 1981 cult movie Escape from New York. The budget for Escape from L.A. was over eight times bigger than the original movie.
In Escape from New York, prisoners had the option to be cremated.
An escape pod is how the President ends up in New York in the first movie.
In Escape from New York, Plissken had an extra fourteen hours to accomplish his mission.
The Escape series was almost expanded into a video game, anime series and TV show. There's even a comic book series that continues the adventures of Plissken.
If there's ever a third Escape movie, Carpenter says he would call it Escape from Earth.
Automotive Notes
The car Eddie is cruising around in is a 1959 Cadillac Series 62, in production from 1940 to 1964.
Biography Notes
Director John Carpenter reinvented horror movies with his most famous film, Halloween (1978). He also made cult hits The Thing (1982), The Fog (1980), and They Live (1988).
Kurt Russell's motorcycle stunt double, Jimmy N. Roberts, also did Tom Cruise's stunts in M:i-2 (2000).
Cliff Robertson (President) was chosen by JFK to portray him in the movie PT 109 (1963).
Kurt Russell was a professional athlete when he was younger. He played minor league baseball for the California Angels before turning back to acting.
Cliff Robertson became serious about acting because of a bet that he couldn't get into the Actors Studio. Out of 3,000, he was one of 3 that made it in.
Blooper Notes
The submarine shouldn't disappear off the monitoring screens just because it fell back into the water.
Casting Notes
The President is played by Cliff Robertson. He also played Uncle Ben in Spider-Man (2002).
Stacy Keach (Cmdr. Malloy) starred as Mike Hammer in The New Mike Hammer (1984).
Kurt Russell started acting in movies and TV when he was four years old. He was a clean-cut Disney actor until Carpenter turned him into an action star in Escape from N.Y.
Peter Jason is in a lot of John Carpenter movies, including Prince of Darkness and They Live.
A.J. Langer (Utopia) played Rayanne Graff in My So Called Life (1994).
Michelle Forbes (Brazen) stars as Rosie Larson's mom in The Killing (2011) on AMC.
George Corraface (Cuervo Jones) is actually French and Greek, not Peruvian.
Those two guards are Los Angeles morning DJs Mark Thompson and Brian Phelps (KLOS-FM). They've had minor roles in about 40 movies and TV shows.
Peter Fonda also starred in and co-wrote Easy Rider in 1968. Escape from L.A. helped revive his career. A year later, he was nominated for an Oscar for Ulee's Gold.
Robert Carradine also played Lew Skolnick in the Revenge of the Nerds movies.
1996 was a big year for Steve Buscemi. He was also in Fargo and directed his first movie, Trees Lounge.
Valeria Golino also played Tom Cruise's girlfriend in Rain Man (1988).
Actor Bruce Campbell became a cult movie icon as Ash in the Evil Dead movies.
Leland Orser (Test Tube) played Chief of Surgery Lucien Dubenko on ER from 2004 to 2009.
Pam Grier also starred in a string of Blaxploitation movies like Foxy Brown and Coffy. Grier would go on to star in Quentin Tarantino's Jackie Brown a year after Escape from L.A.
History Notes
The largest recorded earthquake of all time was in Chile in 1960. It registered as a 9.5 on the Richter scale.
Gladiators fought in the Roman Coliseum from about 80 A.D. to 404 A.D. Around 700,000 people died in the arena throughout its history.
In the Roman Coliseum, a "thumbs down" actually meant that a defeated fighter would get to live.
Hang gliding is one of the oldest forms of human flight. It became popular in the 1880s.
Holographic technology was created by physicist Dennis Gabor, who won the Nobel Prize in 1971.
How-to Notes
To land a hang glider, you have to stall it in the air by pushing the nose upwards. Looks like Eddie could have used a lesson.
Location Notes
Escape from New York was shot in St. Louis, but Escape from L.A. was actually shot in Los Angeles.
The building Plissken crashes into is the "black tower" at Universal. It's where movie executives work. Carpenter: "I've had my own fights over there and have always wanted to take something through it."
The real Beverly Hills Hotel was built in 1912 and helped populate the area of Beverly Hills.
That's the L.A. Coliseum, home of the USC Trojans football team.
There are over eleven miles of secret tunnels underneath downtown Los Angeles. During prohibition, some of them led to secret speakeasies.
Happy Kingdom was supposed to be Disneyland, but Disney didn't give them permission.
This Happy Kingdom set was actually the town square from Back To The Future at Universal.
Pop-Culture Notes
Cuervo Jones' look is based on Che Guevara, leader of the 1959 Cuban Revolution.
Plissken is based on Clint Eastwood in movies like Dirty Harry ('71) and The Good, The Bad and The Ugly ('66). This scene in particular was inspired by Eastwood's Spaghetti Westerns.
Carpenter says he based many themes and ideas in the movie on Akira Kurosawa's Seven Samurai ('54).
Kurt Russell also wore an eye patch in Captain Ron (1992).
One whole sequence was inspired by the flying monkeys attack in The Wizard of Oz.
Press Notes
The Washington Post praised Steve Buscemi's performance, saying he's good as a "weasel."
The Cincinnati Post says Escape from L.A. is Russell "at his B-movie best."
The Chicago Sun-Times called L.A. "a special-effects fantasy" that "goes deliberately over the top."
Prop Notes
Sometimes Kurt Russell wore a slightly transparent eye patch to avoid getting headaches.
Quotation Notes
Carpenter says his nostalgia for the original Escape turned this one into more of a remake than a sequel.
Carpenter says, "Escape from L.A. is a dark look at a dark future." But personally, he still believes in America: "It's the best there is."
Producer Debra Hill said at the time, "Technology has finally caught up with our imaginations. What we imagine we can now put on screen."
Kurt Russell says Snake's philosophy is to just "make it another 60 seconds."
Kurt Russell says it's the eye patch that makes him sexy. Russell: "Anytime you hide something, people want to know what's behind it."
Kurt Russell says Plissken is "a visceral character, one that you feel, not that you figure out."
Carpenter says women love that Snake never gets the girl. "He doesn't care about taking you to bed."
Director John Carpenter says that this movie is "the ultimate statement of personal freedom. You don't give up your freedom. We fought too long to have it."
Director John Carpenter says he's been through so many earthquakes, "They don't bother me."
Carpenter on the surfing scene: "I wanted to see it in a movie once. Just once. I don't have to see it again."
Kurt Russell says that in this world, Snake Plissken is "the last incorruptible man on Earth."
Director John Carpenter describes the movie as "a social satire disguised as an action movie."
Kurt Russell says of all the characters he's ever played, Snake Plissken is his favorite.
Random Notes
In this movie, Snake travels by submarine, motorcycle, surfboard, hang glider, and now helicopter.
Script Notes
The character of the President was Kurt Russell's idea. He based him on televangelist Pat Robertson.
Set Notes
Production designer Lawrence Paull (Blade Runner) used 29,000 lbs. of rubble to create Sunset Blvd.
Production designer Lawrence Paull placed piles of rubble in strategic locations to block the L.A. skyline.
Escape from L.A. was filmed almost entirely at night. In fact, they went seventy days without a daylight shoot.
Kurt Russell was 45 when he made this. He worked out for months to get back into Plissken shape.
The filmmakers brought in 200 crashed cars from a demolition yard for one sequence.
There were almost 500 extras used in Escape From L.A.
To get into character as a transvestite, Pam Grier would put a sock in her pants during shooting.
Neighbors started complaining about the noise while this scene was being shot on the Universal Studios lot. To compromise, director John Carpenter agreed not to fire any guns after midnight.
Symbolism Notes
"Cuervo" is Spanish for "raven." Ravens are often a symbol for death.
Film critics say Escape from L.A. represents America's fear of youth gang culture and urban decay.
"666" represents the number of the beast, an anti-Christ figure, which signals the end of times in the Bible.
American Spirit is a real brand of cigarettes, but Carpenter uses it to show that Plissken represents the true nature of the American spirit.
Technology Notes
It took over 150 computer-generated effects to create one underwater sequence.
Director John Carpenter says they were able to lower Hershe's voice by an octave and a half in the edit.
Trivia Notes
Geologists say Los Angeles actually will be torn away from the rest of California in about 30 million years.
The 1994 Northridge earthquake in L.A. led John Carpenter to develop the script for Escape from L.A.
John Carpenter's favorite filmmaker is Howard Hawks, director of many classic John Wayne Westerns.
Taslima is an Arabic name that means "greetings." Producer Debra Hill said Taslima is "the heart of this picture."
There are about 974 satellites orbiting around Earth right now.
Experts believe that "silence is golden" originated in Ancient Egypt. The full version is actually "speech is silver; silence is golden."
All the references to Cleveland in Escape from L.A. are an inside joke. Dir. John Carpenter named Snake after a guy he heard about in Cleveland named Larry "Snake" Plissken.
The shot clock is 24 seconds in the NBA.
Wardrobe Notes
Plissken's new costume was inspired by the Stealth Bomber. Costume designer Robin Bush: "We actually invented a fabric."
Read More