Uncategorized
Story Notes for Coach Carter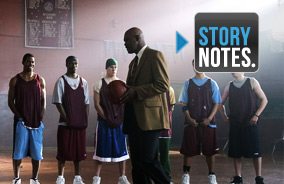 Monday through Thursday during prime time on AMC, you can catch Story Notes — real time trivia and facts about your favorite movies! Below is the online version of the Story Notes for Coach Carter.
Award Notes
Ashanti was nominated for an MTV Movie Award for Best Female Breakthrough Performance for this role.
Sam Jackson won an Image Award for this role.
Director Thomas Carter won Black Reel and Black Movie Awards for his work on Coach Carter.
Biography Notes
Samuel L. Jackson is a long-time basketball fan, but this was his first basketball movie.
The real Ken Carter was an "All League" athlete in the '70s, averaging 23.3 points per game.
Jackson was named by the Guinness Book of World Records as the highest-grossing actor of all time.
Sam Jackson is used to playing badasses (Shaft, Mace Windu, Nick Fury, Jules from Pulp Fiction).
Robert Ri'chard (Damien) was on "One on One" (2001-2006), a show about a washed-up NBA player.
Ken Carter has seven sisters and one brother. He says his family "is extremely close."
Channing Tatum (Lyle) played lots of sports growing up: football, soccer, baseball, track, pretty much everything but basketball. He had to learn it for this movie.
Choreographer Mark Ellis turned down Friday Night Lights (2004) to do Coach Carter. He'd worked on a lot of football movies and wanted to do a basketball movie.
Nana Gbewonyo (Junior) played basketball for College of the Canyons. He was MVP his sophomore year. He averaged 21 points and eight rebounds per game that season.
This isn't Octavia Spencer's first movie with Sam Jackson; she was also in A Time to Kill (1996).
Dir. Thomas Carter made another high school movie before this: Save the Last Dance (2001).
Rob Brown (Kenyon) is also on the TV drama, Treme. He plays Delmond Lambreaux.
Producers Mike Tollin and Brian Robbins made another high school sports movie: Varsity Blues (1999).
Robert Ri'chard (Damien) starred for 3 seasons as clean-cut Bobby on the kid show Cousin Skeeter.
Rick Gonzalez (Cruz) also played bad boys in Illegal Tender (2007) and Biker Boyz (2003).
Ken Carter went on to create a foundation to help student athletes in poor neighborhoods. These days he's an author, motivational speaker and SlamBall coach for the L.A. Rumble.
Blooper Notes
Coach Carter has a 2004 Nissan Maxima in it, although the movie takes place in 1999.
Casting Notes
When Ken Carter was asked who should play him in the movie, he wrote down one name: Samuel L. Jackson.
Debbi Morgan (Ken's girlfriend) played Angie Hubbard on All My Children. She won a Daytime Emmy for the role.
Robert Ri'chard (Damien) was on Hangin' with Mr. Cooper when he was just 13. He also won a Daytime Emmy for his role in the TV movie, In His Father's Shoes (1997).
Denise Dowse, the principal, played Jamie Foxx's manager in Ray (2004).
Channing Tatum also stars in Dear John, Step Up, and G.I. Joe: The Rise of Cobra. This was his first movie.
Before this, Rick Gonzalez (Timo Cruz) played "Spanish" in Old School (2003).
Antwon Tanner (Worm) had already worked with his hero, Sam Jackson, on One Eight Seven (1997).
This is the first movie for singer Ashanti. When this came out, she was known for her song, "Foolish."
This was the first movie for Rob Brown (Kenyon) since his breakout role in Finding Forrester (2000).
Nana Gbewonyo (Junior Battle) was the only real basketball player among the main cast. The rest of the guys were football, soccer and baseball players, primarily.
Octavia Spencer, Oscar winner for The Help, plays Junior Battle's mom.
Mark McClure also played Michael J. Fox's brother in the Back to the Future movies.
Adam Clark plays Channing Tatum's uncle. They were also both in Public Enemies (2009).
History Notes
The real Ken Carter coached at Richmond High School for five years, from 1997-2002.
"Oilers" refers to Richmond's history as a major industrial hub for the oil business.
Ken Carter's lockout made national news. He went on The Today Show, Good Morning America, and All Things Considered to defend his actions.
The real community was behind the team, putting up signs in storefronts, coming to games. Barbershops even cut the players' hair for free.
In reality, the Richmond Oilers lost in the second round of the state tournament. Their record was 19-5.
Location Notes
They shot this scene at Long Beach Polytechnic High School in Long Beach, California.
The actors practiced in this gym for more than five hours a day.
The Safari Inn in Burbank was also featured in another Sam Jackson movie: True Romance (1993).
Love Notes
Ashanti (Kyra) has had a longtime on-again off-again relationship with rapper Nelly.
Music Notes
"Halftime (Stand Up and Get Crunk)" by the Ying Yang Twins featuring Homebwoi, 2004. This song became the rallying song of the 2009 Super Bowl champs: the New Orleans Saints.
"Get Low" by Lil Jon & The East Side Boyz feat. The Ying Yang Twins, 2002. Comedian Dave Chappelle did a famous bit about how raunchy this song is.
The music was composed by Trevor Rabin, who also did National Treasure and Armageddon. Rabin was a member of the rock band Yes and wrote their hit, "Owner of a Lonely Heart."
Composer Trevor Rabin also scored the sports movies Remember the Titans and Glory Road.
"Lately" by Tyrese, 1998.
Plot Notes
Damien has gone from a school where 99% of graduates go to college to one where only 3% do.
Pop-Culture Notes
Channing Tatum was one of People magazine's "Most Beautiful People" in 2010.
Richmond may have lost, but Coach Carter opened number one at the box office. It was an instant classic, and helped launch the careers of its young cast.
Quotation Notes
Director Thomas Carter: "The real Ken Carter has the snappiest ties in Hollywood, snappier than Sam's in the film."
The real-life Damien Carter: "A lot of guys my age put school [on] the back burner. Not everybody makes the NBA or the NFL. They don't understand that."
A columnist once called Ken Carter a "country bumpkin" with "a unique way of telling stories."
Ken Carter says of this team: "The kids were like rock stars around campus, but some had forgotten where their classrooms were."
Ken Carter: "I wasn't tough on 'em some of the time, sir, I was tough on 'em all of the time. But I was fair."
Sam Jackson says he likes Kyra's storyline because it shows that having a baby is a big responsibility and that it won't just "be a little doll," like "a lot of girls" think it will.
The real-life principal was in fact very supportive of Ken Carter's policies. She doesn't like the way she's depicted here, saying: "Doggone it, do I have to be the evil one?"
The first time Sam Jackson met the real Ken Carter was at a high school basketball game. A big fan of the sport, Jackson says: "He was pretty amazing and knew as much as I did about basketball."
Rob Brown (Kenyon): "When we nail shots and the crowd reacts, we get that adrenaline and feel like it's a real game."
Director Thomas Carter: "This movie takes head-on the question of what's more important: athletic achievement or academic achievement?"
Sam Jackson on the real Ken Carter: "It's easy for me to see his point of view. Athletic skills erode. That's the one thing that can't be taken away from you: your education."
The real Ken Carter says the cast is "so close to the original players in their personalities."
The real Ken Carter says, "The parents were the bigger problem because they thought now their kid could go directly from high school to pro."
Samuel L. Jackson: "Success doesn't always come from winning. There are other ways to win."
Ken Carter: "When the coach has a higher standard for academics than the school board, we have a problem."
Producer Mike Tollin: "Shooting sports is like shooting a battle scene. You have thousands of extras, and everything has to go right."
Director Thomas Carter says "some of the warmest, most authentic performances" came from the young, inexperienced actors.
Ashanti: "I had a lot of friends in high school that had [been] through similar situations. So I kind of grasped and grabbed from that."
Robert Ri'chard (Damien): "The basketball choreography in this movie is like a dance. It's almost like a basketball ballet."
When he saw the movie, Ken Carter said the basketball scenes looked "extremely real."
Set Notes
Before they made this movie, the actors had to go through a rigorous three-week basketball camp. They trained up to twelve hours a day.
The real Ken Carter was on set every day as a consultant. He says Samuel L. Jackson's portrayal of him is 98.5% accurate.
The filmmakers shot the game scenes over and over from many different angles. Sometimes they'd run a single play a couple hundred times.
The gameplay was choreographed by Mark Ellis and Hernando Planells, Jr., who also did Semi-Pro.
The young cast respected, almost worshipped, Samuel L. Jackson and Ken Carter.
The gameplay in Coach Carter was tailored to fit each actor's strengths and weaknesses. For example, Robert Ri'chard (Damien) is fast and Channing Tatum (Lyle) plays good defense.
Ashanti (Kyra) thought it was funny pretending to be in love with someone she just met.
The actors had to learn about 70 plays for this movie. The plays had a lot of passes and picks to highlight the theme of teamwork.
Sport Notes
A "suicide" is running up and down the court, touching the ground at quarter intervals. One suicide is the equivalent of running the full length of the court five times.
In high school basketball, if you commit five fouls you're automatically benched for the rest of the game.
Pro athletes that grew up in Richmond include MLB players Willie McGee and Russ Christopher, along with the NFL's Courtney Anderson, Ken Burrow, and D'Marco Farr.
Each team gets five timeouts per game in high school basketball.
The NBA record for most blocks belongs to Hakeem Olajuwon with 3,830 career blocks.
Source Notes
Coach Carter (2005) is based on a true story that happened back in 1998-99. It ranks among the top basketball movies, along with Hoosiers, He Got Game and Glory Road.
In reality, Ken Carter was more aggressive about publicity. He was trying to get national attention so he could change the system in Richmond.
Technology Notes
Coach Carter (2005) was the first sports movie to use 3-D digital mapping technology. They used it to help choreograph the plays and to figure out where to put the cameras.
Trivia Notes
Richmond, California, was recently ranked the sixth "Most Dangerous City in America" by TIME magazine.
About 2% of public schools in America have metal detectors.
Every year, almost 750,000 American teens get pregnant.
In the Bible, Delilah is the evil woman who betrays Samson by cutting his hair.
Richmond has several known gangs. The two biggest are Deep Central and the Project Trojans.
1,000 suicides on a regulation length high school court would be 470,000 feet, or 89 miles.
Studies show that 7 out of 10 American teens have had sex by age 19.
Even the U.S. Army's physical fitness test only requires 42 push-ups.
About 60% of Richmond's adult population struggles with literacy.
The A.P.I. is a real thing, but it's not on a scale of 1-10; it's from 200-1,000.
Richmond's team colors are red and orange, just like the NBA's Cleveland Cavaliers.
The real Bayhill High School is home of the Tigers, not Cougars.
The real lockout was just symbolic. Carter couldn't lock the gym because other teams practiced there.
Richmond has more crime and fewer cops (per capita) than any other city in California.
There were 40 murders in Richmond the year Coach Carter came out (2005).
There are over 1,000 high schools in California. Only a few qualify for the state tournament.
Read More