Cheers! 5 Great Movie Drinking Songs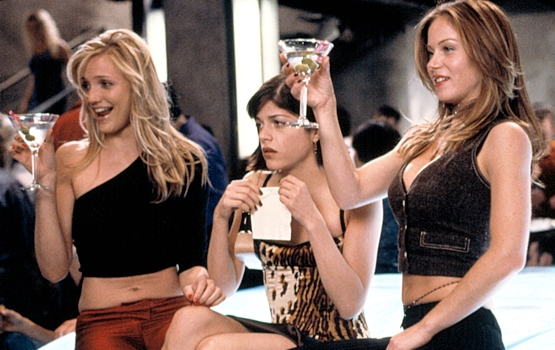 Don't just lift a pint (or three) in honor of St. Patrick's Day — gather your buddies and get them singing a little ditty, like one of these favorite movie drinking songs. Then have that pint.
Pee-wee's Big Adventure: "Tequila," the Champs


You've gotta love Pee-wee — in an inspired effort to save himself after stumbling
into a biker bar, knocking over a row of motorcycles, and subsequently incurring the
wrath of their owners, Pee-wee has no shame (or fear) in winning over
the angry crowd with his oddly focused little bar-top dance to "Tequila."
The Lord of the Rings: The Fellowship of the Rings: "Hey Ho

to the Bottle I Go," Billy Boyd and Dominic Monaghan
Those Hobbits sure do know how to drink. They put a lot away for a
little people, and they're always inclined to hop up on a table and
deliver a rousing rendition of "Hey Ho". Of course, this is but one
of the Hobbits' catchy beer-soaked ditties; "The Green Dragon,"
which they break into later while surrounded by larger folk and far from home, is a fitting tribute to their beloved Shire beer purveyor.

The Sweetest Thing: "Escape (The Piña Colada Song),"

Rupert Holmes
Cameron
Diaz and Christina Applegate are stripping off their wet shirts and
comparing undies when the perennial Spring Break anthem "Escape (The Piña Colada Song)"
comes on the car radio. Granted, their singing along is a little
painful, but come on — they're wet, and half-naked. Oh, plus Selma
Blair gets it on with a purple elephant in a dressing room. Need we say
more?

Jaws: "Show Me the Way to Go Home," Robert Shaw
,
Richard Dreyfuss, and Roy Scheider
This
traditional folk song became the drinking song of choice for legions of
college kids after it made a memorable appearance in Jaws. "Show
Me the Way to Go Home," sung by the three
leads down in the cabin of the Orca, offered a welcome break to the
movie's scary and sinister coda. The song has since been featured in countless
movies and TV shows, including a Richard Dreyfuss reprise in Piranha 3D.
Days of Wine and Roses: "Days of Wine and Roses,"

Henry Mancini

A different kind of drinking song — the kind that reminds you that a
few may be good, but more isn't necessarily better. The sweeping,
bittersweet title track — which won the 1963 Oscar for Best Original Song —
perfectly scored the Jack Lemmon-Lee Remick movie about the highs and
lows of a couple's romance and struggle with their shared alcoholism.
Read More