5 Answers to Your Burning Questions About "The Avengers"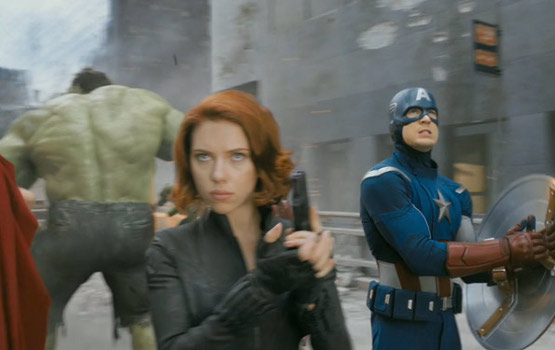 If you've seen the amazing
new trailer for Marvel's summer movie epic The Avengers
, chances are you've got some questions. Well, you've come to the right place. Expanding on the brief teasers, the action-packed new trailer offered more footage of the team in action and hints to the alien force (where did that spaceship at the end come from?) that will cause Iron Man, Thor, Black Widow, Hawkeye, Captain America, and The Hulk to come together as a team.
Writer-director Joss Whedon addressed some Avengers rumors at a panel at the SXSW festival promoting his horror movie Cabin in the Woods. Here are answers to some questions you might very well have after watching the new trailer.
Will the Skrulls be the movie's real villain?
While we know that Loki will be menacing the Avengers, there has been much speculation as to the movie's real, to borrow a phrase from Joss Whedon, "big bad." After seeing the alien warship at the end of the new trailer, fans are speculating that the Avengers will be tussling with the shape-shifting alien race the Skrulls along with Loki. Not so, says Whedon, who put any rumors of an appearance by the Skrulls (or the Kree, another race of Marvel aliens) to rest while
discussing the film's alien bad guys at SXSW
. Whedon joked, "It's the Vulcans. I don't know a lot about the Marvel universe, and I thought there were Vulcans. I know we're going to get a lot of emails about that one." He went on to add, definitively, "It is not the Kree or the Skrulls. Those two aliens are Marvel mainstays and have enormous back stories. They have a big life of their own that just could not be contained in a film where I already had seven movie stars." It's possible that Whedon couldn't use the Skrulls for Avengers since they are tied up in the
Fantastic Four
franchise, which 20th Century Fox currently owns the rights to. So has Whedon devised a new alien race to invade Earth?
So who will be fighting the Avengers alongside Loki?
As
is often the case with comic book movies, a major spoiler was revealed
recently through an early photo of a piece of merchandise. The box cover
for the Marvel Super Heroes Lego set shows Lego Captain America on a
motorcycle being chased by white and yellow villains riding chariots.
(See a
larger photo here
.) Who are these mystery villains? No one knows for sure, but based on the
design, they look to be of Asgardian origin. Since Loki has dealings
with the Frost Giants in
Thor
,
these flying baddies could be related Also, it should be noted that an
Avengers board game revealed at last month's Toy Fair did include a
tiny Skrull-shaped game piece
. Is Whedon trying to throw fans off the trail? Whoever these
mysterious flying bad guys are, it's safe to say that Loki has plenty of
backup.
Who was originally supposed to play Black Widow?
It's hard to imagine another actress slinking into Black Widow's leather, but as
Vulture
recently revealed, Scarlett Johansson wasn't Marvel's first choice to play the sultry S.H.I.E.L.D. agent. Emily Blunt was up for the role of Black Widow in
Iron Man 2
and
Avengers
, but passed. In addition to that, the
Devil Wears Prada
star was considered to play Peggy Carter in
Captain America: The First Avenger
.
So why did she pass? "Usually the female parts in a superhero film feel
thankless," Blunt said. "She's the pill girlfriend while the guys are
whizzing around saving the world. I didn't [take the roles] because the
part wasn't very good or the timing wasn't right." The actress added
that she would like to do a comic book or scifi film in the future. So
fear not, fanboys — there's still a chance you'll see Blunt in
skintight leather.
What's up with Iron Man's new suit?
Eagle-eyed fans will notice that Tony Stark's Iron Man suit looks slightly different in
Avengers
than it does in his solo films.
Empire
asked Whedon about the suit, and he confirmed that Stark will be wearing more than one suit during
Avengers
since they "get a bit of wear and tear." Whedon also confirmed that Iron
Man's traditional costume with the chest circle from the first movie
will appear in addition to the newer triangle design from
Iron Man 2
. "I'm a classicist," Whedon said. "The circle has meaning, the triangle does not."
Will Joss Whedon helm the sequel?
Despite the fact that we're still a month and a half away from
The Avengers
, Whedon is already talking sequel. He recently told
SFX
magazine that he wants the sequel to be "smaller"and "more personal and
painful." (Fans are speculating that this could mean deaths on
the team, since Whedon is infamous for killing off beloved characters on
his TV shows.) Is that a hint that the first outing will be more focused
on special effects than character? We'll know soon whether Whedon was
able to juggle the multiple characters and plot lines that lead up to
The Avengers
.
Read More