Uncategorized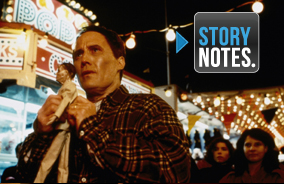 Every Monday through Thursday on AMC, you can catch Story Notes for trivia and fun facts about your favorite movies as you watch them! If you missed the Story Notes version of Thinner earlier this year, check out the following. (Thinner plays without Story Notes Sun., Feb. 26 at 4PM/3c.)
Beauty Notes
Robert Burke had on makeup for about 95% of the movie. This is probably the closest to his normal self.
Biographical Notes
Director Tom Holland also made Fright Night ('85) and Child's Play ('88).
Daniel von Bargen (Hopley) and Robert Burke (Billy) had worked together before in RoboCop III ('93).
Director Tom Holland says Wuhrer brings a "wonderful sensuality and natural nastiness" to this role.
Tom Holland also directed another Stephen King adaptation, The Langoliers (1995).
Casting Notes
Robert John Burke (Billy) played Father Mickey on Rescue Me and was RoboCop in RoboCop III.
Joe Mantegna was also a mobster in The Godfather III (Joey Zasa) and The Simpsons (Fat Tony).
Michael Constantine (My Big Fat Greek Wedding) plays the Gypsy king Tadzu Lempke.
Besides acting, Walter Bobbie (Kirk) also directed the Broadway musicals Chicago and Footloose.
Judge Rossington is John Horton. He played a judge two years earlier in The Shawshank Redemption.
Daniel von Bargen played a cop in Basic Instinct (1992) and Kruger in Seinfeld.
Kari Wuhrer (Sliders) ranked number three on Maxim's "Hottest Women of Horror Movies" list.
Most of the minor supporting roles were filled by New York stage actors. Director Tom Holland says he was just looking for "great faces."
Robert Fitch, who also appears in the 2004 horror comedy Shaun of the Dead, is seen in the film.
Billy's wife is played by Lucinda Jenney. She was in Thelma and Louis (1991) and Rain Man (1988).
Stephen King is the pharmacist, Dr. Bangor. He chose the name because he lives in Bangor, Maine.
This was Joy Lenz's first acting job outside of commercials. She went on to star on One Tree Hill.
Broadway actress Elizabeth Franz won a Tony for playing Linda Loman in Death of a Salesman in '99.
All of those Gypsy extras were just locals from Camden, Maine.
Health Notes
A lot of smoothies aren't as healthy as people think because they contain so much sugar.
Losing 14 lbs. in 7 days equals 2 lbs. a day, which is pretty much impossible. To lose just 1 lb. a day, you'd have to burn 3500 calories. That would be like running a marathon.
The average weight of a white American male around Billy's age is 182 lbs.
According to a long-term study, men who are too fat or too thin are more likely to die prematurely.
Historical Note
Gypsies have been a nomadic people for thousands of years. The name Gypsy came from "Egyptian," even though most historians think they originated in India.
Location Notes
This courthouse in Rockdale, Maine was built in the 1800s.Teddy Roosevelt once gave a campaign speech here.
Most of the movie was shot in Camden, Maine. Stephen King grew up in Maine, and he bases most of his stories in his home state.
This Gypsy camp was actually a blueberry patch outside of Camden, Maine.
The lighthouse seen in the film was also used as a location in Forrest Gump (1994).
Music Note
Composer Daniel Licht also does the music for TV's Dexter.
Plot Notes
Billy shouldn't be too concerned about being discovered. That picture was taken over 100 lbs. ago.
Billy's only chance at true redemption is to eat his own pie. He might pay too high a price if he passes it on to someone else.
As they say, "Revenge is a dish best served cold."
The New York Times says Thinner "has the outlines of a Shakespearean tragedy.
Pop Culture Notes
Thinner ('96) wasn't the only "big" movie about weight in the mid-1990s.Others included Heavyweights ('95), The Nutty Professor ('96) and What's Eating Gilbert Grape ('93).
The most popular health craze when Thinner was released in 1996 was the Atkins Diet.
Prop Note
Mantegna: "That's what glasses can do to a man. Change your whole character."
Quotation Notes
Director Tom Holland says at this point Billy and his family are starting a "descent into their own hell."
Stephen King gave Robert Burke one piece of advice on how to play the role of Billy: "Eat."
Cinematographer Kees Van Oostrum says that Stephen King was "happy with what we were doing. He felt the movie had the right tone — a very realistic manner, and not in a funky horror fashion."
Daniel Von Bargen (Hopley) doesn't like seeing himself in movies because his head is "the size of a house."
Director Tom Holland: "Watching Thinner is like watching a car wreck in slow motion and the wreck is Billy's life."
Joe Mantegna says filming this shoot-out was like "getting to relive childhood."
In the end, Holland says Thinner is "about a man starving to death amidst the plenty of America."
Script Notes
Stephen King helped rewrite this ending himself. There were around four different endings that were shot.
Set
Over 80% of Burke's face is covered in latex and makeup here. Only his forehead and nose are real.
Director Tom Holland was amazed that Robert Burke's makeup held together during this shower scene. It was designed by Greg Cannom, who won an Oscar for his work on The Curious Case of Benjamin Button ('08).
In the beginning of the film, Billy is seen at his largest. He's wearing over 60 lbs. of makeup and prosthetics here. Robert Burke says wearing that fat suit was like being trapped in "a really tight sleeping bag."
Robert Burke was trying to lose weight while filming, so he spit out this food after cameras stopped rolling.
Burke says it was hard to act through the makeup, exaggerating his expressions just to look natural.
There were eight different sizes of fat suits used throughout the movie. The largest had a size 52 waist.
Makeup artists built up Burke's cheekbones to make his actual cheeks seem more hollow here. He lost around 20 lbs. for the role.
Source Notes
Writer Stephen King got the idea for Thinner after his doctor told him he needed to lose some weight. As he slimmed down, King says he was "attached to [the weight] and didn't want to lose it."
Stephen King says when he's writing, he's "never sure where the story's going or what's going to happen."
Symbolism Note
In the Old Testament, blood is shed to make atonement for a sin.
Trivia Notes
Thinner was released in 1996 and is the 27th movie adapted from a Stephen King work. It came out at a time when the obesity rate in the U.S. was increasing by 61%.
"5 by 5" is also slang for "everything is okay." It comes from the days of radio communication.
The Mayo Clinic was formed from the practice of a pioneer doctor in the 1800s: Dr. William Mayo.
Olympic gold medalist Michael Phelps is on a 12,000 calorie-a-day diet when he's training.
Acid can be contained in glass because glass is made out of sand, which doesn't react with acid.
Joe Mantegna voiced the audiobook version of Thinner, too.
Stephen King's original title for the book was Gypsy Pie.
It's legal to ship firearms through the mail if you hold a valid Federal Firearms License.
"Mook" is mafia slang for someone who is foolish or insignificant.
Gypsies have a strong belief in the supernatural, so they would take a curse very seriously.
Unlike a traditional horror movie, dir. Tom Holland says Thinner is about "what's happening in Billy's head."
Gypsies speak a language called Romani, similar to the Indian language Punjabi. The foreign language spoken in the movie is a combination of Swedish and gibberish.
The California Astrology Association has an actual gypsy curse called "Make My Enemy Weaker." They'll cast it for you for about $39.
Studies show men are twice as likely as women to have an extramarital affair.
Read More