Sundance Report: Empowered Women in "Smashed," "The Surrogate," and "Middle of Nowhere"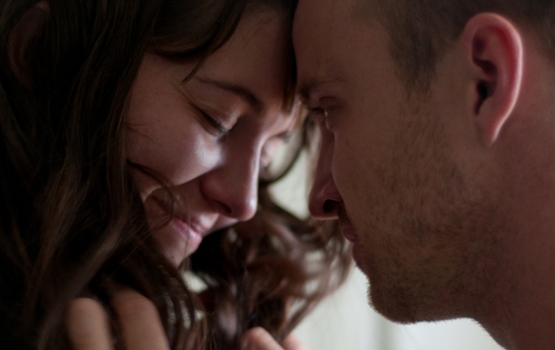 Strong women were everywhere at Sundance last week — and they flourished in three of the festival's standouts: Smashed, The Surrogate, and Middle of Nowhere. What's perhaps most interesting is that these women are in more traditional "caretaker" roles, not "I-am-woman-hear-me-roar" ones — and yet they manage to prevail, to care not only for the men around them but also, ultimately, for themselves and their own narratives.
The actress Mary Elizabeth Winstead (Scott Pilgrim vs. The World)
comes into her own as manic pixie dreamgirl Kate, who gradually awakens
to the realization that she is Smashed more often than not. It takes
spewing in front of her hyper-aware first-grade class to realize that
she's crossed the line from adorably to pathetically alcoholic. The
party is over. Unfortunately, it's not quite over for her husband,
played by Aaron Paul (Breaking Bad) — and Kate ultimately must gird herself to face this crisis, with or
without him. This well-crafted character study couldn't be farther from
the histrionic Leaving Las Vegas,
although it has many moments of brutal honesty — Kate awakens one
school day under the freeway at a crack squat. Her crawl toward the
twelve steps, and how that fractures her "storybook" marriage, makes for
a compelling look at a real girl who finally puts herself first as an
individual, and as the driver of the narrative.
In Middle of Nowhere,
relative newcomer Emayatzy E. Corinealdi (she played a nurse on The
Young and the Restless back in 2007, her biggest credit to date) gives
an impressively still performance that should be a career game-changer.
She plays Ruby, an African-American med student who drops out to care
for her incarcerated husband after he's arrested and sentenced to eight
years behind bars. Ruby is anything but a hysterical female. As she
mounts the bus for double shifts as a nurse to fund her husband's
lawyers, babysits her nephew, and spars with her upwardly mobile mother,
she become a beautiful martyr nailed to her husband's cross. What
gradually becomes clear to Ruby, and the audience, is that in her
abandonment of her own pleasure, in her self-jailing while her husband
is in prison, she embraces stasis. Ruby is gorgeous, hard-working,
upright — and stuck in the Middle of Nowhere, not only because of her
husband's prison sentence, but because in enabling him she has lost
herself. By journey's end, she realizes that, even if she can't envision
her future, her only way out of her rut is to plant herself at the
center of the frame of her own life and embrace life anew.
The Oscar-winning actress Helen Hunt owns the title character in The Surrogate,
but not the lead. Cheryl serves (services?) the main character, a
sardonic poet in an iron lung (John Hawkes) who hires her as a sexual
surrogate (not sex worker) to eradicate this little problem he has: his
virginity. Like Winstead's schoolteacher and Corinealdi's nurse, Cheryl
is in a care-taking profession, albeit an unconventional one — she gets
naked and climbs in bed with her clients. Hunt does that thing that
attention-seeking actresses seem bound to do, namely stripping bare.
It's both brave and, well, given the level of repetition, flashy. She
plays many of her scenes with her breasts exposed above the sheets. Perhaps intentionally, that nudity becomes rote — it's all in a day's
work, both for the surrogate and the actress. What slowly becomes
apparent is the lack of poetry in Cheryl's personal life. Yes, her
client is crippled physically, but emotionally she could be in an iron
lung. Her ability to act as a sexual surrogate for people with
disabilities — a profession where she controls the situation absolutely
— is also an escape from a marriage where she's stopped communicating
with her spouse (Adam Arkin) and a marriage bed that lacks spark.
In
all three movies, these women come to own their stories, or story
lines. They are not simply girlfriend, mother, sister, slut. The Surrogate will
probably hit theaters first — the movie took the Sundance Audience
Award and Fox Searchlight will release it domestically. Hunt's sexual
surrogate, though critical, is the least central of the three because
it's structurally a supporting character: Her purpose in the script is to
move the lead male to his ultimate conclusion. Still, Cheryl's story
echoes that of the schoolteacher and the nurse: "Enabler, enable thy
self." What makes the Sundance Film Festival still relevant beyond
the celebrity Mardi Gras of its opening weekend, is that it premieres
works where women determine the narrative in their respective movies, a
tradition that goes back to Gal Young 'Un, Working Girls, and True Love.
Read More