Uncategorized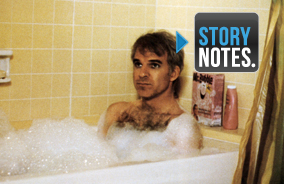 Every Monday through Thursday AMC presents Story Notes — real-time, on-air trivia and fun facts about your favorite movies. Tonight's movie was The Jerk.
Automotive Notes
The souped-up car is a 1972 Chevrolet Monte Carlo. It's outfitted with hydraulic lifts to adjust the height.
Radial whitewall tires were a hot luxury item in the '70s, especially on muscle cars.
Award Notes
The Jerk is No. 89 on AFI's list of the "100 Funniest Movies of All Time."
Film website IFC.com recently named The Jerk the number one most underrated comedy of all time.
Navin R. Johnson was named the number two best movie idiot of all time by pop culture site Nextmovie.com. He lost the top spot to Lloyd and Harry from Dumb and Dumber (1994).
Biographical Notes
In 1979, Steve Martin was one of the biggest stand-up comedians in the world, selling out arenas. The Jerk started his movie career. He quit stand-up two years later to focus full-time on movies.
Martin grew up in a musical family: his father was a singer and his mother played the piano.
Martin's dancing is reminiscent of his "wild and crazy guy" character on Saturday Night Live. As of 2011, he's hosted "SNL" 15 times, one less than record holder Alec Baldwin.
This wasn't Martin's first film role. He debuted in the Oscar-nominated short, The Absent-Minded Waiter.
Martin performed magic at Disneyland when he was in high school.
Bernadette Peters took an 8-year break from her musical theater career to make movies in 1973. Before this, she was in The Longest Yard (1974) and Mel Brooks' Silent Movie (1976).
Martin once went out with a girl who told him she had a boyfriend. When he asked the girl what her boyfriend thought of them being on a date, she said, "He thinks it's great!"
Martin sometimes performed joke songs as part of his stand-up act. He had a Top 40 hit in 1978 with "King Tut."
Steve Martin once performed a comedy act for dogs on The Tonight Show with Johnny Carson.
Like Navin, Martin is also a renaissance millionaire, having been an actor, director, producer, author, playwright, screenwriter, musician, art collector and stand-up comedian.
Carl Reiner and Martin continued to work together through the '80s, as Martin's acting career took off. They followed up The Jerk with The Man with Two Brains, Dead Men Don't Wear Plaid, and All of Me.
Blooper Note
With 9,987,652 plaintiffs splitting $10 million, they'd actually each receive between $1.00 and $1.01.

Casting Notes
Navin's mom is Mabel King, who played another Mama on the '70s TV show What's Happening!!
Carl Reiner's son, director/actor Rob Reiner (Misery, All in the Family) plays the truck driver. He and Martin worked together as writers on The Smothers Brothers Comedy Hour.
Sharon Johansen (Mrs. Hartourian) was Playboy's Playmate of the Month in October 1972.
Legendary comic Jackie Mason was a rabbi and owned a restaurant before starting in comedy.
Pepe Serna (Driver) has been in over 100 films, including playing Angel in Scarface (1983).
M. Emmet Walsh (Madman) was in two early Coen Brothers films: Blood Simple and Raising Arizona.
Bill Macy (Stan Fox) starred opposite Bea Arthur on Maude, which ran from '72 to '78.
Dick O'Neill (Frosty) played Christine Cagney's alcoholic father on Cagney and Lacey ('81-'88).
Catlin Adams (Patty) went on to play Neil Diamond's wife in The Jazz Singer (1980). Director Carl Reiner: "She was very free. She's not that kind of an actress, though. She's very serious."
In the late '40s, Frances E. Williams (Grandma) founded L.A.'s first black theater company.
Bernadette Peters and Steve Martin were a couple when they made this movie.
Maurice Evans (Hobart) played Dr. Zaius in Planet of the Apes and Samantha's father on Bewitched.
Steve Martin plays the Cat Juggler — though he's credited as "Pig Eye Jackson."
The con man in the white tie is co-writer Carl Gottlieb.
The judge is played by William Schallert, who was president of the Screen Actor's Guild at the time.
Fashion Notes
Navin's uniform is like the famous white suit Martin wore in his stand-up act.
Finance Notes
Navin's not even making minimum wage, which was $2.90 an hour in 1979.
The Jerk was made for under $6 million, which it earned back in its opening weekend. It has grossed almost $74 million domestically.
Location Notes
The gas station is now a Carl's Jr. burger joint.
The carnival scenes were filmed at the Devonshire Downs Fairgrounds in CA's San Fernando Valley.
Griffith Park's miniature train ride in L.A. has been operating since 1948.
The towers were also used as detective agencies in Remington Steele and Moonlighting.
Some scenes were shot at the infamously gaudy Sheik Al-Fassi mansion on Sunset Boulevard. The sheik outraged neighbors by planting plastic flowers and painting genitalia on the marble statues. The mansion burned down on New Year's Day 1980, while neighbors shouted, "Burn! Burn! Burn!"
Love Note
Martin and Peters met on a celebrity softball team in 1977 and ended up dating for four years. Martin wrote the part of Marie with her in mind.
Pop Culture Notes
A sandwich shop in Oregon named their jerk chicken sandwich the "Navin R. Johnson."
The director of 2001: A Space Odyssey (1968), Stanley Kubrick, was a huge fan of The Jerk.
Thanks to daredevil Evel Knievel, motorcycle stunts like the one seen in the movie were big in the '70s.
You can find recipes for cup o' pizza, inspired by The Jerk, all over the internet.
"Iron Balls McGinty" may be a reference to the political satire The Great McGinty (1940).
"The Way We Were," from the movie with the same title, was a hit for Barbara Streisand in 1973.
Press Note
Critic Roger Ebert once said that no movie featuring M. Emmet Walsh could be altogether bad.
Quotation Notes
Martin: "Carl Reiner was like a father to me, although I wouldn't let him bathe me like he wanted to."
Random Notes
Marie is playing a cornet, a brass instrument that's very similar to a trumpet.
Set Notes
Because of a gas shortage, Martin and director Carl Reiner carpooled to the set everyday. Reiner: "Every day… we came up with at least one or two new jokes on the way to work."
Martin and the dog got off on the wrong foot when Steve accidentally dropped mittens on its face. From then on it cowered when he tried to pet it. Martin: "It was miserable. He hated me."
Approximately 80 real locations were used for the movie, as well as 15 stage sets.
Director Carl Reiner told Martin to lick Peters at the last minute. She had no idea it was coming.
Source Notes
Martin ended the stand-up routine he developed at The Boarding House in San Francisco with announcing that he was quitting, then taking items from tabletops as he left the stage.
The idea for The Jerk started with this "born a poor black child" line from Martin's stand-up act.
Script Notes
Steve Martin co-wrote the screenplay with Carl Gottlieb (Jaws) and Michael Elias. Martin says, "Our goal was to have a laugh on every page."
That "St. Louis/Navin Johnson" bit is Steve Martin's favorite joke in the movie.
As a kid, Martin got a kick out of his friend's mom telling her son "it" was called his "special purpose."
Navin has a lot of silly jobs. One that didn't make the cut was working as a buffalo counter in Beverly Hills. He would stand on a street corner with a clicker and wait for buffalo until eventually he saw one.
For the title, Martin wanted something short yet epic, like Dostoyevsky's The Idiot. Hence, The Jerk.
Trivia Notes
Baboons' butts are generally a pinkish red color.
Most transactions were done manually in the '70s, so stolen credit cards were much harder to track down.
According to the Red Cross, you have to wait eight weeks between blood donations.
To become an astronaut, you need a bachelor's degree, three years of experience, and perfect vision.
The original title of The Jerk was Easy Money.
"Halevai" means "I wish" in
Yiddish.
By federal law, the minimum penalty for early withdrawal is a fine of seven days interest.
In Germany, The Jerk was called Reichtum ist keine Schande. Translation: "Wealth Is No Shame."
Escargot (French for "snails") is a popular appetizer at French restaurants.
Martin and director Carl Reiner staged a red carpet world premiere for the preview trailer of the movie. Ads stated that it would begin at 8PM and end promptly at 8:02PM.
The 1966 Chateau Lafite-Rothschild that Navin is drinking currently goes for around $1000 a bottle.
The largest class action settlement in the U.S. was by tobacco companies for $206 billion in 1998.
Read More