Interviews
Q&A – Kevin Smith (Executive Producer, Comic Book Men)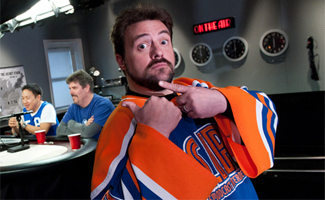 Actor, filmmaker and podcaster Kevin Smith explains how AMC's new series is like Antiques Roadshow for nerds then imagines the cast of Comic Book Men with superpowers.
Q: Did you ever imagine that being a comic book geek would become something cool enough to warrant its own reality series?
A: S— no, dude… The s— that used to be considered geeky or kind of useless or nerdy is kind of what powers the entertainment industry. Back in the day, they'd call you a nerd if you like Star Trek, but a guy who likes football and knows every obsessive detail about every person on every team is calling some guy who likes Mr. Spock a nerd. They are nerds too. It's taken us all this time to figure out everyone is a nerd for something. But we kind of concentrate on the classic stuff: movies, comics, toys — you know, geek culture.
Q: In a way, Comic Book Men is sort of like Antiques Roadshow for nerds. Was that intentional?
A: Think about when you watch Antiques Roadshow: Every once in awhile somebody brings in a doll or a comic and you're like, "Oh my god I wish the whole show was about that. Why can't the whole f—ing episode be comic books?" Comic Book Men is like that. It's like taking a box of Cap'n Crunch Crunch Berries, removing all the Cap'n Crunch, and just having a bowl of pure Crunch Berries for the geek. Everything that comes through the door, you're just like "Oh my god, I have that!" or "What is that worth?" or just something you never knew that existed, like "I never knew Bulletman had a pal." And suddenly you've got something that, if you're a geek, that is brilliant television.
Q: Do you personally have a piece of memorabilia that kind of fits into the Crunch Berry category?
A: When I sold my comic book collection to make Clerks I had
the Sandman statue that Graffiti Designs did and it was based on Kelley
Jones artwork. It was the first time that somebody had done something
that wasn't a toy related to comics and it was expensive — like $250
when I bought it. So with that money I funded Clerks and thank god I did, but recently I realized if I could get that piece back —
they're all numbered, I know what number I had — if I could find that, which a pre-Clerks Kevin Smith purchased on his own steam, that would be a collectible worth having.
Q: Everybody knows you, but the other guys are less familiar. What can you tell us about them?
A: These guys are just funny people that never thought they were gonna get put on display. They're just content to be funny and not use it. Walt is the manager and he runs the store like it's his own. He might as well own it — I hold the paper, but Walter holds everything else like it's his life's work. Bryan epitomizes "the genius is the one who is most like himself" — that's Bryan hands down. Mike is finely tuned for exactly what the show needs: You sit there your whole life, and I'm sure some friends of his or maybe even his wife are like, "Why the f— do you know so much about some s— that means nothing?" And now it all comes to use. Ming got a whiff of a TV show and he was on board, and thank god because you wanna have one battery in the mix. Walt and Bryan are not the batteries — they're wonderful content generators, but Ming and Mike are definitely the batteries powering those two dudes up. And suddenly there's our crew, man. And the nice thing is that's the world that existed prior to the show.
Q: In the past, some of your on-screen creations have themselves become comics (Bluntman and Chronic, for example). Could you ever imagine writing a Comic Book Men comic book?
A: Oh in a heartbeat, but it would be so uninteresting. They kind of all function as a four-way married couple that don't have sex, so just imagine that comic: Four men griping at each other, and every once in a while they have a transaction.
Q: What if you were all given superpowers?
A: Superpowers? Yeah, far more interesting. You want to make it a brilliant book to last the ages? Give one of those people god-like powers and let them go crazy and destroy the world. Maybe Mike goes f—ing rogue, and then Walt, Bryan and Ming have to use their superpowers to bring him down. I'd be like Professor X — I'll stay home in the chair. So Mike would be Galactus, Walt is Cyclops, Johnson is hands down the Wolverine of the bunch, and Ming is Kitty Pryde. [Laughs]
Read More