Kevin Smith – Hollywood's Hockey Super Fan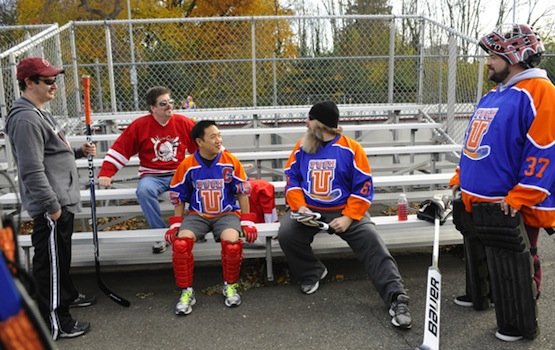 Spike Lee has basketball. Kevin Costner has baseball. Kevin Smith has hockey.
As we saw Sunday night in the second installment of AMC's Comic Book Men, while Smith's obsession with Superman and Jack Kirby and Star Wars is nearly unparalleled, so is his love of a sport that most Americans never notice until it's time for the Olympics.
But hockey fandom has one great, mainstream champion in Smith. The fact that it serves as the backdrop for what Smith says is his last movie as a director — Hit Somebody, set for release in 2013 — is hardly a surprise.
Of course, we could see this coming, As much as scatological jokes, Smith has used the sport for the central moments in his movies going back to his very first work.

Clerks,
the black-and-white film that launched his career, centers around a street hockey game that the convenience-store clerk
Dante (Brian O'Halloran) desperately wishes to play in but feels
compelled not to because of his middling work. As with his entire life,
Dante is held back — by his job, by a sense of obligation to something
small and ultimately limiting, by his inability to set his own fate.
In one of the movie's defining moments, Dante does play in the
game, on his own terms, on the roof of the convenience store where he
works. But before the game can even really begin, the ball is launched high
away from him by a would-be customer who won't even give Dante a few
minutes to enjoy something he loves. Dante's allowed other people to
knock him down, to take advantage of his good nature, yet again.
Smith further explored the comic-dramatic possibilities of hockey settings in Chasing Amy.
While other scenes are more awkward and funny, none is more
heartbreaking than the one set at a high school hockey game where we finally see
Holden (Ben Affleck) confront Alyssa (Joey Lauren Adams) about her
sexual past. As the game's own drama builds, so does the tension between
these two. He is on a mission to find the truth; she is desperate
to keep her past in the past. That Alyssa finally
admits to her sexual antics at the very moment one player knocks
another to the ground feels both fitting and undeniably awful at the
same time. For Holden, Alyssa's admission is a blow that his
selfish, self-serving ego can never come back from. Both Alyssa and the audience want Holden to
recover, to get up — but like the downed hockey player, he simply can't.
Smith has also been known to reference his favorite sport with a wink and a nudge — as with Stygian triplet baddies who wield hockey sticks in Dogma.
As we've previously noted, more than any other sport, Hollywood has always had a hard time bringing hockey to the big screen. Games that move like it does (read: soccer)
aren't easily translated to cinematic snapshots, mainly because they're
simply hard to film. We can isolate moments in baseball where a batter
faces his dual nemesis: the pitcher and the ball he's throwing.
Basketball in real life always allows for the best player to take the last
shot. Hockey simply doesn't lend itself to slow motion or a simple
one-on-one confrontation for its dramatic high.
Smith has accomplished a lot in his cinematic career, but Hit Somebody may be by far the hardest. If he can do what so few have managed to pull off — make the hockey movie that pays fit tribute to the sport — we will be much like the Luke Skywalker to his Yoda, looking at our X-wing fighter rising
from the swamps of Dagobah, unable to believe what we've seen.
Read More