Uncategorized
Ten Reasons Why You Shouldn't Be Quick to Dismiss The Godfather, Part III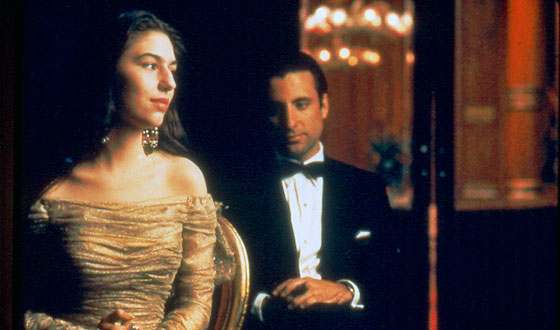 People love to the knock The Godfather, Part III by saying it's a pale shadow of The Godfather and that Francis Ford Coppola should have quit while he was ahead. Which, ironically, is also pretty much what many people said when The Godfather, Part II opened in 1974. Now the first sequel is considered the equal of the original. So maybe it's time to reconsider the final film in the greatest mafia trilogy as well. Here are ten reasons this movie qualifies as great, despite the naysayers who never even saw the movie.
1. The Rise of Connie
A battered young wife in The Godfather, a substitute mother in Godfather II, Connie Corleone-Rizzo (Talia Shir) comes into her own in Godfather III by bringing the illegitimate Vincent Mancini (Andy Garcia) back into the family and orchestrating the assassination of underboss Joey Zasa (Joe Mantegna) and killing her own godfather with poisoned cannoli.
2. Lyrics for the Theme Song
When Anthony Vito Corleon makes his debut in the opera Cavallaria Rusticana in Palermo, he performs "Parla Piu Piano" ("Speak Softly, Love") in Italian. You don't have to understand the language to feel this song's plaintive sadness.
3. Don Altobello
Veteran actor Eli Wallach's turn as Don Osvaldo Altobello — a slippery old eel with longstanding ties to the Corleone family — is a knockout that only gets better with time. Clearly, this guy didn't survive decades of mafia warfare without learning a thing or two.
4. The Street Fair Rub Out
Although not as violent as the Atlantic City massacre, this scene has local color to spare: Joey Zasa's at a street fair in Little Italy when a statue bearer opens fire with a shotgun. Bystanders scatter and Zasa escapes, only to run into Vincent, masquerading as a NYC cop on horseback.
5. Michael and Kay's Reunion
Michael's excruciatingly awkward reunion with his ex-wife (Diane Keaton), the brainy WASP who truly loved him but couldn't stomach the family business, cuts to the heart of what The Godfather movies are about. It's not rub outs and retaliation; it's the ties that bind.
6. All the World's an Opera
Not to pander to stereotypes, but there's a reason Italians are credited for inventing opera. So how better to conclude the Godfather saga than by cutting back and forth between two stories of family, betrayal and murder — one sung onstage; the other unfolding in real life?
7.The Atlantic City Massacre
Michael's hopes of making peace with major East Coast families are dashed. The meeting in a swank penthouse suite of an Atlantic City hotel erupts into gore and screams as a helicopter fires through the glass roof and mows down a generation of dapper dons.
8. Carnal Cooking

Feral Vincent Mancini, bastard son of Sonny Corleone, teaches sheltered cousin Mary (Sofia Coppola) to make gnocchi. Nothing untoward here — you could watch it with your grandma — but the way he guides her hand over those plump pats of pasta will make you blush.
9. "Just when I thought I was out…"
One of the top ten most quotable lines ever, and no, The Sopranos Silvio Dante (Steven Van Zandt) wasn't the first to lament, "Just when I thought I was out, they pull me back in." He's imitating Al Pacino in Godfather III.
10. Al Pacino as Michael Corleone
Michael ranks 11th on AFI's list greatest movie villains, but Pacino always played him as a tragic hero. He had the potential to be a good man. He wanted to be a good man, but doing bad things made him into a bad one. And his performance as a good man who can't help being a bad man helps make The Godfather III a great movie.
Catch The Godfather, Part III when it airs on AMC on Fri., Mar. 2 at 6/5c.
Read More