Uncategorized
Six Things You Didn't Know About Stephen King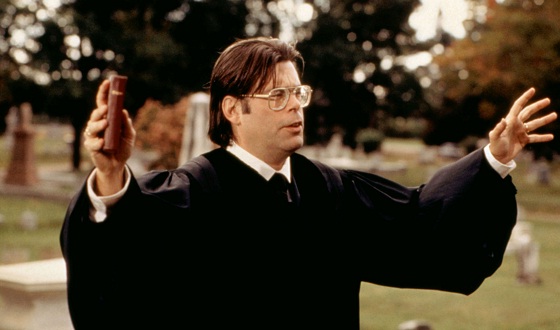 After 40 years of reading his books and seeing his movies, everyone thinks they know Stephen King. The majority of his stories are set in Maine because he's from there; an encounter with a mechanic's Saint Bernard produced Cujo. But there are probably things you don't know about this master of the macabre. For instance…
1. He'll Sell You the Rights to His Short Stories for $1
Are you an aspiring filmmaker who's a King fan? Well, you're in luck. The writer will let you adapt one of his short stories and the rights will only cost you a buck. He also asks that you send him a copy of the completed flick so he can add it to his shelf of other "Dollar Babies."
2. He Made a Music Video With Michael Jackson
In the mid-'90s, the King of Pop teamed up with the King of Horror to make Ghosts, a 40-minute video in which angry villagers assail Jackson for corrupting their children. After Jackson's death, King wrote about the whole experience for Entertainment Weekly.
3. He Has a Daughter Who's a Minister
While his sons Owen and Joe went into the family business of writing, King's oldest child Naomi became a gay activist and Unitarian Universalist Minister. In an interview, she says her faith may have been partly inspired by her father often reading the Bible to her as a child.
4. He Wrote a Musical With John Mellencamp
Twelve years in the making, Ghost Brothers of Darkland County
is set to have its premiere in Atlanta in Spring 2012. What can
audiences expect? Mellencamp states:
"I can tell what it's not going to be like: It won't be 'Jack and Diane' meets Cujo." Oh, darn!
5. He's in a Band
The Rock-Bottom Remainders also includes authors Dave Barry, Matt Groening Amy Tan, and James McBride. But King probably won't be giving up writing to play the guitar full-time. As Bruce Springsteen told him: "Your band's not too bad. It's not too good either."
6. He Owns Two Radio Stations
King and wife Tabitha have taken over the air waves in Bangor, Maine. The couple owns Zone Radio Group which runs the number one rock station, WKIT, and the progressive talk/sports station The Pulse. They're two of the few locally-owned stations left in the country and boast live disc jockeys on-air 24/7. Imagine that.
Check out Stephen King Week starting with Thinner on Mon., Feb. 6 at 8/7c.
Read More