When It Comes to The Godfather Movies, Which One Rises to the Top?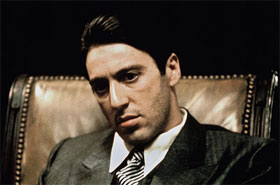 Good things come in threes — especially when Brando, Pacino, and DeNiro are involved — and The Godfather trilogy has set the standard for mafia movies for over three decades. Separately, each is legendary in its own right. Together, they incomparable. Or are they?
Which one is your favorite? Part I ("I'll give him an offer he can't refuse"), Part II (Keep your friends close, but your enemies closer") or even Part III ("Politics is knowing when to pull the trigger")? Vote for The Godfather film you think reigns supreme.
Tune in to The Godfather: Part I on AMC tonight, Wed., Feb. 29 at 8/7c.
Read More