6 Great Comic Book Movies Snubbed by the Oscars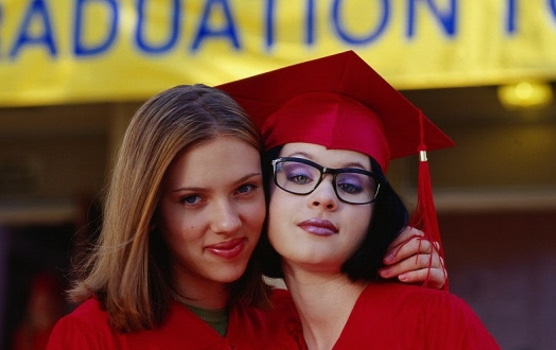 Another Oscars season has come and gone, and while there were some worthy winners, none were adapted from comic books. Unlike recent years, which saw everything from
The Dark Knight
to
Hellboy II
garnering nominations, the 2012 Oscars failed to feature a single comic book flick. (Superhero movies like
Thor
and
X-Men: First Class
were even shut out of the visual effects category.) This despite a strong year that saw superhero epics (
Captain America: The First Avenger
) and even adaptations of European comics (
The Adventures of Tintin
) connecting with audiences.
But this isn't the first time that comic book movies failed to score Oscar gold. Despite multiple nominations, many highly acclaimed movies based on comics came up short on the big day. Here are six comic book movies that deserved to take home a little gold statue.
Nominated
in the categories of Best Adapted Screenplay and Best Supporting Actor,
David Cronenberg's gritty adaptation of John Wagner and Vince Locke's
graphic novel is best remembered as the movie where William Hurt scored
an Oscar nom for under 10 minutes of screen time. But leads Viggo
Mortensen and Maria Bello, playing a husband and wife whose lives are
affected by a violent past, certainly should've scored Oscar nominations.
Bello in particular gives a raw performance that was unjustly
overlooked. (The movie itself also should have been nominated for Best
Picture.) Shockingly, Cronenberg has never received an Oscar nomination.
Now that is one serious crime.
Winner
of the Grand Jury Prize at Sundance, this Harvey Pekar docudrama was
critically acclaimed upon its release. In particular, Paul Giamatti was
singled out as a potential Oscar winner for his role as the morose Pekar. But when the 2003 Oscars rolled around, only screenwriters Shari
Springer Berman and Robert Pulcini scored a nomination. Sadly, the movie
came away with zero wins. If there was any justice, this underrated movie would've scored Best Picture and Best Actor nominations. (And if there
was an award for Best Impression, it should've gone to James Urbaniak
for his spot-on R. Crumb.) Like the downtrodden comic book writer it
depicts, American Splendor ended up a loser in the awards department.
The
grandfather of the modern superhero movie scored Oscar noms in the
categories of editing, music, and sound. It lost all of those but won a
Special Achievement Award for visual effects. Looking back, it's
surprising that one of the most beloved movies of the '70s didn't nab a
Best Picture nomination. (They couldn't have lost any of the nominated movies that year? Maybe
Heaven Can Wait
?)
It's also surprising that Brando didn't squeeze out a nom for his brief
role as Jor-El. Brando could basically sneeze and earn six Academy
Award nominations back in the day.
While
other awards ceremonies were good to Terry Zwigoff's indie dramedy
(Zwigoff and Daniel Clowes' screenplay won at the Independent Spirit
Awards, along with Steve Buscemi for Best Supporting Actor), Oscar pretty
much overlooked the movie that helped put Scarlett Johansson on the map.
Zwigoff and Clowes scored an Oscar nomination for Best Adapted
Screenplay, but otherwise the movie was as ostracized as Buscemi's
outcast record collector. Much like American Splendor, Ghost World
was praised by critics for its sensitive tone, wry humor and strong
performances. Unfortunately Oscar voters didn't know what to make of
it.
One
of the most acclaimed movies of all time, Katsuhiro Otomo's
groundbreaking adaptation of his own manga paved the way for Japanese
animation on the big screen in America. While most fans discovered
Akira
on video, the movie did receive an American theatrical release in 1988.
Unfortunately, the Best Animated Feature category didn't exist at that
point. (The first Oscar for Best Animated Feature was given out in 2001,
to
Shrek
.) Time will tell whether the long-in-development live-action
Akira
movie scores any Oscar nominations. (Despite recent setbacks that shut down the production, word has it the movie is back on.)
Granted, The Dark Knight
holds the title of the comic book movie with the most Oscar nominations,
thanks to its eight nods. (It scored two wins — a posthumous Best Supporting Actor for Heath Ledger and Sound Editing for Richard King.) But the fact that
both cowriter-director Christopher Nolan and the movie itself were shut
out sent shockwaves through Hollywood that are still being felt today.
In fact, the uproar over The Dark Knight's snub lead the
Academy to expand the number of nominated movies from five to up to ten
in order to include a wider variety of genres and movies. So you can
indirectly blame The Dark Knight for Extremely Loud and Incredibly Close's surprise Best Picture nod.
Read More