Women on Top: Directors Angelina Jolie, Madonna, and Vera Farmiga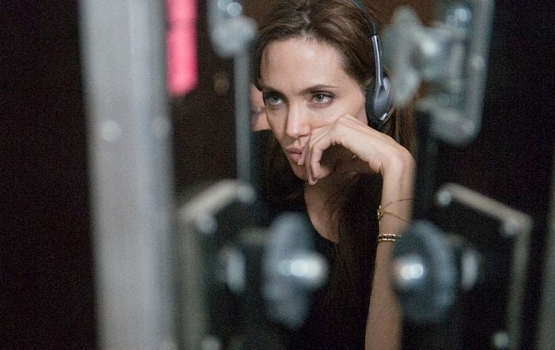 Being a director means having power. And in the past year, three women already famous for being performers — Angelina Jolie, Vera Farmiga, and Madonna — claimed some of that power for themselves by stepping behind the camera, with varying degrees of success.
With In the Land of Blood and Honey, Higher Ground, and W.E., Jolie, Farmiga and Madonna made three very different movies, for very different audiences. The unifying factor? In all three movies, complex women owned the story arcs — still a far-too-unusual occurrence in Hollywood.

In the Land of Blood and Honey: Golden Globe Nomination
Jolie's In the Land of Blood and Honey,
which earned a Golden Globe nomination for best foreign-language movie,
dramatizes the high cost of war in the Balkans, unflinchingly depicting
rape as a tool of oppression. A tortured Romeo and Juliet
between a Muslim artist and a Christian soldier, the movie is ambitious,
well-shot, and muscularly performed by lesser-known actors unimpeded by
celebrity. It's no vanity project. Jolie does not appear onscreen. It
makes the particularly strong point that war is not just fought on the
battlefield, but in the bedroom. By doing that, it presents a strong
female perspective — without sacrificing the men in the frame. There's
not a scrap of egotism in the work even if, like most debut directorial
efforts, it could have been shaved a bit. The movie functions as a
direct extension of Jolie's work as a United Nations Goodwill
Ambassador: It bears witness to the horror of a very specific conflict
and makes a strong universal statement about the ways atrocities erode
the humanity of both the victims and the perpetrators.
Higher Ground: Indie-Side Out
Farmiga's
movie, based on Carolyn Briggs's memoir about a woman's journey through
Christian fundamentalism, is in the tradition of American independents
associated with the Sundance Film Festival, where it debuted last
January. It tells the story of a young writer who gets pregnant, joins a
patriarchal rural Christian community with her husband, and — two
decades and three children later — has a crisis of faith. Higher Ground is in tune with a segment of America rarely seen onscreen, and certainly not depicted in such TV shows as Big Love or the flashier Sundance movie Martha Macy May Marlene.
In this case, Farmiga has also crafted a role for herself at the
movie's center that is intelligent, searching, maternal, and relatably
flawed. Her character — wife, mother, and Christian — drives the
action. And it turns out that behind the camera, Farmiga's work is as
glowing, sensitive, and careful as her work onscreen.
W.E.: Reframing a Famous Love Story, a.k.a. Gone with the Windsors
Better known as a musical performer than an actress, Madonna has enormous ambitions for W.E., her second project as a director. (She lensed Filth and Wisdom
in 2008.) Her primary subject is Wallis Simpson, although the movie
also weaves in a fictional contemporary love story. One of the movie's
main thrusts is to reframe the narrative of the Wallis Simpson-King
Edward VIII "romance of the century." While the common wisdom tends to
be that the royal abdicated the throne for this commoner, Madonna poses
the question: What did this uncommon woman sacrifice to marry the king?
The question has resonance given Madonna's personal journey from
Michigan unknown to global superstar. Madonna, like Jolie and Farmiga,
is driven by a desire to control the female narrative arcs as we see
them in the movies, and she's not above revising the historical record
to accomplish that.
Of the three, W.E. is the most
stylistically ambitious, the most overreaching, and, unfortunately, the
least successful — despite how passionate Madonna was about sharing
this story. She was also the most vulnerable when the movie premiered,
because she had put so much of herself into it that she'd given critics
an opportunity to "put her in her place." In other words, she'd stepped
out of her Madonna box, and the wolves were waiting.
The
difficulty for performers who have achieved a high level of success is
that they face greater scrutiny when they're still getting their
bearings as directors. Critics and audiences find it hard to be
objective, particularly when it comes to sexual icons like Madonna and
Jolie. I've written elsewhere
how critiques of Jolie's persona — the "don't hate me because I'm
beautiful" syndrome — has clouded critics' ability to see the movie
objectively. Also, her film makes no concessions to the audience; this
is a story that Jolie wants to tell, but like many foreign-language
films about war atrocities, it's not a drama that holiday audiences
flock to see. And while Farmiga got restrained respect for her movie —
and her performance — her bold choice to intelligently address
religious faith in the language of independent cinema failed to connect
with a larger audience.
In some ways, these women, despite their
previous successes, are pioneers. They have used their power in their
industries to make the movies that they want to see. That's the model:
If you build it, they will come. If women produce and direct the stories
they want to see, the female audiences that flocked to The Help and Bridesmaids will eventually come, drawn by movies driven by true passion, rather than cynical focus-group marketing.
Read More