Games, Polls & Quizzes
Think You Know Christine? Charlie Sheen? Young Guns? Prove It With These Trivia Games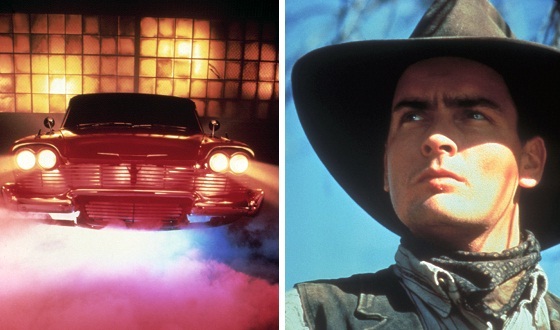 What do Charlie Sheen and Christine have in common? Kevin Bacon, of course. The role of Arnie in Christine was first offered to Bacon who was also offered Sheen's part in Being John Malkovich. Six degrees or not, Bacon is one of the few '80s stars not offered a role in Sheen's Young Guns. Think you know more facts? Go ahead and test yourself on Christine, Charlie Sheen, Young Guns, and Kevin Bacon…
Kevin Bacon
Appearing in Planes, Trains & Automobiles on Mon., Jan. 9, at 2:30 I 1:30c
Bacon makes an uncredited cameo in Planes, Trains & Automobiles. That same year, he starred as Smiling Jack in which movie?

Christine
Airs Tue., Jan. 10, at 8 I 7c
Director John Carpenter is a huge fan of Stephen King. Which one of the author's books was Carpenter adapting before he was offered Christine?

Young Guns
Airs Wed., Jan. 11, at 8 I 7c
Some of the hottest young stars of the '80s were in this movie. But which one is the youngest?

Charlie Sheen
Starring in Young Guns on Wed., Jan. 11, at 8 I 7c
The year 2011 was a big one for Sheen, who made headlines everywhere. But what world record did he set amid the madness?

To challenge yourself with more movie trivia, try AMC Filmsite's Super Movie Quiz.
To see a full list of AMC's Ultimate Fan Games, click here.
Read More