Uncategorized
Story Notes for Young Guns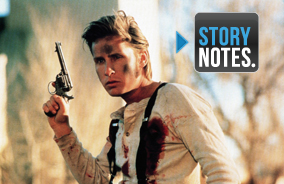 Monday through Thursday, at 8PM | 7C, AMC presents Story Notes — real-time on-air trivia about your favorite movies. Tonight's movie was Young Guns.
Biographical Notes
Only 21 years old when they filmed this, Kiefer Sutherland was the youngest of the "young guns."
Casey Siemaszko (Charlie Bowdre) has martial arts training in Hapkido, Judo and Tai Chi.
Sutherland would later become used to seeing blood after 7 seasons playing agent Jack Bauer on "24."
Screenwriter John Fusco has a passion for Native American culture. He went on to write Thunderheart (1992) and Spirit: Stallion of the Cimarron (2002).
Dermot Mulroney (Steve) would go on to star in My Best Friend's Wedding (1997) and The Family Stone (2005).
Jack Palance went on to star in Batman and then City Slickers, for which he won an Oscar.
Estevez, Phillips and Sutherland all reunited two years later in Young Guns II (1990).
Blooper Note
The song "When Irish Eyes Are Smiling" wasn't composed until 30 years after the movie takes place.
Casting Notes
Many of the now-famous cast were just starting their careers when this came out in 1988. Lou Diamond Phillips had just done Stand and Deliver, and Charlie Sheen was coming off Wall Street.
Emilio Estevez was already a star from the 1985 hits The Breakfast Club and St. Elmo's Fire.
You might know Casey Siemaszko from the Back to the Future movies. He's in Biff's gang in the '50s.
John Tunstall is played by Terence Stamp, a.k.a. General Zod in Superman I and II.
Jack Palance was a legendary Western film star. He was in over 100 movies, but he claimed he never watched a single one of them.
Geoffrey Blake went on to appear in Forrest Gump, Apollo 13, and Cast Away.
Tunstall's business partner, Alex McSween, is played by Terry O'Quinn, a.k.a. Locke from "Lost."
Patrick Wayne is son of legendary Western star John Wayne. He plays Pat Garrett, who became a lawman just so he could go after Billy the Kid.
Mrs. McSween is played by Sharon Thomas Cain, the director's wife. They're the parents of former TV Superman, actor Dean Cain.
Victor Izay (Wilson) was in many Westerns, including "Gunsmoke" and "Bonanza."
Henry Hill is played by the movie's 1st Assistant Director, Chuck Myers.
This is actress Alice Carter's first movie. These days, she's an acting teacher.
Geoffrey Blake (McCloskey) acted alongside Emilio and Charlie again in Men at Work (1990).
Baker, the guy who gets knifed, is Jack Palance's son Cody.
Dermot Mulroney (Dirty Steve) did more Westerns after this, like Bad Girls and The Last Outlaw.
Brian Keith (Buckshot Roberts) was Uncle Bill on "Family Affair."
Lisa Banes (the prostitute) is best known as Eve McBain on "One Life to Live."
Historical Notes
Billy was never a "hog boy." He was hired as a ranch worker, bodyguard and witness.
Billy the Kid killed a man named Frank Cahill who'd been bullying him in Arizona.
Billy went to school in Silver City, NM. They say he was a very good student.
The Murphy-Dolan faction was a powerful force in New Mexico at the time.
The "Santa Fe Ring" of corrupt politicians controlled business in NM and backed Murphy.
Tunstall really did treat Billy well. In real life, he bought him a horse, a saddle and a rifle.
Billy liked to scare the Regulators, even once throwing bullets into a fire to freak them out.
The Regulators were deputized on March 1, 1878, 2 weeks after Tunstall's murder. They were supposed to be agents of justice… but they were out for revenge.
Josiah G. Scurlock (Sutherland) studied medicine in New Orleans, hence the nickname, "Doc."
Fact-bending newspaper articles made Billy the Kid infamous.
There's no record of a Chinese girl working as "house entertainment" for Murphy.
Historians agree that McCloskey could have indeed been a spy for the Murphy-Dolan faction.
In the real gunfight, Buckshot Roberts was holed up in an office, not an outhouse.
Ironically, Dick Brewer and the man who killed him, Buckshot Roberts, are buried side-by-side.
In reality, it was another Regulator, George Coe, who got his finger shot off, not Doc Scurlock. He dipped his hand in carbolic acid to prevent infection.
In reality, Doc Scurlock was already married to a woman named Antonia Herrera.
President Hayes understood legal strategy; he graduated from Harvard Law School.
The Regulators actually lost their deputy status the day they killed Morton and Baker.
Billy the Kid was beloved by Mexicans. He spoke Spanish fluently.
Charlie Bowdre really did marry a Mexican woman named Manuela.
The real Pat Garrett stood 6 feet 4½ inches tall. Patrick Wayne is 6'2″.
Some historians say Billy and Pat were close friends. Others say they barely knew each other.
In reality, Charlie Bowdre and Doc Scurlock were brothers-in-law. They married a pair of sisters.
Peppin was the sheriff who replaced Brady. He was appointed 2 months after Brady was gunned down.
Alex McSween's real house was a 1-story U-shaped adobe.
The shootout at McSween's house, later known as the "Battle of Lincoln," lasted 5 days.
The U.S. Cavalry, led by Colonel Nathan Dudley, arrived on July 19, 1878.
In reality, there were about 15 Regulators and 30-40 Mexicans with McSween.
The army brought with it, among other things, a Gatling gun loaded with 2,000 rounds.
Posseman Andy Boyle set fire to the McSween house using a sack of wood shavings.
Mrs. McSween later sued Col. Dudley for what happened in Lincoln.
The real Charlie Bowdre was shot much later at a place called Stinking Springs.
Billy the Kid died at age 21 (though some think he may have survived and lived into his 80's).
Location Notes
For this movie, the town of Lincoln was recreated in Cerillos, NM, about 150 miles away.
Roswell, NM is just 57 miles east of Lincoln. Then it's another 1,900 miles to New York City.
Music Note
"Auld Lang Syne" literally means "Old Long Since." It was written by Scottish poet Robert Burns in the late 1700s.
"Mná na h-Éireann" ("Women of Ireland") by Seán Ó Riada, c. 1960s. There's no way Billy would be whistling it because it wasn't composed for another 80 years.
Plot Note
The importance of pals is a recurring theme for Billy.
Pop Culture Notes
Fans often ask the actors if they really did peyote. (Of course they didn't.)
Doc has obviously ripped off "The Raven" by Edgar Allan Poe, written 40 years earlier.
TIME ranks Rutherford B. Hayes as the 5th most forgettable President of all time.
Prop Note
Lou Diamond Phillips kept his buffalo skin jacket as a memento.
Quotation Notes
Billy the Kid said of the real Buckshot Roberts: "Yes sir, he licked our crowd to the finish."
When asked later about killing a man, Billy said: "It was a game of two and I got there first."
The real Billy the Kid: "I wasn't the leader of any gang. I was for Billy all the time."
Mulroney on Bowdre: "He's like the Cowardly Lion; he finds courage."
The real Billy the Kid: "I'm not afraid to die like a man fighting, but I would not like to be killed like a dog unarmed."
Dermot Mulroney on Dirty Steve: "He dies a dirty death. Right in the mud puddle!"
Random Note
Charlie Crawford was also the name of ex-Regulator Charlie Sheen's character on "Spin City."
Set Notes
The cast joked around all the time, including making fun of how Sheen pronounced "Billay."
At night, the actors would actually get together to play music and sing. When they were drunk, they'd make Lou Diamond Phillips sing "La Bamba."
It was so cold in one scene, the stuntman playing Tunstall was hurt just hitting the frozen ground.
None of the movie's fight scenes were choreographed. The actors just improvised.
They used hamburger meat for McCloskey's brains.
Phillips (Chavez) is afraid of heights. That's why he moves so slowly on the 30-foot high cliff.
Peyote makes many people vomit. (But they used Cream of Mushroom soup in the scene.)
Some of the actors rode so fast that the director yelled at them for being dangerous. Lou Diamond Phillips (Chavez): "It was the one day when he sort of chastised us for being young."
When they were first learning to ride, the actors played "Tag" on horseback in the sand.
The "bathtub" had to be dug by hand in the middle of New Mexico. Because it was winter, they had to pour buckets of hot water into it between takes.
Just for fun, Emilio Estevez also played one of the guys outside who shoots up the house.
They hired members of the Hell's Angels Motorcycle Club to help control crowds of onlookers while filming.
Source Note
Young Guns is based on the real lives of Billy the Kid and his gang who were infamous in the 1870's.
Trivia Notes
Hampstead is a wealthy part of London. Celebrities and the upper class live there to this day.
El Chivato is colloquial Spanish for "the kid."
A newspaper subscription in those days would've cost about $3 per year.
In reality, peyote doesn't grow in snow.
Peyote's been used for over 3,000 years. Its hallucinogenic ingredient is mescaline.
Smallpox killed an estimated 300 million people in the 19th Century.
Doc was in no such gang. He was a cowboy, gunman and cheese factory owner before this.
There's only 1 authenticated photograph of Billy the Kid. A re-creation is used in the movie. For a long time, people thought Billy was a lefty because the photo was inverted.
The Fandango is a Spanish courtship dance where the 2 dancers symbolically never touch each other.
"There's many a slip twixt the cup and the lip" is a proverb supposedly dating back to Greek times. It basically means that even when an outcome seems certain, things can still change.
It's about 170 miles from Lincoln to the Mexican border.
The first person Charlie shoots from the McSween house is… Tom Cruise. (He was friends with Emilio.)
Read More