Uncategorized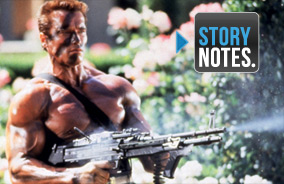 Monday through Thursday, at 8PM | 7C, AMC presents Story Notes — real-time on-air trivia about your favorite movies. Tonight's movie was Commando.
Automotive Notes
A 1973 Chevy Blazer can reach a top speed of 80 miles per hour — with a working engine.
Sully's car is a Porsche 911 Targa. It got the name Targa from a famous car race in Italy.
Cindy's convertible is a 1964 Sunbeam Alpine. Grace Kelly drove an earlier model in To Catch a Thief.
The Cadillac Eldorado was named after the legendary city of gold.
Biographical Notes
Vernon Wells played Wez in Mad Max 2: The Road Warrior. Empire magazine named Wez the greatest henchman in movie history.
Dan Hedaya and Alyssa Milano also worked together on an episode of Who's the Boss?
Rae Dawn Chong is the daughter of comedian Tommy Chong of Cheech and Chong.
When Milano was 7, she locked herself in her room until her parents let her take her first acting job.
Arnold Schwarzenegger and Bill Duke later teamed up in Predator.
Chong started acting after a Disney talent scout saw her sing at her sixth-grade graduation.
As a bodybuilder, Arnold won seven Mr. Olympia titles and was nicknamed the Austrian Oak.
Before turning to acting, Wells was a successful model in Australia.
Casting Notes
Duke has also directed movies like Deep Cover and Hoodlum.
Wells's cameo in Weird Science helped him win this role. Joel Silver produced both movies.
Commando was the first time Arnold played a modern-day hero. Before this, he'd been a barbarian and a cyborg.
When Commando came out, in 1985, Milano was already starring in Who's the Boss?
You may know James Olson from The Andromeda Strain and Ragtime.
Bob Minor was the first African-American in the Stuntmen's Association of Motion Pictures.
A year before Commando, Hedaya starred in the Coen brothers' Blood Simple. He was also Nick Tortelli on Cheers.
David Patrick Kelly famously screamed "Warriors, come out and play," in The Warriors.
In the same year as this movie, Chong also co-starred in The Color Purple.
Bill Paxton had a bit part in The Terminator and worked with Arnold again in True Lies.
Wells was hired to play Bennett after the original actor was fired on the first day of filming. That's why his clothes are too tight. They were made for a smaller man. Wells says they make him look like "Freddie Mercury on steroids."
Location Notes
The production shut down an entire terminal at Los Angeles International Airport to film.
Arnold came back to Sherman Oaks Galleria in L.A. for a big scene in Terminator 2.
The private beach of Hearst Castle inspired Citizen Kane's Xanadu mansion.
Green Acres in L.A. used to be owned by silent-movie star Harold Lloyd.
Music Notes
Commando's score was written by Oscar-winning Titanic composer James Horner.
"We Fight for Love," by Power Station, 1985.
Pop-Culture Notes
"I'll be back" was a nod to The Terminator. Arnold said it again in Twins and Last Action Hero and as governor of California.
VH1 ranked Milano as one of the greatest child stars of all time.
After she worked with Arnold, Milano's friends started calling her Conan.
Press Notes
Premiere magazine called Commando the most violent film of all time.
Total Film ranks Commando as having the ninth-greatest movie fistfight of all time.
The Daily Telegraph says, "This was Arnie at his best: killing before delivering a cheesy one-liner."
Prop Note
Arnold can bench press over 450 pounds, but they made the phone booth out of balsa wood anyway.
Quotation Notes
Director Mark L. Lester says, "Commando was the quintessential eighties action film." He calls it the "granddaddy" of the genre.
Screenwriter Steven E. de Souza says Arnold told him, "I like this picture. I'm not a caveman. Before the shooting and killing, I'm a normal person."
Lester says Kelly "is very good at playing these weaselly characters."
Chong says, "I can drive most things. Most of the stunt people really adore me."
Chong nailed her audition and was given this role on the spot. She took it, saying, "I knew Arnold would make the film a hit, and I wanted to be part of that."
Silver says, "[Arnold's] like one of the Three Stooges."
Duke says, "In the eighties, there weren't that many Black women doing film. [Chong] had the female lead. It may sound simple, but that was a big deal."
Chong says, "My hair's like a third character in the movie. We made it wilder and wilder."
Chong says, "I was Laurel to his Hardy."
Chong says Arnold "was always flexing" on set.
Arnold jokes, "I have camouflage paint on because Hollywood decided that I'm too handsome."
Wells says Commando is "one of those films that you don't have to think — you just enjoy.
While campaigning to be governor of California, Arnold said, "Let me be your commando-in-chief."
Arnold says, "I destroy an entire army. I think it will be a new record."
Wells says, "To play a villain correctly, you have to believe that what you're doing is right."
Wells jokes, "I'm one of the few people that has kicked the governor of California's butt."
Lester says Commando "really popularized action films."
Script Notes
Commando was originally written with Kiss's Gene Simmons in mind. When he passed on it, they reworked the script for Arnold.
De Souza thought up Matrix's escape watching a flight attendant use an airplane elevator.
Set Notes
Milano says Arnold was very protective of her on set. "He even helped with my algebra homework."
Arnold does have military training. Before coming to the U.S., he served a year in the Austrian army.
An Army consultant showed Arnold the move to quietly kill Henriques.
It's not a real plane that Arnold hangs off of. The crew built landing gear off the side of a tractor trailer and filmed it driving down the runway.
While filming, Arnold would run three to five miles a day and, of course, pump iron for an hour.
Originally, the studio execs didn't want Arnold to talk at all in the movie.
The director really wanted Arnold to dangle Sully over the edge without any help. Arnold said, "Are you crazy?" So they used a crane to hang Sully off the cliff.
The crew built the motel from scratch on the side of the Pacific Coast Highway in California.
Chong's reactions were filmed separately and were completely ad-libbed.
Arnold stabbed himself with a knife and had to get stitches.
Hearst Castle was the only beachfront location that would let the crew build a compound on it and then blow it up.
Even with blanks in his gun, Hedaya was scared to shoot.
After filming one scene, Arnold told the director to never give Wells a real knife.
Trivia Notes
Most mall cops are trained in first aid and dealing with bomb threats. But combat training is not required.
"Patria" means "homeland" in many languages. (It's Greek in origin.) It's where we get "patriot."
San Pedro is part of the port of Los Angeles.
In 2004, as governor of California, Arnold signed a bill that banned the purchasing of assault rifles.
Most seaplanes are floats — normal-category aircraft (like a Cessna) with pontoons on each side.
Landing a seaplane isn't easy. Pilots have to deal with rough water conditions and floating debris.
"Going commando" has meant "toughening up" since the mid-twentieth century. It got its other meaning on college campuses in the seventies.
Read More