Uncategorized
Story Notes for Christine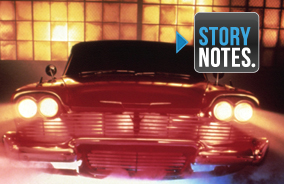 Monday through Thursday, at 8PM | 7C, AMC presents Story Notes — real-time on-air trivia about your favorite movies. Tonight's movie was Christine.
Automotive Notes
Christine is a '58 Plymouth Fury. There were only about 5,000 produced that year.
The 1968 Dodge Charger is a classic muscle car.
Producers spent two years tracking down the 24 cars that would eventually play Christine.
When she was new in 1957, Christine would have cost about $3,000. Today, in perfect condition, a 1958 Plymouth Fury would cost about $85,000.
Detective Junkins also drives a Plymouth Fury – a '77, not a '58.
Popular cars for teenagers in '79 included the Chevy Camaro, Ford Mustang, and Buick Skyhawk.
Many motorists who name their cars believe it helps them to be more careful on the road. Arnie must not buy into that theory.
Biographical Notes
John Carpenter and Stephen King are good friends. Both share a love of cars and rock 'n' roll.
Dennis has good taste. Alexandra Paul (Leigh) went on to play Lt. Holden for 5 seasons on "Baywatch."
John Carpenter won an Oscar for one of his first films, a short named The Resurrection of Broncho Billy. It ran in theaters for over two years.
Alexandra Paul had never seen any John Carpenter movies or read any Stephen King books. She says, "Scary stuff is not my thing."
Robert Prosky (Darnell) turned down the role of Coach on "Cheers" so he could focus on movies.
Keith Gordon (Arnie) now directs movies and TV shows like "Dexter" and "The Killing." Gordon says he watched and learned from John Carpenter as he directed Christine.
John Stockwell (Dennis) is now a director, too. He made Crazy/Beautiful (2001) and Blue Crush (2002).
Alexandra Paul (Leigh) is a competitive triathlete. She's even done the Ironman.
Casting Notes
Keith Gordon plays Arnie. He was in Dressed to Kill (1980) and Back to School (1986).
Before Christine, John Stockwell was a model and a close friend of Andy Warhol.
Kelly Preston (Jerry Maguire, Twins) appears in Christine in one of her first roles.
At 19, this was Alexandra Paul's first major film role. She started out just the year before playing a teen model in the TV movie "Paper Dolls."
David Spielberg (Mr. Casey) has done a ton of TV shows including 2 different roles on "Law & Order."
Roberts Blossom (George LeBay) is in Home Alone (1990) and The Quick and the Dead (1995).
Robert Prosky (Darnell) is in Mrs. Doubtfire (1993) and "Hill Street Blues."
Douglas Warhit went on to direct the '80s superhero show "Misfits of Science."
Christine Belford played a mom again in the '90s — to Ian Ziering's Steve Sanders on "Beverly Hills, 90210."
Malcolm Danare (Moochie) is in Flashdance (1983) and Godzilla (1998). At Christine's premiere, Stephen King told Danare he was the perfect Moochie.
Harry Dean Stanton (Detective Junkins is in Alien, Pretty in Pink, and "Big Love".
Fashion Note
Arnie's style starts to look more like he's from the 1950s. Keith Gordon (Arnie): "It's almost like the character starts becoming part of the era of the car."
Finance Note
They spent 15% of Christine's budget just on the cars. By the end of filming, all but 2 were destroyed.
Location Notes
Darnell's was shot in a massive old wire factory. Half of it was made to look like a body shop and the other half was turned into an actual body shop to keep the Christines running.
Music Notes
Director John Carpenter also composed Christine's score. Carpenter has scored most of his movies, including the famous theme from Halloween.
"Bad to the Bone" by George Thorogood and the Destroyers, 1982
"Not Fade Away" by Buddy Holly and the Crickets, 1957
"Pledging My Love" by Johnny Ace, 1955
"Keep A-Knockin'" by Little Richard, 1957
"We Belong Together" by Robert & Johnny, 1958
"I Wonder Why" by Dion and the Belmonts, 1958
"Little Bitty Pretty One" by Thurston Harris, 1957
"Bony Moronie" by Larry Williams, 1957
"Come On, Let's Go" by Ritchie Valens, 1958
"Rock And Roll Is Here To Stay" by Danny & the Juniors, 1958
Plot Note
Christine uses the lyrics of the songs she plays on her radio to communicate.
Press Note
It's considered a horror movie, but critics also rank Christine among the top car movies of all time.
Quotation Notes
John Stockwell (Dennis) says, "Christine [is] an… exploration of a tortured adolescent's experience."
Keith Gordon (Arnie) says Roberts Blossom "was as much a character as the character he played."
Gordon: "For me… the darker characters are more fun…There is nothing more fun than playing a murderer or somebody vicious."
Gordon says he had more fun playing Arnie than any other role he's ever done.
Carpenter: "I had some just terrific actors… This was one of my easiest jobs as a director."
Gordon (Arnie): "I remember thinking 'this is an amazing part… it's Dr. Jekyll and Mr. Hyde.'"
Random Note
The most popular nickname for a car is actually "Ruby." Christine isn't even in the top 10.
Set Notes
Gordon was nervous about kissing Alexandra Paul (Leigh), so he asked her to practice first.
Destroying a car is harder than it looks. The actors got cut up pretty badly and nearly fainted.
During rehearsals, Gordon would play it less intense than he intended to. It worked.
Carpenter blacked out Christine's windows so you don't know if Arnie is driving her.
Alexandra Paul pranked Carpenter by having her twin sister dress as Leigh and report to the set. Carpenter: "It was like Invasion of the Body Snatchers and Alexandra was a pod person."
Script Note
Screenwriter Bill Phillips thought it was a joke when asked to adapt a book about a killer car. Halfway through reading King's novel, Phillips realized it was really good and signed on.
Source Note
Christine (1983) is consistently ranked among the top Stephen King movie adaptations. Director John Carpenter made sure it came across as a combination of dark comedy and horror.
Technical Notes
One way to "create" lightning on set is to quickly open and close metal blinds in front of a bright light.
The stunt driver had to use an air tank because the fire sucked all the oxygen out of the car.
Trivia Notes
John Carpenter started work on Christine before Stephen King's book was even released. When the movie came out, the paperback was in its second week as No. 1 in the country.
Actually, most collectors say a car has to be at least twenty-five years old to be an antique. Christine's not classic either — she'd have had to be built between 1925 and 1948 for that.
Christine is shot in the same neighborhood director John Carpenter used in his classic Halloween (1978).
Before being offered Christine, John Carpenter was working on adapting another King novel, Firestarter. It was eventually made in 1984 by another director, Mark L. Lester (Commando).
The Heimlich Maneuver was new in 1979. It had only been introduced 5 years before, in 1974.
Stephen King chose a '58 Plymouth Fury for Christine because it was a "forgotten car." King: "I didn't want a car that already had a legend attached to it like the '50s Thunderbird."
One of the Plymouth Furys from the movie was sold for $167,000 in 2004.
John Stockwell (Dennis) ad to take bulldozer driver lessons before filming.
Cars are some of the only inanimate objects referred to using a gendered pronoun – "she" instead of "it."
Director John Carpenter refused to go to the premiere of Christine because of a superstition. Carpenter: "When I go to premieres, something bad always happens."
A Plymouth Fury was also featured in the famous car chase in The French Connection (1971).
Christine's success made it possible for Carpenter to make the Oscar-nominated Starman in 1984.
Christine lives on with fans of the movie: there are 2 clubs for fans who own Christine clones. And the Carlisle Chrysler Nationals gives an award every year to the best Christine look-a-like.
Read More