Uncategorized
Q&A – Robin McLeavy (Eva)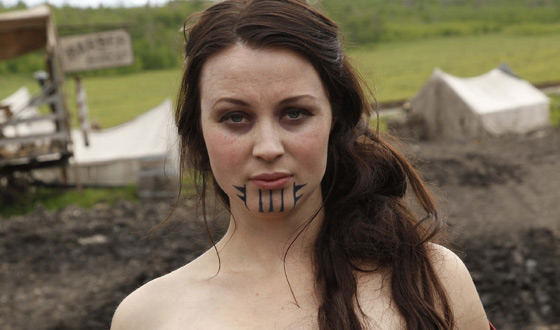 This week Robin McLeavy, who plays Eva on AMC's Hell on Wheels, dishes on the challenges of putting on her character's face tattoo and why she agreed to play a working girl on the show.
Q: What's the makeup process like for that tattoo?
A: It was quite tortuous at the beginning, because it was a three-phase process initially. We started out with a transfer, which would get messed up — so when I had it I wouldn't want to speak to anybody on set so as not to ruin that tattoo! Everyone thought I was being snobby because I couldn't talk to anybody! It was not a good start. By the second week we had a stencil, that we would do one piece at a time. And then by the third week we just had a proper face cut, kind of like a Hannibal Lecter mask so we could just spray through the stencil and it happened in a minute.
Q: Do you ever go out on town and leave it on just to mess with people?
A: Not in public — sometimes on the drive home the driver would ask about it! But the reason that Eva had the tattoo is pretty interesting.
Q: Your character is based on Olive Oatman, a real historical figure…
A: That's kind of the greatest blessing of the role, that this character is based on a historical person. There is so much material to draw from and be inspired by! I've read a couple of biographies and it's been kind of cool to see how [series creators] Joe and Tony [Gayton] have combined the history with the fictional element and spiced it up a little bit.
VIDEO: The dresses and costumes of Hell on Wheels
Q: What was your reaction when you first found out that your character was going to be a prostitute?
A: Normally I would never play a woman that is so highly sexualized because it can be really predictable. But in this context, I found it really fascinating. You don't see her having sex all the time, you see her falling in love, or fighting somebody or trying to help Lily Bell. I think she's such an interesting character because she's full of so many contradictions and she's got a toughness and a stubbornness to her that makes her interesting. That was a great starting place for me.
Q: Is there any specific detail about Eva that has really helped you get in character?
A: The most beautiful thing about the character to me was that she had such a starkly different experience with two tribes. She was traveling west with her family when a Yavapai tribe massacred her whole family in front of her, and then they traded her to Mohave and she kind of had a beautiful experience with them. She lived with them for four years and when she was rescued she didn't want to leave them.
Q: You get a lot of screen time with Common. How have you worked to develop that chemistry?
A: We're both very passionate about the scenes that came up between our characters, and what a mixed race relationship meant back then, how taboo it was. The kind of resonates today — even though we'd like to think that everyone is open minded today, it still can be an issue in certain parts of the world.
Q: I noticed from your Twitter feed you're very concerned about environmental issues. Do you see an awareness of that in the show?
A: Yeah if you're already conscious of that, you can see that in the show. The end of the pilot when there's all that carnage and rubbish everywhere… You do get a real sense of the industrialization and the effect that has on the environment and how the drive to build the railroad took over any sensibility about the land and especially the native people. My mom was an environmental activist in Australia in the late '60s and '70s and I guess I've inherited that awareness from her. With today's mass media obsession it's good to be able to raise awareness about our environment.
Click here to read an interview with Common, who plays Elam Ferguson in Hell on Wheels.
Read More