Uncategorized
Flashback Five – Charlie Sheen's Best Movies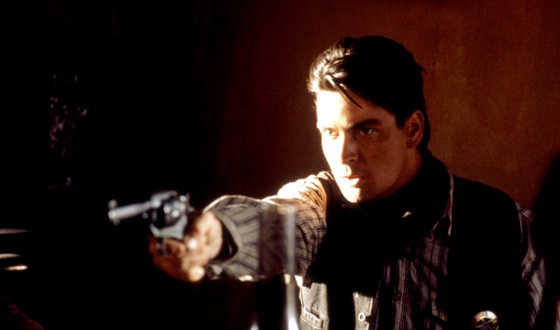 Charlie Sheen has lived a thousand lives, with a career that has included a leading role in a Best Picture winner (Platoon), a starring role in his own sitcom (Two and a Half Men), and bringing the words "tiger blood" into the vernacular. Whatever you think of him, Sheen is one of a kind. It remains to be seen what the future holds for him. (Sheen is set to star in a new sitcom on Fox.) In the meantime, here's a look back at his finest moments on the big screen. Winning!
1. Platoon (1986)
Sheen makes the transition from green grunt to grizzled vet in this Vietnam War pic. His young soldier serves as the audience's entryway into the conflict — struggling to survive jungle firefights, bloody ambushes, and napalm bombings. Sheen also supplies the movie's conscience — courtesy of a heartrending final speech.
2. Young Guns (1988)
In this eighties Western, Sheen plays a longtime wrangler battling for control over the Regulatory posse with newcomer Billy the Kid (Emilio Estevez). Sheen's performance has just the right bristle, maybe in part because of the sibling rivalry: brother Emilio gets top billing and ends up the leader of his fellow gunslingers.
3. Wall Street (1987)
Here's some advice: don't trust a guy who says, "Greed is good." Stockbroker Bud Fox (Sheen) does, when high-finance demon Gordon Gekko (Michael Douglas) takes him under his wing. And look what happens: Douglas gets the Oscar nod, even if Sheen has rarely been better.
4. Major League (1989)
Ricky Vaughn (Sheen) is a formerly incarcerated pitcher whose throw is as erratic as his behavior. His aberrant performances on the field have Cleveland Indians fans calling for his blood, then ending up his supporters. Sounds like a perfect role for Sheen, who broke the world record in 2011 for the shortest time to reach a million followers on Twitter.
5. The Chase (1994)
Life imitates fiction again: Sheen becomes a media sensation as a man who steals the car of a rich girl and embarks on a wild freeway chase. When not flipping over monster trucks, Sheen's denouncing tabloid journalists and outflanking an overzealous cop (Henry Rollins). It all leads to an audacious sex scene that proves you can do anything in a car. If you're Charlie Sheen.
Honorable Mentions
6. The Arrival (1996): Sheen battles aliens and global warming in this celestial twofer that shows that good sci-fi movies aren't extinct.
7. Men at Work (1990): This goofy comedy stars Emilio and Charlie as prankster garbagemen who battle toxic-waste dumpers.
8. Hot Shots! Part Deux (1993): Charlie makes light of his own war-movie escapades (Platoon), plus there's a hilarious walk-on with Martin Sheen redoing Apocalypse Now.
9. The Rookie (1990): Clint Eastwood and Sheen play mismatched police partners battling a crime ring and learning to work together.
10. Ferris Bueller's Day Off (1986): Sheen's role as a seriously burned-out dude with some advice for Ferris's apoplectic sister (Jennifer Grey) is brief but glorious.

Check out Charlie Sheen in Young Guns on Wed., Jan. 11, at 8PM | 7C.
Read More