Hey! Was Jon Hamm Ever on CSI: Miami? Yes, and Other AMC Stars Too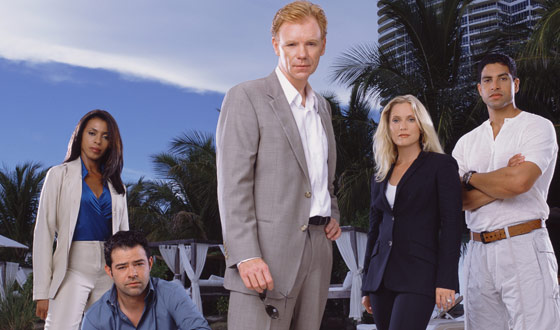 On Mon., Jan. 2, AMC debuted the newest addition to its drama lineup: CSI: Miami. The show's lead detective, Horatio Caine (David Caruso), and his team of forensic investigators have been solving crimes since 2002. So you know what that means: good-guy, bad-guy, and dead-guy roles to fill for many years. This month, AMC viewers will recognize Mad Men's own Jon Hamm and Breaking Bad's Giancarlo Esposito in two episodes. They're not alone. See who else from AMC appears on CSI: Miami in January.
Wed., Jan. 11, at 5PM | 4C ("Prey")
Sam Page — better known as Joan's husband, Greg Harris, to Mad Men fans — plays Jeff Marshall, a much richer man. (He owns a yacht.)
Thu., Jan. 12, at 6PM | 5C ("Felony Flight")
Mad Men's Peyton List (a.k.a. Jane Sterling) guest stars on this episode about an escaped serial killer who sabotages a plane.
Fri., Jan. 13, at 7PM | 6C ("Payback")
None other than Mad Men's Jon Hamm suits up for a very different profession, playing the role of Dr. Brent Kessler.
Fri., Jan. 20, at 7PM | 6C ("Rio")
Breaking Bad's Giancarlo Esposito appears as Chief Braga, a role he reprises from the show's 2008 episode "Ambush."
Thu., Jan. 26, at 7PM | 6C ("Throwing Heat")
Although his character Clovis owns a junkyard on Breaking Bad, actor Tom Kiesche plays a sport agent in this episode of CSI: Miami.
Click here for AMC's full schedule of CSI: Miami.
Read More