Uncategorized
From '90s Action Girl to New Millennium Oscar Winner – A Not-So-Uncommon Trajectory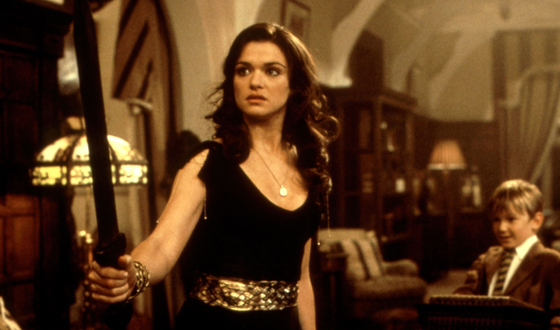 You may think that getting a flashy part in an action movie would typecast a woman, brand her as nothing more than a Bond Girl. Flash some cleavage, go to bed with the movie's star, and never be heard from again. But that's not always the case. Some women have gone action-pic eye-candy to Oscar-winning artistes. Consider the following…
Sandra Bullock, Speed (1994) to The Blind Side (2009)
Before becoming the comeback kid with her highly lauded turn in The Blind Side, Bullock was known as America's sweetheart thanks to playing that hot young thing co-starring with Keanu Reeves in Speed. Of course, Bullock's ability to be more than easy on the eyes was never the question. She had Miss Congeniality, Traffic, and A Time to Kill all to her credit. But who knew she'd rise this high?
Rachel Weisz, The Mummy (1999) to The Constant Gardener (2005)
She inevitably caught your attention as the beautiful love interest in this '90s blockbuster. Who else could steal the show from Brendan Fraser and a CGI monster? Yet less than a decade later, she also brought home the Oscar for The Constant Gardner. Is her achievement that surprising? Not really. Even in The Mummy, she's no damsel in distress. She's a powerful woman who can swashbuckle with the best of them.
Catherine Zeta-Jones, The Mask of Zorro (1998) to Chicago (2002)
Now you know her as a commercial pitch-woman or Michael Douglas's wife. But before the Oscar-winning star of Chicago was acting in heavy fare like Traffic and The Terminal, she stole scenes with her curves in flicks like The Mask of Zorro, The Phantom and Entrapment. Jones has other talents than looking great — like acting, singing and dancing. Now, she's Hollywood royalty.
Nicole Kidman, Days of Thunder (1990) and The Hours (2002)
Kidman's rep as "fantastic actress" is so solid that you could easily forget that two decades ago, she was best known as Tom Cruise's impossibly pretty Australian love in real life and in Days of Thunder. Of course, since then, no actress short of Meryl Streep has wracked up a more impressive career, including an Oscar for The Hours and two more nominations for Moulin Rouge and Rabbit Hole.
Halle Berry, Executive Decision (1996) to Monster's Ball (2001)
Berry still makes action movies (X-Men, Catwoman…) but her days of making pulp like Executive Decision and The Flinstones are long gone. While she can still make a scene look great just by appearing it, she now tends to do much more. Berry proved her chops with her Oscar-winning performance in Monster's Ball and her career been impossible to pidgin-hole ever since.
Jennifer Connelly, The Rocketeer (1991) and The Constant Gardener (2001)
Sure, Connelly's earliest success came with the cult-classic Labrynth but she no one was taking her any more seriously for looking so good in the later cult-classic The Rocketeer. How time changed: For awhile, Connelly seemed to deadset on making the most serious, grimmest movies possible via her Oscar-winning role in A Beautiful Mind as well as parts in Mulholland Falls, Dark City, Blood Diamond, Requiem for a Dream. Nowadays, no one questions her skill set.
Check out Rachel Weisz when The Mummy airs on AMC. Click here for the full schedule.
Read More