Academy Award Nominations 2012: Not Science Fiction's Best Year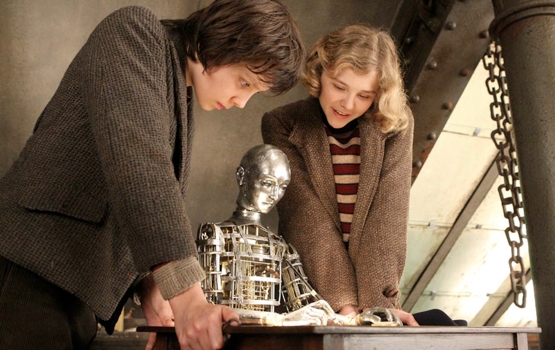 The Academy Award nominations are out, and although this column appears on Wednesday, I'm banging it out on Tuesday morning. So what you're about to get right now are my immediate thoughts on the Oscar nods, and how they relate to science fiction (and also fantasy). Ready? Here we go:

1. After an impressive run of two years in which there was at
least one legitimately science fictional film in the Best Picture race,
science fiction films have this year been relegated to their more usual
status, as contenders in the technical categories. The only film out of
the nine Best Picture nominees that can even remotely be considered
science fiction might be Hugo,
on account of the mysterious automaton that figures into the film
("It's a robot! It's totally a robot! Robots are science fictional! I
swear!"), but that's such a stretch that frankly, I'm not going to
attempt it.
Likewise, while Woody Allen's Midnight in Paris
features time travel, of the fantastical rather than science fictional
sort, and thus can technically be considered a fantasy film, it's
doubtful the Academy voters are going to see it as anything other than a
romantic comedy by Woody Allen — who, since he's writing comedy, gets
to play fast and loose with reality anyway (see: The Purple Rose of Cairo).
Face it, science fiction and fantasy fans, it's just not our year.
2. But then again, why should it have been? 2011 was a mediocre year for science fiction films in general, with only Rise of the Planet of the Apes
enjoying a level of both critical and commercial success that gives a
science fiction film a shot at a Best Picture slot. Likewise, in
fantasy, the only realistic possible contender for a Best Picture slot
was Harry Potter and the Deathly Hallows, Part 2,
which gave the series its best financial performance and some of its
best reviews. But apparently the Academy voters were not prepared to go
all Return of the King on
the most successful fantasy series in the history of movies. I think
this is a shame — there is a legitimate argument to be made that Deathly Hallows deserves a slot on the nominee list for its own qualities — but that's life in the Academy, I suppose.
3.
Even outside of Best Picture, there were a few places in the nomination
rolls that science fiction could have popped up but didn't. Most
notably the acting front: Actress Kirsten Dunst picked up a small
bouquet of pre-Oscar awards for her role as a doomed bride in Lars von
Trier's apocalyptic Melancholia, so it wasn't out of the question that she might make it to the Best Actress list this year. No luck.
Likewise,
many science fiction fans and media had been beating the drum for Andy
Serkis to get a Best Supporting Actor nod for his work on Rise of the Planet of the Apes,
in which he was digitally transformed into Caesar, the
super-intelligent chimp. I've always thought such an accolade would be a
long shot (and a Best Actor nod — which, if everyone were honest about
Caesar's screen time, would be the category Serkis should have
been slotted into — even more unlikely). It appears that I was not
wrong. Actors — or more accurately the acting branch of the Academy,
which nominates the acting slots — are apparently still a bit antsy
about what screen-capture performance means for them. I imagine they
will be for some time. This is where I remind people, however, that an
Oscar for Andy is still not impossible. You just have to go a different route.
4. So at the end of the day, which science fiction film did the best in the Oscar nomination race? Brace yourself: It's Transformers: Dark of the Moon, which picked up three nods, in Sound Editing, Sound Mixing, and Visual Effects. Deathly Hallows, Part 2 also picked up three nods, in Art Direction, Makeup, and Visual Effects. Rise of the Planet of the Apes and Real Steel are
also nominated in Visual Effects … and that's all you've got. I'm
skipping the short film categories here because I know nothing about
them; it's possible there might be something science fictional or
fantastical there. Otherwise: slim pickings for this year's Oscars.
So, yes. If you're a big science fiction or fantasy fan, here's my advice to you for Oscar night: Go bowling.
Read More