2012 Comic Book Movie Preview: "The Dark Knight Rises," "The Avengers," and More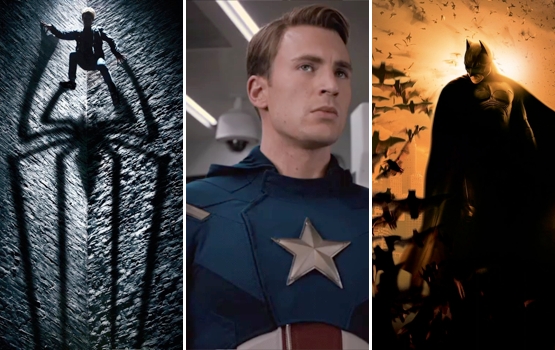 It's 2012, and everyone has bats on the brain. Yes,
The Dark Knight Rises
is out in a few short months. But there are plenty of other comic book movies hitting theaters in this most apocalyptic of years. In fact, with two major reboots, three sequels, and the biggest superhero team-up ever to hit the big screen, 2012 is looking to be the best year for comic book movies in a long while. If the world has to end in December, at least we're going out with a bang!
Take a look at what the year holds in store for comic book movie fans.
Ghost Rider: Spirit of Vengeance (February)
First off, yes — Ghost Rider pees fire. (At least he does in the trailer.) This is the sort of irreverent attitude that
Crank
directors
Mark Neveldine
and
Brian Taylor
have brought to the sequel to 2007's
Ghost Rider
, a film that absolutely no one liked. Nic Cage is back as Johnny Blaze, this time trying to save a young boy (who fans are
speculating
is the '90s Ghost Rider Danny Ketch) from being possessed by The Devil (Ciarán Hinds).
Thor
and
The Losers
star Idris Elba completes his comic book movie trifecta as Blaze's
kick-butt monk sidekick Moreau, while Johnny Whitworth looks like he
walked in from the
Twilight
movies as the pale demon baddie Blackout. While I'm skeptical that Nic Cage can still make a watchable movie, the
trailer
suggests that — supernatural bodily function gags aside —
Spirit of Vengeance
will at least be a flashy, high-octane action spectacle to while away
the late winter days. Even the trailer is an improvement on the
original.
The Avengers (May)
At long last, Joss Whedon's Avengers are together in one blockbuster movie. (Can you believe we've been waiting since 2008's
Iron Man
?) As we've seen in the
trailer
,
Thor's diabolical brother Loki is the movie's "big bad," creating a
massive problem that only the assembled might of Iron Man, Captain
America, Black Widow, Hawkeye, The Incredible Hulk, and the
aforementioned Thor can stop. (Does it have something to do with the
mystical Tesseract cube seen in
Thor
and
Captain America: The First Avenger
?
And will rumors of Skrull sightings on the film's New York set pan
out?) Expectations are running high for Whedon to deliver the same mix
of action, humor, and character drama that he brought to cult TV hits
like
Buffy the Vampire Slayer
and
Firefly
. While Whedon
has the goods (he's penned his fair share of Marvel comics), it's
important to remember that this is only his second film as a director.
(His first, the fun
Firefly
big screen adaptation
Serenity
, didn't exactly set the box office on fire.) Fingers crossed that Marvel backed the right geek icon on this one.
Men in Black III (May)
While
you've probably never read the obscure early-'90s Malibu/Marvel comic
book series that was this franchise's inspiration, it's safe to say
you've seen the movies. Ten years after
Men in Black II,
Will Smith and Tommy Lee Jones are back as the best-dressed alien hunters around. (
Watch the trailer here.
)
This time, Smith is going back in time to the 1960s to save Jones'
younger self (played by Josh Brolin) from an alien who wants to make
sure the Men in Black never exist. You're forgiven if you don't remember
what happened in the last film — the third installment appears to
ignore that one entirely. This outing hopes to strike the balance of
scifi action and one-liners that made the first film a megahit. But will
it have a new theme song performed by Smith? (Answer: probably.)
The Amazing Spider-Man (July)
New cast, new director, new shiny 3D … same old Peter Parker. Are audiences ready for a Spider-Man reboot already?
(500) Days of Summer
director
Marc Webb will answer that question in July, along with a cast that
includes new Spidey Andrew Garfield, Emma Stone (Gwen Stacy), Rhys Ifans
(The Lizard), Martin Sheen (Uncle Ben), Sally Field (Aunt May), and
Dennis Leary (Capt. Stacy). Peter's rarely-seen parents (played by
Campbell Scott and Embeth Davidtz) also appear in this one, as the
wall-crawler discovers the secrets behind their disappearance. Word is
Norman Osborn (aka Green Goblin) will factor into the plot, as his
Oscorp company is reportedly the site of The Lizard's gruesome
transformation. (And possibly where the radioactive spider who bites
Peter Parker comes from.) One thing we know for sure: no more organic
web-shooters. As in the comic, Peter constructs his web-shooters with
good old-fashioned science know-how.
The Dark Knight Rises (July)
Christopher
Nolan's third and final Batman outing is easily the year's
most-anticipated movie. The buzz on this one has been deafening thanks
to early trailers and a six-minute preview debuting before
Mission: Impossible – Ghost Protocol
.
And because it wouldn't be a Batman film without a little controversy,
the Internet has been divided about both Bane's voice (some fans are
having difficulty understanding him) and the topical themes (Catwoman's
dialogue in the trailer hints to an "Occupy Gotham"-style war between
the one-percenters like Bruce Wayne and the disenfranchised
masses). Reports of
cleaned-up audio
for Bane have surfaced, though by all accounts Nolan
has no plans
to change how Tom Hardy sounds in the film. It's a testament to how anticipated
The Dark Knight Rises
is
that we'll all be lining up for a movie where we could potentially be
scratching our heads at everything one of the lead characters says.
Dredd (September)
No,
this isn't a sequel to the dreadful (get it?) 1995 Sylvester
Stallone-Rob Schneider original. British comic book superstar Judge
Dredd is getting a slick reboot starring
Star Trek
's
Karl Urban in the role Stallone infamously mumbled through. Adapting
comic book creators John Wagner and Carlos Ezquerra's futuristic judge,
jury, and executioner is
28 Days Later
screenwriter Alex Garland, who knows a thing or two about postapocalyptic thrillers. (
Vantage Point
director Pete Travis is behind the camera.) Even better? Schneider's annoying hacker is replaced by Olivia Thirlby (
Juno
), who plays rookie Judge Cassandra Anderson.
Game of Thrones
star Lena Headey rounds out the cast as the evil gang leader "Ma Ma."
In keeping with the comic, unlike Stallone, Urban's Dredd will
reportedly keep his helmet on. While we've yet to see a trailer, the few
photos that have been released look appropriately gritty and blissfully
Schneider-free.
Read More