10 Future Camp Classic Movies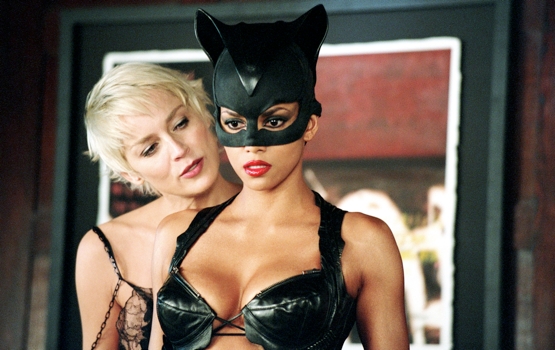 A classic movie comes along only occasionally. But there is another kind of movie even more rare — one so exquisitely misguided, over-the-top, tacky, or just plain bad that it becomes, well, a classic.
Few films achieve camp classic status like Mommie Dearest and Xanadu. Ten years into our weird new millennium, only two unquestionably qualify: Glitter and Burlesque. Both have the necessary qualities: a big budget, a shockingly unsubtle script, major divas, and, importantly, zero intention to be considered camp. As Susan Sontag puts it in her definitive 1964 essay "Notes on Camp": "The pure examples of Camp are unintentional; they are dead serious."
That's why camp films are so necessary for our mental health. Their unintentional hilarity allows us to pierce through the plastic shell of pop culture and perceive the collective delusions we all foster — even if it's just realizing there was a time when Palazzo pants looked cool.
Here are our 10 nominees for camp classics of the past decade:
?Trapped
in the New York Public Library after a major global weather disaster,
Jake Gyllenhaal and Emily Rossum find time to fall in love, while Dennis
Quaid (playing Gyllenhaal's father) races to the rescue. The survivors,
of course, discover their humanity — the rich spoiled blond kid and a
homeless man bond. Full of insipid scenes (like when survivors are
chased by a wall of "freeze"), it's the Poseidon Adventure of the '00s. If we do survive the apocalypse, this will be lauded as the apex of fear marketing and paranoia.
Never
have so many actresses tried to get "for your consideration" status in
one film. This has all the trappings of a camp classic: a
director-producer trying to prove himself to the Academy (Tyler Perry); a
beloved source text (the poem-play by Ntozake Shange); and a collection
of actresses trying really hard to make it work (Janet Jackson, Whoopi
Goldberg, and Kerry Washington, just to name a few). This one careens
from powerful dramatics to mind-boggling sledgehammer overemphasis —
sometimes in the same scene.
Obvious, gothic, operatically gushy: All of the Twilight films
are pretty campy, but none more than this. You can tell the producers
were seeing green, hovering over the project, treating the actors like
commodities. "I want you to pick me instead of him!" says Taylor
Lautner, who becomes some kind of sexual hood ornament. After the
fifteenth scene of him bare-chested, a wiseass remark is even built into
the script: "Doesn't he own a shirt?"
There is nothing not campy about watching a group of actors in their twenties pretending that they are having lots of
fun — in high school. You can see Zac Efron and Vanessa Hudgens strain
to look longingly in each others' eyes, singing and dancing on
nailed-together sets that look like a back lot in Burbank. This is
important camp education for young adults, if only for the prom night
number: "Are you ready? For the night of nights?"

Some
camp classics are actually good movies that achieve critical acclaim in
their time. But then they ferment, and their gaseous campiness becomes
obvious. Expertly directed, visually stunning, well-acted, Black Swan is
also over-the-top, crazy, and relentless. Natalie Portman may have won
the Oscar, but it's Barbara Hershey and Winona Ryder who chew their
scenes like salad. In the near future, we'll see how strange it is that
we considered it a "serious" film rather than a campy reflection of
today's simultaneously shame-filled but pornographic sexual psychology.
"When I first saw you, ah said to mahself, that girl is so fine!" "Quit Playin'!" "I'm not playin'!" "Get off of me!"
Slap!
"Bitch,
how you gonna play me like that?" This false-ringing hip-hop menagerie
of schlock is full of terrible attempts at "from the street" dialogue
like that exchange. As eager and energetic as Elizabeth Berkley in the
camp masterpiece
Showgirls
,
Jessica Alba thrusts herself around the dance floor and tries her best
to seem like she's from da hood. Plus, there's an asshole
director-boyfriend character, bad music, and lots of hilarious Hollywood
takes on urban fashion (check out Alba's butterfly barrette and sequin
low-rise pants!).
Much like
Black Swan
,
this shrewd catfight flick became a "serious" endeavor, earning Judi
Dench a Best Actress Oscar nod. True, Judi Dench is brilliant as a
frumpy schoolteacher obsessed with her fresh fellow teacher, played by
Cate Blanchett, whom she blackmails after catching her having sex with a
15-year-old student. But the dialogue is deliciously deranged and
destined to be shown alongside
What Ever Happened to Baby Jane?
at
movie nights with friends: "You need me, I'm your friend!" "You put me
in prison, I could get two years!" "They'll fly by! I'll visit you every
week! We've so much life to live together!"
As heterosexual as Men's Fitness magazine,
this half-naked groinfest kicked off a string of homoerotic but somehow
"OK for a straight guy to watch" sword-and-sandal movies. Future
generations will puzzle over this ostensibly straight effort, directed
by Zack Snyder, just as we look at those hilariously homosexual
gladiator films of the past.
This
opens with one of the most outrageously misguided scenes ever made: a
lavish gay wedding (including Liza cameo) that is so fabulous, it comes
off as offensive gay minstrelsy. Then the girls go to the Middle East.
The film provides a window into the deeply conflicted cloud of cultural
shame that existed in the post-9/11 "Let's go shopping!" gilded age.
Plus it forced itself upon the public after its moment had clearly
passed, which tends to bake the camp right into the process.
It
takes a special kind of actor to pull off the gravity to make a
superhero believable. Vulnerable, watery, fragile Halle Berry is not one
of them. As if
her portrayal of Storm
wasn't
enough to make you cringe, she tries her best to vamp as a nerdy
scientist brought back to life by a cat. It doesn't help that the script
is full of forced catchphrases ("Time to accessorize!") and CGI so bad
it makes Claymation look innovative. But nothing tops Sharon Stone as
the villainous Laurel Hedare. You feel her anger not only at this job,
but at the entire film industry for its idiotic portrayal of femininity.
With every line, she seems to be rolling her eyes in disgust.
Read More