Why Another "Friday Night Lights" Movie Might Happen — But Shouldn't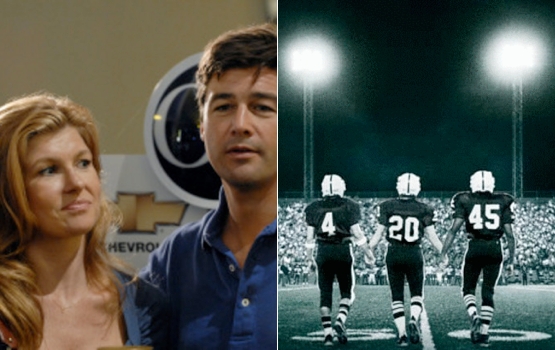 We've felt a little wary ever since Connie Britton — who played Tami Taylor during the five-year television run of Friday Night Lights — said a movie based on the show was "happening for realsies."
That was in October, only months since she and her onscreen husband, Coach Eric Taylor (Kyle Chandler), literally walked away from the camera in the closing shot of the series finale. It was a scene that provided full and total closure to a truly terrific TV show. That story, their story, was over.
And now it's … not?

To be fair, we loved the Friday Night Lights movie
on which it was based — itself a faithful retelling of Buzz
Bissinger's seminal book about high school football in Odessa, Texas.
That movie bears little resemblance to the FNL show. Yes, both centered
around high school football in Texas. Both even even featured Britton and Brad Leland as an over-enthused booster. But in revamping FNL for television and using a fictional town with fictional characters, FNL grew far beyond
its initial cinematic seed, allowing characters to change over the
length of the show and even leave altogether.
That
allowed us to take a strange sense of guardianship over the show's
principals, ones who shouldn't be touched or reimagined. Billy Bob Thornton made a fine Coach Gaines. But over the course of 76 episodes, we came to truly care
for Chandler's Eric Taylor as a husband and father as well as a leader
of young men.
He and the rest of the cast were great television characters, ones whose lives shouldn't be refitted
for film. The glut of Saturday Night Live
movies should serve as a cautionary tale here. For the better part of a decade, Lorne
Michaels spent endless studio dollars turning marginally funny
five-minute skits from SNL into full-length features. Whatever small amount of good feeling we might have had for Tim Meadows' skit died 10 minutes into The Ladies Man. FNL fans have every right to cringe at what might happen to Tim Riggins.
Moreover, it's too soon. Big-screen versions of Starsky & Hutch and Charlie's Angels and even Transformers were
less movies than sentimental gestures to a generation reared on
afternoon reruns and cartoons. They're two-hour winks to who we used to be.
But we were adults when we found and loved FNL, just as we were when we watched the first — and only — season of Firefly. Though set, um, in the future and in space, Joss Whedon's melodrama accomplished what the television adaptation of FNL did: create characters of depth in whom we placed our devotion. Its continuation in Serenity
faithfully and rightly extended the life of something cut down far
before its time (and proved its commitment to authenticity by killing
off a main character).
Another FNL movie treads on
uncertain ground. There's never really been a movie based on a TV show based on a movie. Fans of the Buffy the Vampire Slayer
series have correctly cringed at the thought of the series being
optioned again without the participation of either Whedon or Sarah
Michelle Gellar. Like FNL, Buffy far transcended the movie
from which it was based, with innovative characters, intelligence and
humor.
FNL ended as it should. We
had a proper goodbye. And for that reason, let's hope the project will
never move beyond its initial stages. Clear Eyes, Full Hearts, Can't
Lose. But a FNL movie most certainly would.
Read More