What the Puck: Why Aren't There Any Great Hockey Movies?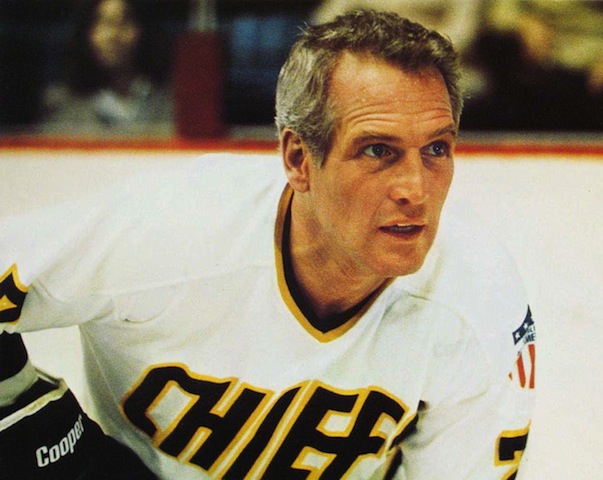 "You can't make a great hockey movie," said the award-winning sportswriter Peter Richmond, the author of five books, including Ballpark (on the creation of Camden Yards) and Badasses (on the John Madden-era Oakland Raiders).
But Richmond loves hockey — a sport he covered extensively in his first heady years out of college. Because of that, we called on him to discuss why the sport doesn't translate well to movies.
"A great hockey movie has to be 65 times better than the normal movie in terms of plot, humor, whatever," Richmond said. "And so far I've never seen one."
Well, we're always up for a challenge. That and doughnuts. And, after days of quiet contemplation and study, we've developed some guidelines for those filmmakers looking to bring the sport to movie theaters:

Skate Tough
There are lots of things Rob Lowe's good at. Playing a teenage hockey prodigy, as he did in Youngblood,
is not one of them. Simply put, he's a terrible skater whose skills, or
lack thereof, clearly forced a body double to sub for him a great deal
of the time.
We're not blaming Lowe. What makes playing a hockey
player so difficult is the real-life standard he must live up to. There
aren't any weak hockey players or fat hockey players. Even the most
average NHL player displays a unique combination of speed, toughness,
and balance that goes unnoticed because he makes hockey seem so easy, so
fluid. The solution? Canada. Or rather, a committed search for Canadian
actors who can do the impossible: both be a superb athlete who's grown
up playing the sport and carry a movie on his back.
Don't Change the Game
The 87 minutes we spent watching The Love Guru
for this column is time we will never get back. Apart from the awful,
obvious toilet-level humor and the hackneyed hockey-player love triangle
that made it nearly unwatchable, there's the problem of the hockey
itself. We understand it's a comedy, but it shouldn't look like
basketball on skates. We know there's probably a shortage of hockey fans
within studios or in film school, but what's needed is someone who
loves the game, understands its nuance, its wonderful ebb and flow, and
can bring his or her artistic vision to it.
Deal with Speed
How? We don't know. But it's something any director must cope with to make the game seem real.
The great pleasure one takes in watching a live game is its screaming pace. Miracle
— the dramatization of the simply unfathomable run by the 1980 U.S
Olympic team — comes as close to watching the actual game as we've ever
seen in the movies. Perhaps too close.
The pivotal game against
the Soviet Union at Lake Placid, New York — with real-life commentary
by Al Michaels — tries to capture the speed of the game at ice-level,
without a sense of where any one player is at any one time. But to shoot
the game from above would be akin to watching the game on ESPN Classic.
To find a way to bridge this great gulf looms as perhaps a hockey-movie
filmmaker's greatest, foremost challenge.
Just Give Up
Or rather, use the sport merely as a background for a greater story. One could say Slap Shot
is a hockey movie. But one could also say it's a crass, funny,
hysterically violent movie that just happens to have hockey in it. The
slapstick hockey works here because it's so absurd and merely provides
the backdrop for something bigger.
Indeed, at Slap Shot's
center is not only the aging player-coach Reggie Dunlop,
played so well by Paul Newman, but also 1970s rustbelt America — an
America faced with plant closings and a bleak, dim view of its own
future. Whether the team wins, how well the infamous Hanson brothers
skate is irrelevant. It's just a wonderful look into minor-league life
in a minor-league town.
Read More