Uncategorized
Story Notes for The Fugitive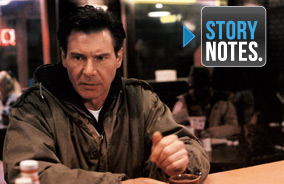 Monday through Thursday, at 8PM | 7C, AMC presents Story Notes — real-time on-air trivia about your favorite movies. Tonight's movie was The Fugitive.
Anthology Note
The success of The Fugitive led to a sequel, called U.S. Marshals, in 1998. Tommy Lee Jones returned as Gerard.
Award Notes
Jones won the Best Supporting Actor Oscar for this performance.
The Fugitive earned an Oscar nomination for Best Sound.
The Fugitive was nominated for seven Academy Awards, including Best Picture.
Beauty Note
Men's home-hair-color sales were about $75 million in 1993. Five years later, the sales had grown by 50 percent, to over $113 million.
Biographical Notes
Jones's mother worked as a police officer while he was growing up in Texas.
Jeroen Krabbé is also an artist whose paintings have appeared on Dutch postage stamps.
Before hitting it big with American Graffiti and Star Wars, Harrison Ford worked as a carpenter. He was building a porch for Francis Ford Coppola when he was cast as Han Solo.
Jones speaks fluent Spanish. He learned it growing up in central Texas.
Jane Lynch grew up just outside of Chicago, in Dolton, Illinois, and performed at Chicago's Second City.
Tom Wood and Jones worked together before on director Andrew Davis's Under Siege.
Casting Notes
At 51, Ford was still one of the biggest action stars in Hollywood.
Sela Ward plays Helen Kimble. When this came out, she was starring in the TV show Sisters.
Joseph F. Kosala plays Detective Rosetti. He's a retired Chicago police detective. He helped put this interrogation scene together, based on his experiences in the Major Crimes unit.
Ron Dean regularly plays police officers. He was Wuertz in The Dark Knight.
Eddie Bo Smith Jr. plays Copeland. He was in The Package, also directed by Davis.
Joe Pantoliano is well known for his work in The Sopranos, The Matrix, and Risky Business.
In 1993, Daniel Roebuck was best known for playing Cliff Lewis on Matlock. He also went on to play Leslie Arzt on Lost.
Dick Cusack plays Kimble's lawyer. He's the father of actors John and Joan Cusack.
Krabbé played a Bond villain in The Living Daylights.
The singing janitor is Orlando García. He caters many of Davis's films.
Lynch plays Dr. Kathy Wahlund. This is one of her earliest movie roles.
Julianne Moore got her start as Frannie Hughes on As the World Turns.
Maurice Person plays Clive Driscoll. He served as a technical adviser on the movie. Davis said, "This guy knew all about jails and all about procedure."
Pam Zekman is a real reporter in Chicago. She's won two Peabody Awards for her reporting.
L. Scott Caldwell, who plays Poole, went on to play Rose on Lost.
Andreas Katsulas plays Sykes. He was best known for his role as G'Kar on Babylon 5. He was not actually missing an arm.
John M. Watson Sr. plays Bones. He was a music teacher and jazz trombonist based in Chicago.
Kirsten Nelson plays Police Chief Vick on Psych.
That transit cop is Neil Flynn. He's best known as the nameless janitor from Scrubs.
Finance Notes
By 1994, Ford's movies had earned well over $2 billion domestically. He was the first actor in history to reach that milestone.
The train crash was real and cost $1 million to film. It had to be done in one take.
The current average annual salary for a vascular surgeon is $326,044.
The Fugitive earned $368 million worldwide. That's over $575 million by today's standards.
Health Notes
The epigastric area is the part of the abdomen located just below the sternum, or breastbone.
Ford tore ligaments in his right knee while filming the scene in the woods. He injured the other knee while filming Raiders of the Lost Ark.
The International Association of Cardiologists is a real organization. It helps top cardiologists interact with colleagues around the world.
History Notes
Beginning in the eighties, U.S. marshal strike teams were used to capture violent fugitives. Between 1981 and 1986, they captured more than 14,700 fugitives across the United States.
The U.S. Marshals Service is the oldest federal law-enforcement agency in the country. It was established on September 24, 1789.
Phone tapping has been around for a long time. It was approved by the Supreme Court in 1928.
No one knows who actually wrote the Hippocratic oath. Most think it was Greek physician Hippocrates in the fifth century B.C.
The first Chicago St. Patrick's Day parade was held in 1843. As many as 350,000 people attend the parade every year.
Sykes's home is located in the Pullman neighborhood on the south side of Chicago. The nationwide Pullman strike of the sixties, between labor unions and railroads, began there.
How-to Note
Sleeping under dry leaves can help prevent hypothermia.
Location Notes
Kimble is being transported to Menard Correctional Center in southern Illinois. Serial killer John Wayne Gacy was sent to the same prison.
The tunnels were built in a Chicago warehouse for $400,000. They were engineered to pump 150,000 gallons of water — enough to fill a public swimming pool.
The Cheoah Dam in North Carolina generates 118 megawatts. That's enough electricity to power about 118,000 homes.
There's a scene filmed at Meigs Field, a small airport on Chicago's lakefront. Before it closed, in 2003, Ford would land his private planes there.
Producers received special permission to film inside of Cook County Hospital. The hospital has one of the largest trauma units in the United States.
The Cook County Hospital emergency room serves over 150,000 patients per year.
The Hilton Chicago has housed every president of the United States since its opening, in 1927.
The presidential suite at the Hilton Chicago is 2,000 square feet and has a private terrace.
Music Note
Composer James Newton Howard was nominated for an Oscar for his score for The Fugitive.
Political Note
The helicopter scenes were originally postponed because vice-president Al Gore was in Chicago. Coincidentally, Jones and Gore were roommates at Harvard.
Pop-Culture Notes
The Fugitive became Ford's biggest critical and commercial success since the Indiana Jones movies.
After the movie came out, the Hilton offered tours to show where the movie was filmed.
The Fugitive remains one of the most successful television-show adaptations of all time.
Press Notes
AFI ranked The Fugitive as one of the 100 best heart-pounding movies in American movie history.
In 1994, Ford was named Star of the Century by the National Association of Theatre Owners and ShoWest.
Prop Notes
Six Ford look-alike dummies took the plunge in the dam. Each one cost $12,000.
Chicago's O'Hare Airport sells 2 million hot dogs per year.
Wax bullets were fired at the glass door at the same time Jones was firing his blanks.
Quotation Notes
Ford shadowed doctors at the University of Chicago Medical Center to prepare for his role. He said, "It allows you to move and act as if you've done things hundreds of times before."
Ford said, "I had a strong emotional reaction to this material. When I read it, I felt sympathy for this guy."
The weather was so cold when the crew filmed some of the scenes. Jones said, "I remember the batteries on the camera kept freezing."
Jones would regularly change his lines on set. Davis: "This is all Mr. Jones at his best here, creating stuff right and left."
Davis: "Not too many actors can show their bellies at this age."
Ford said, "The studio was not happy with the beard. They figured they paid for the face they wanted to see, so they were concerned about that."
The filmmakers were constantly rewriting the script on set to improve it. Davis said, "It was wild. We were flying by the seat of our pants at times."
Ford was once asked if he had a motto. He answered, "I'll drive."
It was Ford's idea to film The Fugitive in his hometown of Chicago. He said, "We could get the flash of architecture, the charm of the lake. It has it all."
While running down the stairs, Ford aggravated his knee injury even more. That's a real limp. Davis: "The show must go on, but at the same time he's in real pain. He's a trooper."
Davis said, "The score was an incredibly important part of this movie." Howard would work with Davis again on A Perfect Murder.
Katsulas once said he was glad he didn't watch The Fugitive TV show as a child. Katsulas: "I would have been much too afraid of the one-armed man. He was a scary guy."
Ford said The Fugitive "was a new look at the medical-mystery story."
Pantoliano: "Me and Tommy Lee were driving back to the airport after shooting, and he said something like, 'It's not like any of us are going to win any Oscars for this!'"
Davis: "This movie is really about corporate greed, in a way, and what people will do to make money."
Random Notes
On average, death-row inmates spend sixteen years in prison before facing execution.
By law, an inmate gets at least four hours of visiting time per month.
Falsifying research is a major crime. If convicted, a doctor faces prison time and loss of license.
Script Notes
"I don't care" is one of the most famous lines from The Fugitive. But it wasn't originally in the script. Jones added it on set.
Moore was supposed to have a much larger role in the movie, but it was cut. Producers thought any romantic story line would diminish Kimble's hunt for the killer.
Set Notes
The interrogation scene is improvised. Ford had no idea what questions would be asked.
Kimble's home is modeled after a real doctor's home in the Chicago neighborhood of Lincoln Park. Everything from the paintings on the walls to the architecture was duplicated for the movie.
Ford and producers argued over whether Kimble should be sentenced to death or life in prison. They filmed the scene both ways. In the end, the producers won out.
Filmmakers used a combination of Alka-Seltzer and milk to create the foam.
After the collision, the train pushed the bus over 300 yards. The train wreck is a tourist attraction in Dillsboro, North Carolina, to this day.
There wasn't enough room for the cameraman to be inside the helicopter with Jones. He had to be strapped to the outside of the chopper in order to get clean footage of Jones.
Davis tried to avoid using artificial movie light whenever possible.
The river was cold, so the crew kept tubs of hot water off camera to keep Ford warm.
The parade chase was improvised, but Ford did get permission to walk with the plumbers' union. Ford: "We didn't stage anything. I just inserted myself in the middle of the parade."
Ford went in for surgery on his knee immediately after filming.
Source Notes
The Fugitive is loosely based on the popular television show from the sixties.
The character Gerard was inspired by Javert from Les Misérables.
Symbolism Notes
Producers wanted Gerard's office high above the city to emphasize his authority.
Davis used helicopter aerials to give a "needle in a haystack" feel to the movie.
Technology Notes
They used thirteen robotic cameras in steel boxes to capture the destruction. Three were destroyed.
The marshals don't need to keep Kimble on the line to trace the phone call. Beginning in the eighties, electronic switchboards made phone tracing instantaneous.
Trivia Notes
About one-third of female murder victims are killed by their husbands or boyfriends.
The Fugitive TV show was one of the first to have a formal wrap-up in the finale. The series finale is one of the highest-rated shows in TV history, with over 27 million viewers.
Chicago's Merchandise Mart is the largest commercial building in the world.
Before regulations were put in place, in 2003, ER doctors could work 30-hour shifts or longer.
The Chicago River is turned green with 40 pounds of vegetable dye every St. Patrick's Day.
The Balbo stop does not really exist in Chicago, but the Chicago Hilton is near Balbo Avenue.
Read More